Mon, 6 Dec 2010, 05:54 PM



Stricker and Ondrejko Make the Grade



By Kelly Wade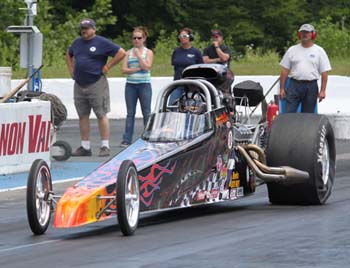 Kara Stricker
Photo by Jim Samuel
The young ones came up aces in the Northeast at the conclusion of the 2010 season, with 20-year-old Kara Stricker scoring the division's title in the Top Dragster series and 25-year-old Ryan Ondrejko bringing home the big Top Sportsman trophy.
The MX Industrial/Magnaflux Top Dragster seriespresented by Select Performance kicked off at Atco Raceway in early April, and Stricker laid the foundation for her winning season with a trip to the semifinals, and New Jersey's own David Muller collected the victory at the event.
After the bright beginning, the next two events were lackluster for Stricker, a resident of Mohnton, Pa., but at the Lucas Oil Drag Racing Series meet at Lebanon Valley Dragway, Stricker again piloted her Ken's Kustom Chassis 4-link dragster to a semifinals finish. The points garnered were critical as event victories were spread amongst several other racers vying for the season title: last season's Top Sportsman division champ Wayne Horton of Smithfield, R.I., was the winner at the second event at Atco Raceway; Fairfield, Connecticut's Gary Koebbe won at Maple Grove; and Glen Crane, who makes his home in Wethersfield, Conn., emerged victorious at Lebanon Valley.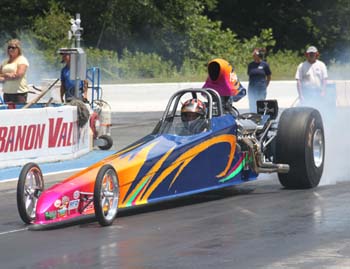 Wayne Horton
Photo by Jim Samuel
Stricker, a former competitor in the NHRA's Jr. Drag Racing League who competed in just two events in the Top Dragster category last season, traveled out of the division to see about adding to her points total following a first-round loss at Cecil County, and though the initial out-of-division effort in Columbus, Ohio, didn't return any results to speak of, her payout at Silver Dollar Raceway was a biggie: Stricker won the event over Casey Spradlin. Both were exceptional at the tree, Spradlin with a clean .011 green and Stricker clocking a .018 start, but at the top end the win light flashed in Stricker's lane and the scoreboards lit up a 6.898 on her 6.88 dial to Spradlin's 6.949 (6.87).
The victory in Reynolds, Ga., virtually sealed up the championship for Stricker, but others were not willing to be counted out. Wayne Hoffman, New Preston, Conn., was the winner at Cecil County over Sewell, N.J., racer Glenn Flack, and Rory Krupp, of nearby Royersford, Pa., won the Pennsylvania Dutch Classic - the final event of the series for the season - at Maple Grove Raceway with a final-round defeat of Canadian Jamie Bridge.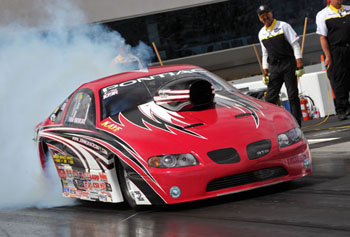 Ryan Ondrejko
Photo by Auto Imagery, Inc.
Life on the dragstrip just keeps getting sweeter for Select Performance's Speed Shop at Atco Top Sportsman series player Ondrejko. He followed up a career year in 2009 that included his impressive Pro Stock debut with the Northeast Division's Top Sportsman crown, and the Roslindale, Mass., driver accented his race to glory with a pair of national event wins. A two-time Super Gas champ in the Northeast, Ondrejko finished second in the Top Sportsman chase in 2009.
On the heels of his first national event Wally (picked up at the NHRA 4-Wide Nationals at zMax Dragway in Charlotte), Ondrejko launched his Northeast charge with a victory at the first event at Atco Raceway. Those first few races in Division 1 were a bit of a standoff, though, with title ownership up for grabs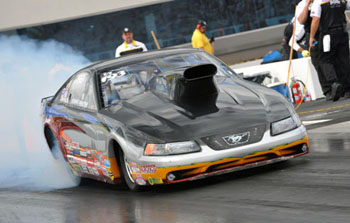 Ronald Proctor Sr.
Photo by Auto Imagery, Inc.
as Ronald Proctor Sr. won the second Atco meet and John Benoit had an out-of-division win and a semifinals finish in his possession before racing in the Northeast even began.
Ondrejko continued to pick up steam, though, and, after a bit of trouble at the second Atco race, he drove his Jerry Bickel-built GTO to the semifinals at Maple Grove Raceway and then made a celebratory appearance in the winner's circle at Lebanon Valley after shutting out Elmwood Park, New Jersey's Todd Fontana in the money round. Fontana got a little revenge and won at Cecil County, but Ondrejko tallied valuable runner-up marks and carried the momentum on to the North Central Division's event at National Trail Raceway, where he took home honors over Proctor.
Ondrejko's season ended at Maple Grove Raceway, where he bowed out in the semifinals with the championship already in hand; his 422 total points were 97 more than second-place Proctor and Benoit, who concluded his season in the No. 3 spot.
Sportsman racing in the Northeast includes the unique Pro Stock Snowmobiles, and this year Acton, Ont., competitor Christina Duncanson entered four events and won three to establish herself as the best of the class in Division 1. The lone race that Duncanson forfeited was won by her daughter, Kiersten.

Division One Top Dragster Top Ten Point Standings
Pos   Driver        Points Events
1   Kara Stricker     302   8 
2   Wayne Horton      269   8 
3   Gary Koebbe       239   5 
4   Frank Zeffiro     237   6 
4   Jeffrey Serra     237   7 
6   Scott Luken       227   6 
7   David Petrofske   226   6 
8   Alan O'Brien      197   7 
9   Luc Angers        194   6 
9   Glenn Flack       194   5 

Division One Top Sportsman Top Ten Point Standings
Pos   Driver          Points Events
1   Ryan Ondrejko       422   7 
2   Ronald Proctor Sr.  325   8 
2   John Benoit         325   8 
4   Jeff Brooks         283   7 
5   Todd Fontana        229   3 
5   Edward Foley        229   4 
7   Alexander Thomson   227   5 
8   Ronald Riegel       216   6 
9   Timothy Peotter     205   6 
10  Michael Kaufman     197   4