Thu, 30 Dec 2004, 09:03 AM



Taylor Reflects on a Career Year



Courtesy of Randy Fish


Photo copyright 2004 Bob Johnson Photography





ANAHEIM, Calif. --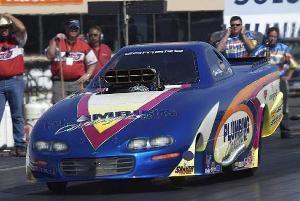 Dennis Taylor
NHRA Top Alcohol Funny Car racer, Dennis Taylor, is using this Holiday season to reflect on a successful 2004 campaign and set goals for 2005. Taylor's Plumbing Concepts-backed Camaro thundered to a hard-fought second place points finish in NHRA's Division 7, and landed fourth in the national standings. His talented SuperCrew is also re-living its 2004 career-best performance and itching for 2005 to begin.
As the driving force of racing safety equipment company, Taylor Motorsports Products (Anaheim, CA), Dennis knows full well that success in business centers around solid relationships and good judgment. The same can be said for a successful racing operation. As such, the premium marketing partners displayed prominently on the Plumbing Concepts Camaro were the foundation for this team 's exciting campaign in 2004. In his own words, Taylor stated, "We use the best equipment on the market, in order to turn the win light on for our sponsors. However, these pieces are also readily available to our competition. We're most thankful for having a great deal of synergy, camaraderie, and loyal sponsors, all of which is directly attributable to our performance in 2004."
Drag racers tend to be creatures of habit. They often put their firesuits on the exact same way, enter the car from the same side each time out, and practice a choreographed pre-race ritual. Taylor is fortunate to have a crew that follows a similar routine. Their between-rounds maintenance is always focused and very fluid, with no wasted motion. That type of work ethic is what will allow this dedicated crew to achieve even greater results in 2005. Yet another important element lies with respected Crew Chief, Ora Vasquez, who is poised to lead their efforts and contribute to the winning formula, once again. Dennis added, "Nobody on this team is less important than the next guy. We all have a certain role here, and inflated egos are non-existent. We're all looking forward to competing at the national level once again, during the upcoming season and beyond."
Taylor is quick to thank his valued partners, including Plumbing Concepts, Valvoline, invigor8 (a Division of Campbell Soup Company), Adam's Polishes, Metro Moulded Parts, Shaker Shirts, and Mickey Thompson Tires. Look for more information as the New Year comes around, but know that Dennis Taylor's Plumbing Concepts team is ready to make headlines throughout the 2005 tour.