Wed, 22 Dec 2004, 08:43 AM



Cannons Ready for New Season, New Car, New Jobs



Courtesy of Jeff Burk


Photo copyright 2004 Jeff Burk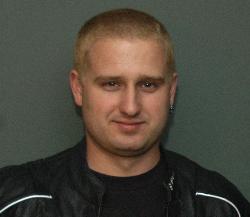 Scott Cannon
For both Scotty Cannon and son Scott the 2005 season is going to be a brand new experience. First, Scotty will begin his career as crew chief and tuner for his son Scott, who will take over the driving duties for the Cannonball Racing Pro Mod team. Second, Scott will be driving a new car fitted specifically for him, and, third, Cannon will be driving a Jeffer's Pro Cars '53 Corvette house car. For the first time in nearly a decade the Cannons will be campaigning something other than the '53 Studebaker that Scott drove and Scotty tuned for the last part of the 2004 season.
"We're really looking forward to working with Larry (Jeffers) next year. As soon as we put the deal together he flew Scott in to fit him to the car. That showed me that Larry is as serious as we are about racing," Scotty said.
Scotty and Scott plan to have the new 'Vette equipped with Cannon's supercharged Hemi engine and drivetrain ready to race in time for the 2005 test sessions in Florida.
"We'll test and, since we were fortunate enough to get an invitation for the opening AMS race, we'll open the season there. We also plan to go after the IHRA World Championship and have committed to going to the IHRA season opener at San Antonio." Cannon continued, "We actually won't know for sure what our schedule will be for the year until we know what kind of sponsorship package we will have for the 2005 season. Sponsorship ultimately will determine what races and what circuit we compete on in 2005."
While Scotty will be acting as tuner and crew chief for his son, he hasn't completely given up driving. After six IHRA Pro Mod World Championships and a stint in an NHRA Funny Car, he is working on finding a Top Fuel ride and has some interested parties.
"I'm looking to put together a program for an IHRA Top Fuel car," Scotty said. "I have some things I can bring to an IHRA Top Fuel operation and I'm talking to a few people. I still have something to accomplish in a Fuel Car."
The father and son team of Scotty and Scott Cannon are looking forward to keeping a family drag racing tradition alive in 2005!