Fri, 17 Dec 2004, 11:19 AM



Foley and Lewis Add Second Top Fuel Team Dragster for 2005






Photo copyright 2004 BME Photography.com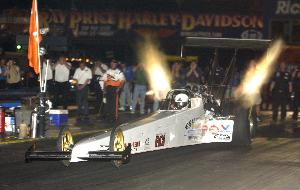 Doug Foley
Top Fuel driver Doug Foley and partner Tim Lewis have announced today, the addition of a second Top Fuel Dragster to campaign in the IHRA for the entire 2005 season. "We have always kept an open mind to opportunities to enhance our team. After a third place finish and winning three events in our first season, the encore wasn't going to be an easy one. Our goals for 2005 are to put two competitive top fuel cars in the field," says driver and team co-owner, Doug Foley. With the signing of Doug Kuch as a full time Crew Chief and the addition of Glenn Camp to their team, they feel this is an obtainable goal. "We have seen in the past that multi car teams learn twice as much in qualifying and become an asset to each other on Sunday. We also hope the addition of a second car builds stronger relationships with current sponsors and entices new marketing partners, who want to get in on the ground floor of the next generation of drag racing in the IHRA, to sign with us," states Lewis.
Foley and Lewis signed Torco Racing Fuels in November for the first car and are extremely pleased to announce their involvement in the second team car making Torco Racing Fuels a Major Associate Sponsor. M&R Drywall will continue their support with the addition of Seacoast Supply and Grabber Drywall Products on Doug's car.
Sophomore driver Rick Cooper of Boise, ID will drive the second team car. Rick, an avid drag racing enthusiast and pro golf instructor, launched his professional career in Top Fuel Dragster racing in 2004, qualifying at half the events while getting some quality seat time. "I am excited about the opportunity to come on board with Foley and Lewis Racing. Their accomplishments in 2004 speak for themselves. I knew after considering all of my options, this was an opportunity I couldn't pass up." Rick says the team will continuously attempt to acquire additional sponsors for the two cars and utilize Doug's Drag Racing School along with my golfing background to make those sponsorship packages more exciting. "Whether it's on the race track or the links, you're going to learn to drive from the best, our sponsor programs go far beyond a weekend of racing. I hope to assist in the growth of the Foley and Lewis team and look forward to racing with them well into the future," said Rick.
Foley and Lewis plan to do some early season testing with the second car at Bradenton Motorsports Park, Florida and have an exciting match race against Bobby Lagana in Aruba this February.