Tue, 7 Dec 2004, 07:25 PM



G Squared Motorsports Season in Review



Courtesy of Mickey Schultz



AMERICUS, Ga. --
G Squared Motorsports, Inc., owned by George Smith and George Bryce, broke onto the NHRA POWERade Drag Racing Pro Stock motorcycle scene in 2004.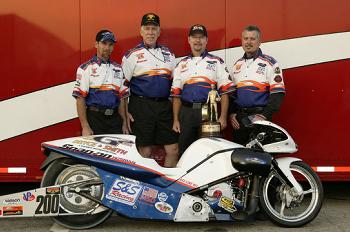 Chip Ellis, George Smith, George Bryce and Ken Johnson.
For George Bryce it was a unique season. "It was the most unusual year in my career thus far," said Bryce. "Several things were different. For one, I didn't have a bike compete in all the events during the year for the first time in my NHRA career which started in 1988. Another was I had three different drivers for the first time. And most important, George Smith and I had a goal to make an S&S powered V-Twin competitive after 26 years of me racing Suzukis and Kawasakis. It has been one of the most challenging and, at times, the most frustrating year I've encountered in my racing career."
Because the new G Squared/S&S powered Buell V-Twin had not even made its first practice lap and wasn't ready, G2 started the season at the Gatornationals with newcomer Angie McBride on the Suzuki. She qualified No. 8, before losing in the opening round. She resigned for personal reasons right after the opening race and was succeeded by Fred Collis.
Collis drove the Suzuki at Houston, Atlanta and Chicago. The development work on the S&S V-Twin had proceeded to a point that the Buell made its much anticipated debut at Columbus, Ohio. Collis qualified No. 2 at Columbus and followed up with a No. 8 at Englishtown, N.J., but a weight change for all V-Twin powered bikes immediately following Englishtown changed the direction for the G Squared team and the Buell.
The NHRA mandated rule change adding 40-pounds to the Harley Davidson V-Rods and NHRA-accepted American push rod V-Twins up to 160 cid (such as the G Squared/S&S Buell) went into effect at the NHRA Sears Craftsman Nationals.
Even with the additional weight, Collis still qualified eighth but was unable to make it past the first round. After the loss, Bryce and Smith weighed their options for the future.
"The additional 40-pounds that the NHRA imposed on our bike and the Harley V-Rods has changed the equation," said Smith, who throughout the 80's and 90's headed S&S teams which set numerous records at the Bonneville Salt Flats. "This motorcycle has good traction and is launching real well but the additional weight hurts our performance on the top end of the track indicating that we need more horsepower. The S&S Cycle engine guys are already at work on providing additional power for the V-Twin so that we can come back even stronger."
Added Bryce, "It's perplexing how slow the bike went with an additional 40-pounds. They put sandbags on us. All we do now is go home and figure out how to go fast with the new rules. Once we do that, we'll bring the bike back out and run it. You haven't heard the last of the G Squared/S&S Buell."
G Squared and S&S Cycle went back to the drawing board missing Denver, Sonoma, Brainerd and Memphis. But the hard work paid off and the Buell made its second debut at the 50th anniversary edition of the U.S. Nationals with Chip Ellis, a rookie to the NHRA POWERade circuit, on board.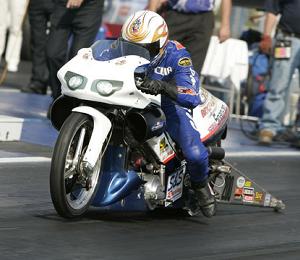 Chip Ellis on the G2/S&S Buell
At the get go, Ellis showed he is the G Squared driver for the future. Ellis qualified No. 1 at Indy, the most prestigious race on the NHRA POWERade circuit, becoming the first Pro Stock Bike rider to qualify in the top spot in his first NHRA race. After running the low elapsed time at Indy, he went on to qualify No. 4 at Reading before having a breakthrough event at Las Vegas.
At the quarter-mile track at The Strip at Las Vegas Motor Speedway, Ellis missed the top spot by one thousandth of a second, winding up No. 2. He then defeated Chip Hunter, Antron Brown, Shawn Gann and Angelle Savoie en route to his first winner's circle.
At the season-ending Auto Club of Southern California Finals, Ellis garnered his second No. 1 position with a track record elapsed time of 7.024 seconds, a time which doubles as the fourth quickest in the NHRA Pro Stock Bike record book. In eliminations he lost to eventual winner Angelle Savoie in the semis by only four thousands of a second.
In the Ringers Gloves Pro Bike Battle, a lucrative bonus program for Pro Stock Bike competitors with a special race-within-a-race held in conjunction with the U.S. Nationals and televised by ESPN2, Ellis leads the field with 660 points.
Ellis' stats for the four races he competed in this season make him a strong contender for the Automobile Club of Southern California Road to the Future (Rookie of the Year) Award next year.
Individually in NHRA POWERade points, McBride earned 33 points in one event, Collis earned 261 points in six events and Ellis earned 268 points in four events. In the season-ending point standings McBride finished in 38th position, Collis in 18th and Ellis in 17th.
Collectively, the three riders for G Squared Motorsports gathered 562 points in 11 events (missing four) which would have placed them in 11th place in the final point standings.
With G Squared exhibiting a strong season finish by adding two No. 1's and a win, a partial look at George Bryce's personal combined record shows the rider/owner/crew chief has produced 68 No. 1 qualifying efforts and 66 wins in 113 final rounds in NHRA competition since 1988.
"This S&S Cycle V-Twin project has been a long time coming. The engine and chassis were ready midway through the 2003 season but transmission development delayed the process almost a year. George Smith and I have been working non-stop the past two years with S&S Cycle to develop a competitive Pro Stock Bike program for NHRA racing. It was great for our efforts to finally bear some fruit and finish strong this season. It would not have been possible without my partner, the combined efforts of the G Squared Racing team and the fine folks at S&S Cycle," said Bryce.
The future looks bright for G Squared Motorsports for 2005.
"One of the things that I'm real excited about is that the G Squared alliance with S&S Cycle has us selling their engines and building motorcycles for customers to race in the NHRA and separate programs such as the AHDRA (All Harley Drag Racing Association)," said Bryce. "Our focus for 2005 will be for us to continue to win races on the NHRA POWERade circuit, as well as to help our new customers that have converted to the S&S power plant to win races also. The more success G Squared and our customers have with S&S powered Buells, the bigger the class will become."
"I think we've proved that the S&S power plant is capable of doing the job and being competitive," said Smith, who campaigned the first V-Twin drag bike to go 200 mph in the quarter-mile. "And like George (Bryce) said, we here at G Squared look forward to bringing new teams to NHRA in 2005. Next year will be our first opportunity to campaign the G Squared/S&S Buell for a full season and I'm really excited to see what this team can accomplish.
"Currently we're entertaining potential sponsors to join our program and would like to solidify a deal in the next month so that we can lay down a base for a firm team foundation. Chip (Ellis) has shown he can ride and I think George Bryce and Ken Johnson are the best tuner/crew chief combo on the planet. Couple the G Squared team with good old S&S V-Twin horsepower and I think we have the potential to contest for the NHRA POWERade Pro Stock Bike championship in 2005.
"Keep in mind that Pro Stock Bike racing is not our only venue. We also have a business that's growing daily to service the late model hot rod V-Twin marketplace with performance bikes for drag racing and street use. 2005 will be an exciting year - stay tuned!"
G Squared Motorsports is pleased to have been associated throughout the 2004 season with marketing support from Snap-On Tools.