Mon, 6 Dec 2004, 11:15 AM



No Small Steps



By Jim Luikens


Photo copyright 2004 Auto Imagery, Inc., BME Photography.com & Jim Luikens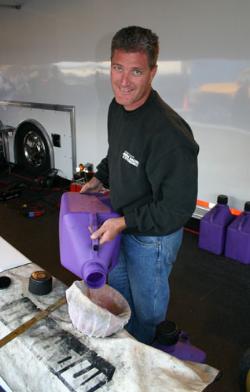 Doug Foley
Doug Foley thought he knew a lot about hot cars. After all, he had a street-driven 1970 Camaro RS that was capable of recording 11-second elapsed times at the track. Then one day a friend invited Doug to accompany him to NHRA's Keystone Nationals. To say that he was blown away by big-time drag racing would be an understatement. This is the story of Doug Foley and the steps that he has taken to reach his current position in championship drag racing.
Never one to take small steps, Doug bought a 1967 Camaro Super Gasser two weeks after returning home from the Keystones. Learning to drive the '67 was a whole 'nother thing, however. In fact, he almost took out the starting line Christmas tree the first time that he let go of the '67s trans brake.
Doug wasn't totally fond of racing a door car like the Camaro and eventually sold it to pay for his wedding to Shelagh. Today, he and Shelagh (pronounced Sheila) have been married for 11 years and they are the proud parents of two sons, Douglas, nine and Joseph, six. Remembering his Camaro experiences, Doug chose instead to purchase a rear-engine Super Comp dragster when his finances permitted a return to racing.
He recorded several accomplishments racing his dragster including a fine third place finish in the 1995 Division 1 Super Comp points standings. Flush with success, and still not one to take small steps, he then purchased an alcohol dragster in 1996. Running an alcohol car proved to be a huge wake-up call for Doug as the work it required was far beyond that of the low-maintenance Super Comp car that he had previously campaigned. The increase in the financial burden of the alcohol car was also significant.
Fortunately, he had no problem adjusting to the physical requirements of driving a much faster dragster. In fact his comfort behind the wheel led him to open the Doug Foley Drag Racing School. At the school, which he still operates successfully, Doug runs several different programs depending on the ultimate needs and wants of his various students and clients. He has a half day course that has you done by noon as well as a 2 day course that licenses successful graduates to operate drag cars that run as quick as 7.50 seconds. He also uses the school to conduct ride-alongs and team-building outings for his corporate clients.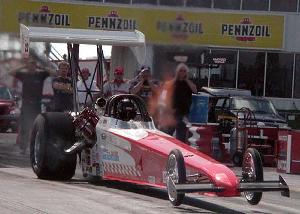 Foley in his TAD at Houston 2000.
Through his school he met Tim Lewis, someone who would turn out to be a very good friend. Building on their common goals and interests, Doug and Tim formed Foley-Lewis Racing in mid-2001 and ordered a brand new URC alcohol dragster. After a learning year in 2002 the Foley-Lewis team really made their mark in 2003. With the help of respected tuning guru Tom Conway, they won the Silver Dollar and Numedia Lucas Oil events on their way to a strong 9th place finish in the national Lucas Oil points.
While flying home from Dallas, their final event of 2003, Tim told Doug he wanted to change classes for 2004. Among the choices considered were staying in Top Alcohol Dragster but switching to the A/F engine combination as well as a running an alcohol funny car. Both Doug and Tim agreed that no matter what they ultimately chose to do they would only do it in a first class manner.
The duo realized that if they did purchase an alcohol funny car they would have to face fellow NHRA division 1 competitors Frank Manzo and Bob Newberry on a regular basis. Undaunted, Doug was willing to at least try out a funny car so he found an S & W Firebird to sit in. While in the funny car he realized that he was apprehensive about it and his apprehension was enough to let him know that funny car wasn't the class for him.
After some additional consideration Doug finally said to Tim one day, "If I can show you that Top Fuel works financially would you consider running T/F?" Tim agreed to at least consider the opportunity if the financials worked as promised. As a result they traveled to the final IHRA event of 2003 at Rockingham. There they talked to Bruce Litton and Mike Kloeber about the realities of IHRA Top Fuel competition. They saw Bruce as a model for the type of operation that they would like to run, feeling that he ran well but with some consideration for operating within a budget. Before long they took another big step and purchased one of Bruce's old cars three weeks later. Doug, the team's driver as always, got his Top Fuel license at Bradenton, Florida shortly thereafter.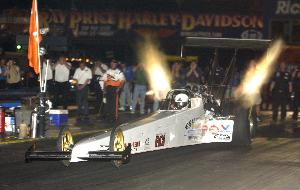 Foley at the Rock
Looking forward to the 2004 season, the Foley-Lewis team tried to set some realistic goals. They felt that a top ten points finish was realistic with a top five finish a desirable, but unrealistic, goal. Additionally they hoped that they could win one race. Looking back in retrospect their 2004 goals seem amazingly humble when you consider what they actually accomplished. With the 2004 season now completed their record shows an amazing three wins (out of just 12 events) and a very respectable 3rd place points finish.
What they had no way of knowing when they made their plans was how competitive the IHRA Top Fuel fields were going to be in 2004. Several other teams had come to the same conclusion as to the feasibility of the IHRA during the last off-season and in no way did the 2004 T/F level of competition resemble 2003. To finish third behind only the traditional big two of Millican and Litton seems incomprehensible for a rookie team with a rookie driver.
Doug credits the team's success to suffering no catastrophic engine damage in 2004. They did destroy one supercharger but that is a small price to pay for a full year of T/F racing. Last season they shared Bruce Litton's crew chief, Doug Kuch (pronounced Cook) but for 2005 have signed him to work on their team exclusively.
The Foley-Lewis team plans to return for another full season of IHRA Top Fuel racing in 2005. The team was kept afloat last season by augmenting their winnings with personal contributions from Doug and Tim to the team's finances. With additional Top Fuel competitors expected for 2005 they know that they need a major sponsor to continue their winning ways. If they succeed in finding the holy grail of all racers even the top two spots might not be out of reach next year.