Thu, 3 Jan 2002, 09:31 AM



How Close Was Pro Stock Last Year?



By Bob Frey



Since we took care of the two fuel classes last week, I figured that Iíd wrap up the Pro Stock categories this time around. So, for all of you "stats freaks" out there, here goesÖ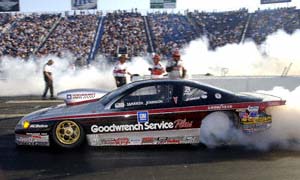 Warren Johnson
Warren Johnson
winning the 2001 class championship was rather interesting. Not that W.J. isnít always a threat to hammer the field, but you usually expect him to be the class of the field at every race, or at least, at the majority of them. Well, that certainly wasnít the case last year.
Did you know
that the "Professor" of Pro Stock lost eleven times in the first round last year? Eleven!! And, if you take away the first three races of the season, he actually dropped eleven round one matches in just 21 races, not the kind of stuff that champions are usually made of. Of course, he did maintain his remarkable streak of qualifying for every race since the Gatornationals in 1987, and thatís the longest streak in drag racing history. In fact, itís one of the few marks that Warren holds and
John Force
doesnít. Plus, (after a recount), Warren Johnson, not John Force, became the first driver in NHRA history to compete in more than 1,000 rounds of competition, and I think thatís pretty, darn impressive. So are six championships, by the wayÖ.Warrenís closest competitor in the pointís chase,
Jim Yates
, by comparison, dropped eight, opening round encounters, including that one in Memphis when he missed the race due to health problems. While weíll never know what the outcome may have been if Jim had raced in Memphis, it reminds me a lot of the 1992 season when
Cory McClenathan
skipped the Montreal race and then lost the championship by less than one round. Oh, what might have been! Yates, of course, was really done in by the fact that he won only four rounds after the U.S. Nationals. Four!!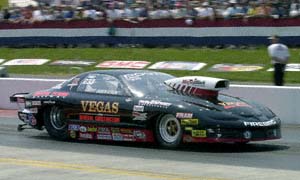 Greg Anderson
Warren, of course, led the pack in number of rounds won as well as the total, winning percentage for the year. His 35 winning rounds, was four better than Yates, and six better than
Bruce Allen
, while his .660 percentage compared to Yatesí total of .574 and Bruceís .580. But, as good as those two guys were, Iíll bet you canít tell me who had the second, best winning percentage in the class last year? Did you say
Greg Anderson?
Well, you are correct. Despite running only a limited schedule, Greg won a pair of races and complied a 15 Ė 9 mark, for a .625 percentage. Not bad for a part time guy, huh? Thatís why most folks like his chances to make a run for the title this year as the driver for
Ken Black
. To further illustrate how evenly balanced the Pro Stock class was last year, only ten drivers finished with a mark of .500 or better for the year, and that includes
Ben Watson
who was 1 Ė 1. The rest of the pack, including such great drivers as
Darrell Alderman, Richie Stevens, V. Gaines
and even
Ron Krisher
, with all of his power, were sub-.500 for the season. Amazing, isnít it?ÖThe Pro Stock class showed its parity, again, when you look at the qualifying spot of the eventual, race winners. Winners came from every qualifying position with the exception of five places. Number six, eight, twelve, thirteen and sixteen were the only winless spots in 2001. And,
did you know
that only twice, at the Chicago race and at St. Louis, did the number one qualifier go all the way to the win in Pro Stock. That is really surprising. In fact,
did you know
that as many guys won from the 14
th
and 15
th
starting spots as they did from the top spot? So, Iím sure youíre asking yourself, just what was the best starting position for a Pro Stock driver last year? How about number two?
Did you know
that four races were won by drivers starting from the number two spot? Maybe being number one isnít all itís cracked up to be.
Statistically speaking, it wasnít a typical, Warren Johnson year, either. Did you know that he didnít have the most number one spots in the class last year, and, I ask you, when was the last time that happened? OK, Iíll tell you, it was 1997 (not that long ago, huh), when Jim Yates sat atop the field on nine occasions. W.J. did set low elapsed time five times, and that was the best in the class, followed by Yates with four and Allen and Jeg Coughlin with three each. Of course, it was Warren who had the most top speeds, as he almost always does, with nine. Next in line was Kurt Johnson (8), and then the next best were Bruce Allen and Mike Edwards with two. Two!! Still, in the long run, Warren had the most numbers where it counted, in the pointís column. His winning total of 1,538, however, represents the lowest, winning total since back in 1990, and thatís even allowing for the changes in the pointís structure (in 1995).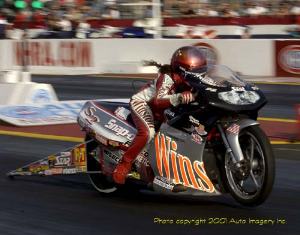 Angelle Savoie
The motorcycle class was very interesting last year, with
Matt Hines
dropping to the third spot, behind
Angelle Savoie
and
Antron Brown
. Angelleís final total of 41 Ė 7 (rounds won vs. rounds lost), made for a winning percentage of an amazing .854. Every competitor who raced regularly on the tour, lost 10 or more rounds, except Angelle. Antron dropped 11 to go with his 32 winning rounds, while Mattís final tally was 24 Ė 12. Only seven racers in the two-wheel class posted a .500 or better season markÖThe bike class has, historically, been won by the top, four qualifiers. In fact, we went years without a win coming from below the number four spot. 2001 wasnít much different, with all but two of the national event winners qualifying fourth or higher. Only Angelleís win at Pomona and
G.T. Tongletís
victory at St. Louis, came from lower spots. Angelle was #8 (the lowest starting spot of her career) at the summer race in Pomona, while the young Tonglet won from all the way down in the lucky number 13 position.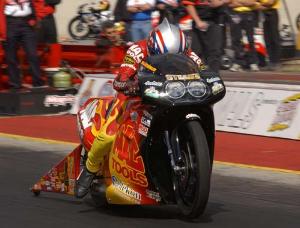 Antron Brown
The top three pointís earners in the class were the only ones to win more than one race last year, while
Shawn Gann
and Tonglet became first-time winners. Angelle grabbed seven titles, Antron, three and Matt, two. Those three also split the other statistical categories with Antron getting the most number one spots (6), Angelle the most low elapsed times (7) and Matt the most top speeds (3). Talk about parity. But, in the end, it was Angelleís round one efforts that may have been the difference.
Did you know
that, for the first time in her career, Angelle did not lose a single, round one match? True, Antron only lost one and Matt only lost two, but that means they couldnít earn any more points at those races and thatíll really hurt you. Angelle had a great season and, as of now, she is planning to compete again in 2002.
George Bryce
is very resourceful, has a lot of connections, and the help of the Winston folks, so expect to see Angelle back at Gainesville.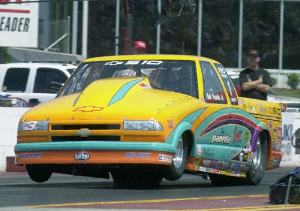 Bob Panella
Even though the trucks wonít return as a pro class this year, I thought Iíd give them a few props, anyway, especially,
Bob Panella
, for what he was able to accomplish. As you know, he won the championship in 2001, but
did you know
that he also won every statistical category in the class? He won more races, (4), tied for the most final rounds (6) with
Randy Daniels
and
Greg Stanfield
, had the most number one spots (4), low elapsed times (4) and top speeds (6) in the class and had a winning percentage of .762. Now thatís what a championship season is made of. As far as I know, Bob will be building engines (500 c.i.), for a couple of comp guys at the start of this year, which means, to me at least, that a run at Pro Stock canít be far behind. Meanwhile, Daniels, Stanfield,
Mark Whisnant
and
Don Smith
appear as the most likely candidates to step up to the car class this year, and not all of them will be in GM cars. Maybe we could get a petition going for a 32 car Pro Stock car field at Indy this year. What do you think?
Well, that about closes the book on the 2001 season, at least in the numbers department. There was one announcement this week, and that is that Kenny Bernstein will be sponsored by Lucas Oil in 2002. Now if you think this is a small deal, consider this. Kenny has issued a notice that his car will be called the "Budweiser King/Lucas Oil" dragster. Now does that sound like a small deal to you?ÖOther announcements should start coming this week and, hopefully, weíll have some of them here for you next week. Letís hope so, Ďcause it sure has been quiet.