Thu, 02 Jan 2020, 17:53 PM



Team Capco's Season to Remember



Courtesy of David Densmore


Photo copyright 2020 Mark Rebilas





Steve Torrence Makes More History During Second Straight Title Run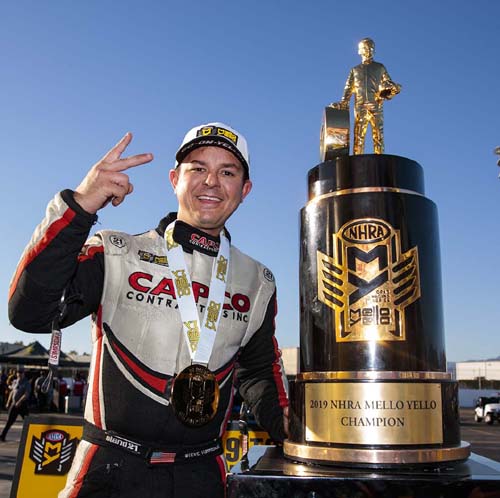 Steve Torrence poses with the distinctive Mello Yello championship trophy
after becoming the eighth driver in NHRA history
to win back-to-back Top Fuel titles.
KILGORE, Texas -
Steve Torrence fell just short in his bid to become the first driver in NHRA Top Fuel drag racing history to win 30 races in 30 months, but the 36-year-old cancer survivor's 2019 season added some significant achievements to his growing competitive portfolio.
Not only did he hoist the trophy after a second consecutive Mello Yello championship, joining an elite group of seven other Top Fuel drivers who have prevailed in back-to-back campaigns, he also became just the seventh driver, regardless of category, to win as many as 60 rounds of racing in a single season.
His 60-15 record over the course of the 24-race 2019 campaign made him just the third Top Fuel driver with 60-plus round wins in a season after Tony Schumacher, who reached that number in both 2004 and 2008, and Kenny Bernstein, who went 61-16 in 2001.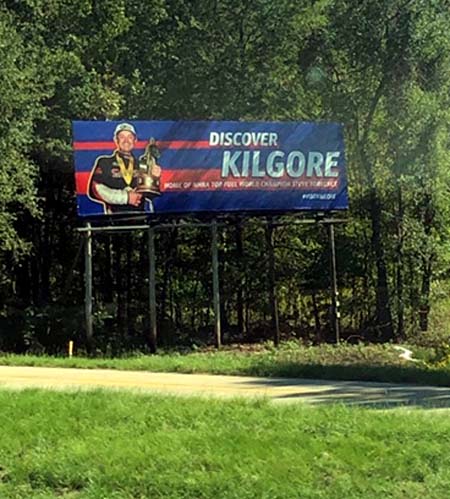 Highway billboard outside his hometown recognizes
Texan Steve Torrence's second NHRA Top Fuel championship.
>From April 30, 2017 through Oct. 30, 2019, 30 calendar months, Torrence drove his Capco Contractors Top Fuel dragster into the winners' circle on 29 occasions. No other Top Fuel or Funny Car driver has been more prolific.
In fact, only four-time Pro Stock Champion Greg Anderson can boast more production over a similar time frame with 31 wins in a 30-month span from Feb. 23, 2003 through August 23, 2005.
Perhaps even more impressive than his singular success was the production of Team Capco as a whole. That's because Capco founder and CEO Billy Torrence made some history of his own as the first part-time pro to qualify for the Countdown, ultimately finishing fifth.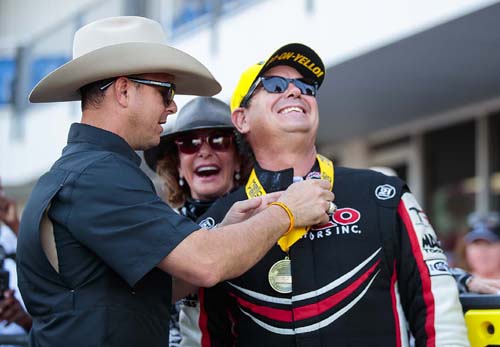 Mello Yello champion Steve Torrence, left, with dad Billy and "Momma Kay"
after Billy earned the second of his two 2019 Countdown victories.
Although he raced in only 16 of 24 events overall, Billy Torrence advanced to six final rounds and won four races, two of them in the six-race Countdown to the Championship. Ironically, it was his victory in an all-Capco final round at the AAA Insurance Midwest Nationals at St. Louis that denied his son his 30th win in three years.
Significantly, there was at least one Capco car in the final round at 18 of the 24 events and, on two occasions, it was an all-Capco affair with Steve winning in Topeka, Kan., before Billy prevailed in St. Louis.
Capco Contractors Top Fuel Dragster
2019 NHRA Mello Yello Drag Racing Series Summary:
(LEGEND: Underlined figures indicate BEST PERFORMANCE OF THE EVENT; *indicates track record; **indicates NHRA national record)

 
Best		
Date   Event                                 Site             Qualify/Result   Performance
Standing

2-10   Lucas Oil Winternationals             Pomona, CA       1st/Runner-Up     3.657/331.61  2nd 
2-24   Magic Dry Arizona Nationals           Phoenix, AZ      14th/1st Round    3.930/261.88  4th

3-17   Amalie Gatornationals                 Gainesville, FL  3rd/2nd Round     3.680/329.91  3rd


4-07   Denso Four-Wide Nationals             Las Vegas, NV    2nd/2nd Quad      3.721/327.59  3rd 
4-14   Mopar Express Lane Spring Nationals   Houston, TX      2nd/Semifinalist  3.705/327.19  3rd
4-28   NGK 4Wide Nationals                   Charlotte, NC    6th/WINNER        3.743/327.43  1st 	 

5-05   Arby's Southern Nationals       Atlanta, GA      2nd/WINNER        3.727/328.46  1st 
5-19   NHRA Virginia Nationals         Richmond, Va.    4th/WINNER        3.773/325.14  1st  
6-02   NHRA Route 66 Nationals         Chicago, IL      3rd/WINNER        3.741/329.34  1st 
	
6-09   Menard's Heartland Nationals          Topeka, KS       1st/WINNER        3.721/329.83  1st 	 
6-16   NHRA Thunder Valley Nationals         Bristol, TN      3rd/Runner-Up     3.768/326.00  1st 
6-23   Summit Equipment Nationals            Norwalk, OH      5th/WINNER        3.725/328.30  1st 	

7-07   NHRA New England Nationals          Epping, NH        9th/WINNER3.756/328.62 1st 
7-21   Dodge Mile-High Nationals           Denver, CO        1st/WINNER3.738/330.31*  1st
7-28   NHRA Sonoma Nationals               Sonoma, CA        2nd/Semifinalist 3.717/325.85  1st 

8-04   Cat Spot Northwest Nationals           Seattle, WA      3rd/Runner-Up	3.705/328.46  1st
8-18   Lucas Oil Nationals                    Brainerd, MN     2nd/2nd Round	3.738/328.70  1st

9-02   Chevrolet U.S. Nationals               Indianapolis, IN 3rd/2nd Round	3.656/331.12  1st


Countdown to the Mello Yello Championship:
9-15   Mopar Express Lane Keystone Nationals  Reading, PA	8th/1st Round       3.697/330.15  3rd 
9-29   AAA Midwest Nationals                  St. Louis, MO	5th/Runner-Up       3.708/327.90  2nd  
10-13  NHRA Carolina Nationals                Charlotte, NC 	1st/WINNER          3.711/329.34  1st 

10-20   AAA Texas Fall Nationals              Dallas, TX	4th/1st Round       3.689/329.18  1st 	 
11-03   Dodge Nevada Nationals                Las Vegas, NV	5th/Runner-Up       3.690/330.63  1st  
11-17   Auto Club Finals                      Pomona, CA	1st/Semifinalist    3.686/329.99  1st 

NHRA Mello Yello Drag Racing Series Most rounds won, single season
76 by Greg Anderson, Pro Stock, 2004 (76-8, 90.5%)
76 by Tony Schumacher, Top Fuel, 2008 (76-9, 88.1%)
67 by Greg Anderson, Pro Stock, 2003 (67-11, 85.9%)
65 by John Force, Funny Car, 1996 (65-6, 91.5%)
65 by Jason Line, Pro Stock, 2016 (65-16, 80.2%)
64 by Greg Anderson, Pro Stock, 2016 (64-16, 80.0%)
62 by Jeg Coughlin Jr., Pro Stock, 2000 (62-13, 82.6%)
61 by John Force, Funny Car, 1999 (61-11, 84.3%)
61 by Kenny Bernstein, Top Fuel, 2001 (61-16, 77.7%)
60 by Tony Schumacher, Top Fuel, 2004 (60-13, 82.2%)
60 by Steve Torrence, Top Fuel, 2019 (60-15, 80.0%)


NHRA Mello Yello Drag Racing Series
Top Fuel Drivers with Consecutive Series Championships

Don Garlits         1985-86
Joe Amato           1990-92 
Scott Kalitta       1994-95
Gary Scelzi         1998-99
Larry Dixon         2002-03
Tony Schumacher     2004-09
Antron Brown        2015-16
Steve Torrence      2018-19