Mon, 28 Oct 2019, 10:23 AM



Triplett becomes Double Winner at Mickey Thompson Million



Courtesy of Million Dollar Race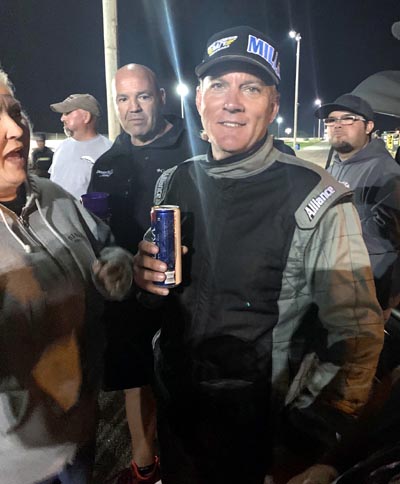 Dave Triplett
Dave Triplett of Eustis, Fla., became just the third driver to score a victory at the Mickey Thompson Million Dollar Drag Race when he defeated Tim Thomas of Lumberton, N.C. in the final round. Triplett walked away with a $250,000 top prize for his win. In the final round, Triplett drove his Chevy Vega to with win with a .011 reaction time coupled with a 5.742 on his 5.74 dial. Runner-up Thomas was just six-thousandths behind at the finish line after a .014-light and a 4.605 on his 4.60 dial.
"I really needed this in order to turn my crappy year around," said Triplett, who was a Million Dollar winner in 2008 and a runner-up to Kenny Underwood in 2013. "Prior to this, I think I'd been to five races and won a total of $950 for the whole season. This is amazing. I'm in shock. I can't believe it.
"I have some people I really need to thank, first off my dad, Bill Triplett for getting me into this," said Triplett. "I wish he was here. I also need to thank my wife, Allie, who supports me more than anyone else in the world. She believes in me. She said I was going to win earlier today. I don't know what she knows that I don't. Then I have K&R, FTI, Goodyear, Heartbeat Racing Engines, our local auto store, Eustis Auto Parts, and my parents for giving me the opportunity to get away and do what I love to do."
Triplett has raced the same '72 Vega for more than two decades and he's won more races than he can remember. Triplett doesn't feel the least bit intimidated, even when he has to race against the four-second dragsters that tend to outnumber the full-bodied cars at most big money bracket races.
"As far as preparing the car, Max Brewer out," said Triplett. "A lot of people don't know this, but I had a ball joint break on the car back in Bristol at the $500K and I almost lost the car. Bill Fredrickson helped put it back together. This is my fifth race for the year, so I didn't do a good job preparing but here we are."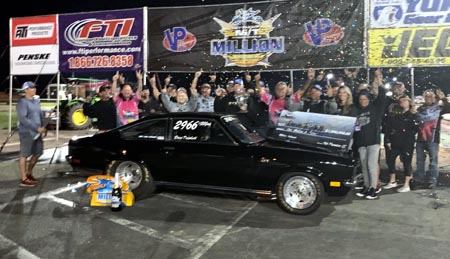 Dave Triplett celebrates win.
Triplett opened eliminations with a strong performance that included a .012-second package against Trampus Stewart. A .008 light and a 5.760 on his 5.75 dial was enough to get past Scott Wright in round two and Triplett also topped Stephen McRory, A.J. Ashe, Donovan Williams, Josh Luedke, Peeps Pennington, and Thomas to earn the win. Triplett's best performance came against Ashe, where he was nearly perfect with a .002 light and a 5.764 against his 5.76 prediction. Triplett joins fellow Florida natives Gary Williams (2004, 2007) and Kenny Underwood (2013-2018) as the only repeat winners of the prestigious event, which is now in it's 24th season.
In the quarterfinal round, Thomas turned on the in light after beating Jon Seigel with a .017 light and a perfect 4.610 on his 4.61 dial. Seigel was quicker at the start with a .004 bulb, but ran a 4.800 on his 4.78 do lose by .003-second. Triplett then advanced after Luedke fouled. Triplett was going to be tough to beat with a .002 light and a 5.748. Pennington punched his ticket to the semifinal round after Kevin Brannon red-lighted after encountering a mechanical problem.
In the semifinal round, Triplett took on the dragster of Texan Peeps Pennington and came away with a win with a 5.751 on his 5.75 dial. Pennington was quicker off the starting line, .006 to .019, but broke out at the stripe with a 4.556 on his 4.56 dial. Thomas got the bye run with three cars left and ran a 4.606 on his 4.61 dial.
The event also included the Race Star Wheels Triple 30's, a trio of $30,000 to win events scheduled for Thursday, Friday, and Sunday. Due to rain, the schedule was adjusted and the first two events were combined into a single $60,000 race that was won by Shane Carr over Paul Rich. The final Race Star Wheels $30,000 event was held Sunday night with Tyler Bohannon using a nearly-perfect run to defeat David "Bird" Jones.