Mon, 28 Oct 2019, 09:53 AM



Mike Rock Scores Firebird Classic Crown



Courtesy of New Crew



EAGLE, Idaho -
Mike Rock (far lane) defeated Andy Schmall
Mike Rock scored the overall Classic Grand Championship title at the NAPA Auto Parts Halloween Classic XXVI event.
Rock drove his hot orange dragster to a 5.19 (5.19 dial) 131.08 to the runoff crown over the `88 Beretta of Andy Schmall who finished at 6.09 (6.08 dial) 112.48.
Individual NHRA Idaho State champions included: Rock-Super Pro, Schmall-Pro, Jerry Durant Jr. (`05 Ram)-Heavy, Dennis Duncan (`69 Camaro)-Sportsman, Jacob Wood (`16 Arctic Cat)-Sled/Bike.
In the Lucas Oil Top Gun Shootout featuring the quickest 32 qualifiers, Ray Gaetz (full-bodied) recorded a 4.82 (4.80 dial) over Chad Robertson (open-wheel) at 3.98 (3.89 dial).
Other champs: Juliet Barnhart and Tom Clark in Super Roller; Casey Allum and Phil Hudlow in Hi Roller, Glen Phillips and Leann Day in Gambler; Zach Clarke and Jacob Wood in Sled/Bike Gambler; Cassandra Jensen in Last Chance; Jason Squire in the Quality Trailer Runoff; Frank Greenough Jr. and Mick Alley won top honors in the Air Firebird show.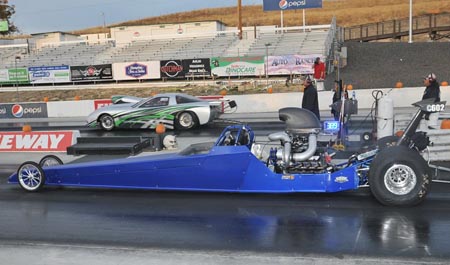 Ray Gaetz (far lane) defeated Chad Robertson
Junior champions included Tanner Gaetz in Jr. Lightning; Austin Breitkreuz in Jr. Thunder; along with Gracie Erickson, Camryn Stocker, Summer Field, Gaetz and Breitkreuz.
Special awards: Bob Reynolds -Best Appearing Full; Sean Shaffer-Best Appearing Open; DePeel-Best Bike; Robertson and Kevin Young-Top Gun low qualifiers; Jaylee Bird-Best Appearing Junior; Lost Creek Raceway racers - Bader Founder's Award; and Breitkreuz-Long Distance (Beaverlodge, Alta.).
Learn more at: http://www.firebirdonline.com.

RESULTS
NAPA Auto Parts Halloween Classic XXVI

Tuesday, October 8, 2019
Corn Hole champions: Villagers (Matt and Mark)

Wednesday, October 9, 2019
Quality Trailer Sales Club Grand Championship
Jason Squire, Venom Racing, .030, 8.38 (8.29 dial) 73.15 def. Ed Wong, Valley Vettes, .086, 7.95
(7.91 dial) 88.28.

Individual Club Runoff Winners
Grady Halverson, Rock-It Racing
Katy Phelps, Lady Barons
Jeff Devey, Flying Brick
Steve Pyburn, Melba Outlaws
Justin Davis, Exclusive Gems
Michael Jaggers, Kuna Knuckle Draggers
Colin Dalton, Hustlers
Shannon Campbell, Naughty Girls
John Smith, Down `n Dirty
Richard Lally, The Barons
Terry Phillips, DT Embroidery
Shawn Lloyd, Hot Shots
Wong, Valley Vettes
Squire, Venom Racing

Thursday, October 10, 2019
Super Roller
Juliet Barnhart def. Scott Stoppel
No Box/Hi Roller
Casey Allum def. Courtney Alley
No Box/Gambler
Glen Phillips def. Joe Witherspoon
Sled/Bike Gambler
Zach Clarke def. David Wood

Friday, October 11, 2019
Super Roller
Tom Clark, .021, 4.54 (4.53 dial) 149.60 def. Eddie Franek, .016, 5.46 (5.42 dial) 123.64.
No Box/Hi Roller
Phil Hudlow, .031, 8.42 (8.34 dial) 79.42 def. Kristi Shawver .145, 6.82 (6.78 dial) 99.88.
No Box/Gambler
Leann Day, .000, 6.46 (6.42 dial) 104.59 def. Josh Cirelli, .007, 7.55 (7.48 dial) 83.16.
Sled/Bike Gambler
Jacob Wood, .021, 5.46 (5.46 dial) 117.01 def. Chris Murray .192, 8.95 (8.98 dial) 74.07.

Final Lucas Oil Top Gun Shootout Qualifying
Top Gun Full-Bodied
1. Kevin Young, Idaho Falls, 4.41, 170.28
2. Chad Riley, Benton City, Wash., 4.58, 155.01
3. Bill King, Sandy, Ore., 4.70, 147.76
4. Dave Kvasnicka, Pocatello, 4.73, 149.02
5. Judy Radford, Baker City, Ore., 4.73, 148.94
6. Ray Gaetz, Medicine Hat, Alta., 4.75, 147.31
7. Joe Hopper, SLC, Utah, 4.85, 143.70
8. Dairld Wurtz, Nampa, 4.92, 141.55
9. Greg Harrington, Sandy, Utah, 5.01, 139.95
10. Scott Stoppel, Billings, Mont., 5.24, 131.64
11. Carl Youngstrom, Caldwell, 5.25, 127.86
12. John Tiegen, Grand Prairie, Alta., 5.31, 131.28
13. Rod Taylor, Kalispell, Mont., 5.38, 130.72
14. Bill Smith, Cave Junction, Ore., 5.39, 128.95
15. Forest Fincher, Pasco, Wash., 5.39, 130.94
16. Michael Winston, Emmett, 5.43, 128.11
Alternates: Josh Cutts, Tracy Hawker, John Shaffer, Levi Drager

Top Gun Open Wheel
1. Chad Robertson, Belgrade, Mont., 3.85, 188.62
2. Casey Tehle, Billings, Mont., 3.88, 186.64
3. Shane Molinari, Battle Ground, Wash., 4.02, 182.80
4. Justin DuBose, Westhaven, Utah, 4.27, 162.37
5. Dan Wayman, Riverton, Utah, 4.31, 161.56
6. Meghan Molinari, Battle Ground, Wash., 4.39, 158.78
7. Sean Shaffer, Boise, 4.43, 159.57
8. Rod Belsham, Prince George, B.C., 4.43, 156.59
9. Dan Lafferty, Wendell, 4.44, 156.17
10. Chris Barton, Deer Park, Wash., 4.51, 153.53
11. Tom Clark, Spokane, Wash., 4.51, 152.33
12. Duston Wurtz, Nampa, 4.52, 152.68
13. Mark Barnhart, Emmett, 4.53, 151.49
14. Blu Hayball, Fort Hall, 4.53, 151.99
15. Jeff Evans, Spokane, Wash., 4.60, 156.39
16. Darryn O'Connor, Ponoka, Alta., 4.63, 150.50
Alternates: Misti Unser, Ken Nelson, Shannon Boepple, Alyson Clark, Jerry Fisher, Lee Petty

Saturday, October 12, 2019
Junior Dragster Shootout
Age Division Champions
Gracie Erickson
Camryn Stocker
Summer Field
Tanner Gaetz
Austin Breitkreuz

Sunday, October 13, 2019
Classic Grand Championship
Mike Rock, Nampa, .038, 5.19 (5.19 dial) 131.08 def. Andy Schmall, Idaho Falls, .054, 6.09 (6.08
dial) 112.48.

Lucas Oil Top Gun Runoff
Ray Gaetz, Medicine Hat, Alta., .032, 4.82 (4.80 dial) 135.69 def. Chad Robertson, Belgrade, Mont.,
..036, 3.98 (3.89 dial) 185.10.

Super Pro
Mike Rock, Nampa, .015, 5.20 (5.19 dial) 131.97 def. Ray Gaetz, Medicine Hat, Alta., .020, 4.81
(4.79 dial) 145.85.

Pro
Andy Schmall, Idaho Falls, .017, 9.60 (9.56 dial) 127.69 def. Scott Taylor, Columbia Falls, Mont.,
..058, 11.13 (11.09 dial) 118.45.

Heavy
Jerry Durant, Jr., Oregon City, Ore., .013, 13.50 (13.51 dial) 98.87 def. John Wong, Eagle, foul
-.037, 11.55 (11.58 dial) 115.75.

Sportsman
Dennis Duncan, Nampa, .173, 12.03 (12.00 dial) 112.57 def. Paul Wallace, Boise, .053, 14.93 (14.94
dial) 89.12.

Sled/Bike
Jacob Wood, Meridian, .048, 8.72 (8.70 dial) 140.93 def. Don DePeel, Gladstone, Ore., .081, 8.64
(8.63 dial) 152.00.

Junior Lightning
Tanner Gaetz, Medicine Hat, Alta., .001, 8.08 (7.99 dial) 71.00 def. Peyton Basile, Meridian, .252,
7.97 (7.99 dial) 72.54.

Junior Thunder
Austin Breitkreuz, Beaver Lodge, Alta., .080, 11.99 (11.90 dial) 52.73 dial Jaylee Bird, Spanish
Fork, Utah, .475, 9.44 (9.49 dial) 68.40.

Top Gun Full Bodied
Ray Gaetz, Medicine, Hat, Alta., .020, 4.79 (4.78 dial) 145.03 def. Forest Fincher, Pasco, Wash.,
..029, 5.45 (5.46 dial) 128.80.

Top Gun Open Wheel
Chad Robertson, Belgrade, Mont., .001, 3.89 (3.86 dial) 186.20 def. Justin DuBose, West Haven,
Utah, foul -.009, 4.32 (4.30 dial) 161.27.

Last Chance
Cassandra Jensen, Boise, .169, 12.58 (12.58 dial) 102.49 def. Lee Petty, Pasco, Wash., .005, 7.97
(7.99 dial) 168.37.

Special Award Plaques
Adult Costume Contest winners: Scariest-Anjelica Anderson (Oogy Boogey); R. Brack Judy & Lindsey
(Pumpkin Smugglers); Seth McLean & friend (Buddy the Elf); Shelby Schoenfeld (Miss Hurst).
Honorable mention: Rachel & Debra Hawker (Boo Bees); Sanderson sisters (Hocus Pocus)

Staff Costume Picks: Bryan Smith (Dog the Bounty Hunter); Dennis Law (Rodeo Clown), Weston Nichols
(Captain Obvious); and Martin Schultz (Polar Bear).

Best Decorated Pit Area: Linda Panunzio, The Barons club, Kuna Knuckle Draggers

Best Decorated Race Car: Scott Howell, Briana Archibal, Keeley Peters

Kid's Costume Contest winners: Most Unique-Colton Brazington; Scariest-Charlotte Carroll;
Funniest-Jaxson Sanderson; Cutest-Annabelle Ostenburg

Bader Family Founder's Award: Mike Hall, Rich Potvin & friends - Lost Creek Raceway