Tue, 02 Jan 2018, 10:13 AM



Creatures of the Night Part I



By Steve Reyes


Photo copyright 2018 Steve Reyes





So how many of you, die-hard drag racing fans, have ever seen a drag race at night? I am not talking about stockers blazing down the quarter mile at 60 mph; no, I am talking about top fuel, funny cars, or fuel altered roadsters. Well, back in the mid-1960s and into the early 1970s, night drag racing was incredible in Northern and Southern California.
Southern California had Lions, Irwindale, Fontana and of course, OCIR with outstanding racing, all under the lights. My stomping grounds, Fremont, made their move to nights in 1966. For me, this was not good; heck, I had just figured out how to photograph race cars during the day and now had to learn to shoot at night! Being not so wealthy (a.k.a. broke), this was not good because I could not afford a cool strobe/flash unit like my counterparts in the Los Angeles area. In an effort to help me out, my photo friend Ted Stewart, taught me the art of pushing film. It is the process of making film light sensitive. The secret is all in how you process and develop your film. Armed with my new knowledge and the camera, I set out to get images without a strobe or flash, just using the light sources at the track.
Prior to this, I had only attended one night drag race in my life in 1965. The Welch Brothers, Rich and Les, and I had ventured to Riverside, California, for the Hot Rod Magazine race. As a spectator that night, I was in awe of the colors, smells and feel of night drag racing. I had never had those feelings at a race before and it was mind altering. Back home, with Fremont changing to nights, I had to try and capture the aura on film, even if I ended up with a bunch of crap on film. I had to try!
Like most things in life, it was a lot of trial and error. I managed to "paint" with film and get images that were enjoyable to look at and I could be proud of. Soon I was able put a $10 fan flash on my camera and lug around a couple of dozen flashbulbs. Finally, about 1968, I joined the strobe/flash gang with the purchase of a strobe/flash unit. However, I will always love the images I first took at night when I painted with film.
If you wish to purchase prints of the photos below or any others, they may be obtained by contacting us at breyes@reyesontour.com. Other photos for purchase may be viewed by following the links at www.reyesontour.com.
It was in October of 1966 when I took this image of jet vs. top fuel car at night.
Fremont was the place and this was one hard photo to figure out. It was shot with available light,
using only the light from the race track. The hardest part was accounting for the overall light
from the back of the jet. Talk about bright! JD Zink was driving the Untouchable jet against
Waters & Edmunds AA/FD driven by John "The Black Knight" Edmunds.
The dragster won three straight!
Again in 1966 at Fremont, Denny Forsburg was at the controls of the
Vic Hubbard Speed & Marine Special A/FD. Yes, the 400 a.s.a. film was "pushed"
to 1200 a.s.a. and developed with Acufine developer. The only light source was
from the tower. Both photos were shot when the car entered into the overall spotlight,
shining on the race track. For you photo buffs out there, 1/60th was the shutter
speed at F5.6.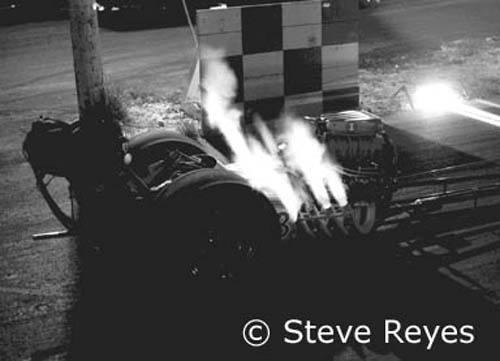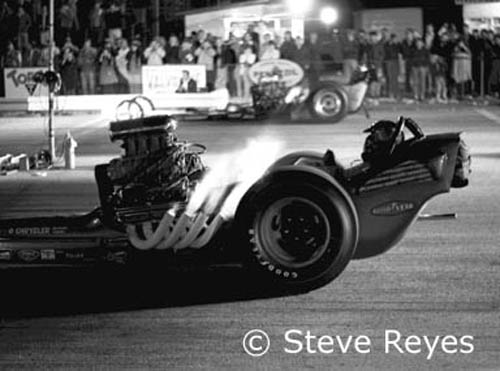 Both of these header flame shots were shot backlit and not dependent on
the race track light sources. Also, both were shot at normal film speed (400 a.s.a.), hand held
at 1/15th, F4-5.6. Shooting these photos, I took a deep breath and ignored the engine noise.
I like the photo of Ormsby in the Cheetah because the light from the flames is reflecting off his
goggles and face mask. To me, this gives a nice feel to the photo. Now, the one of the
Hawaiian AA/FD against W.C.M. AA/FD has that calm before the storm feeling. Snively in
the Hawaiian AA/FD won this 1966 battle against James Warren.
Okay, we were at the 1968 PDA race at Lions and I wanted a photo that had the
AA/FD at Lions feel to it. This is what I came up with that long-ago night. The car
was unknown to me.
Don Cook and his AA/FD were on the track right at dusk. This photo has a great
feeling of speed and motion to it and is one of my favorites from 1967. The other AA/FD
at night is Jessie Perkins' The Runt AD/FD with Richard Bruckman at the controls. Again,
using the light off the Fremont tower, I achieved great results and yes, the film was rated
at 1200 a.s.a. on both images.
Here I was just playing around with color film at night. You have to love the
flames from the one image. The full car shot is Butters and Gerard's AA/FD with
Mike Clancy at the controls at Lions.
Natural light sources were used in 1966 when I shot Miss Topless Yvonne D'Angers
with Tommy Ivo's AA/FD in front of the Off Broadway Club in North Beach, San Francisco.
The second photo was taken wandering in the race car garages at the Hot Rod Magazine
race in Riverside, California. I came up with this available light image of racers
working on their car.
Again playing with color film, lens size and a strobe produced this crazy image
of Norm Reis' AA/FD at Lions in 1971. Painting with color film. Towards the end of
the 1960s, I finally purchased a nice sturdy tri-pod and I took it to Dallas for the
NHRA Springnationals. If your timing was right, some great images could be had
with the great lighting at Dallas. Kansas John Wiebe and his AA/FD were lookin' great
under the night skies of the Lonestar state.