Mon, 01 Jan 2018, 09:17 AM



Recycled Funny Cars Part II



By Steve Reyes


Photo copyright 2018 Steve Reyes





For many of the new funny car teams entering the world of funny car racing, their only option was a slightly used recycled race car. Many of the well-known and well-funded funny car teams would go through race cars like they were disposable. If there had been a particularly grueling race and the owner/drivers felt they needed a change, a new car would replace that "old warrior" at any time of the year. This meant cars would become available just about any time of the year. We are talking about multi-car teams that raced almost every day of the week plus national events. The winter saw the biggest influx of cars for sale. With the funny car teams gearing up for the new year touring, it was out with the old and in with the new which was a great time for those with smaller budgets to go used funny car shopping. Here are some more photos of cars that were re-born to run again after having been deemed unworthy.
If you wish to purchase prints of the photos below or any others, they may be obtained by contacting us at breyes@reyesontour.com. Other photos for purchase may be viewed by following the links at www.reyesontour.com.
One of the big guns in the 1967 funny car competitions was Doug Thorley and his Doug's Headers
awesome Corvair. The slick Corvair funny car had a re-birth in 1968 as the Dick Bourgeois and
Earl Wade Corvair funny car. With Bourgeois at the controls and Wade turning wrenches,
the duo match raced across the USA in 1968.
When Jim Annin got the bug to go top fuel racing, his Challenger AA/FC went up for sale.
It was quickly snapped up by Northern Californian Bob Papirnick who just changed
the lettering and went funny car racing.
Dunn and Reath's woody chassis funny car did very well for the Los Angeles based duo.
However, when it came time to build their very well-known rear-engine funny car,
the front motor car was sold to California racer Mike Dierich. Under Jim Dunn's guidance,
Dierich became a pretty good funny car owner/driver in the Southern California area.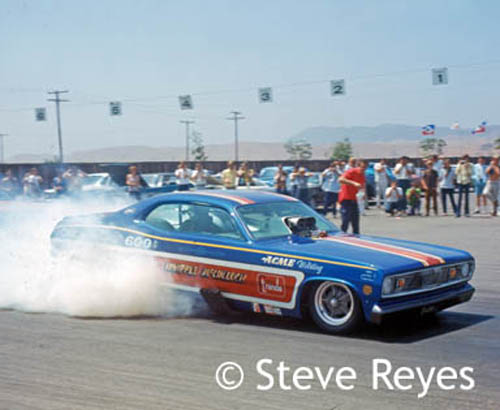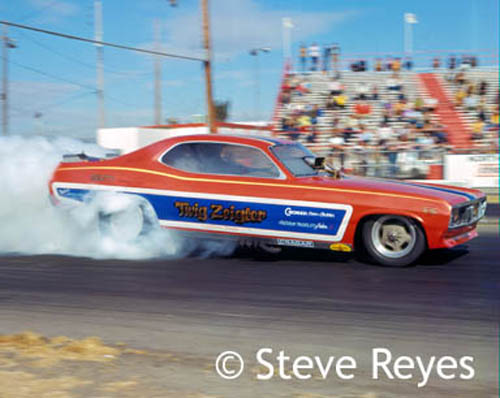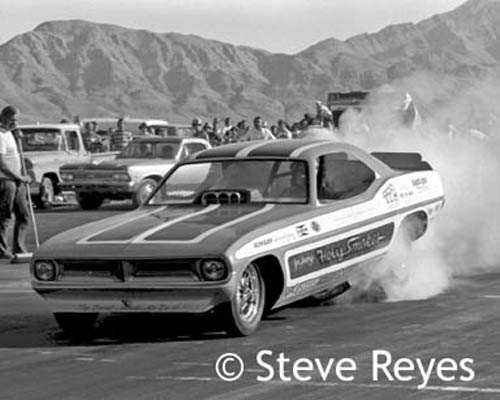 When Art Whipple and Ed McCullough debuted their funny car in early 1970, it was the killer
diller of the class. A fire in the trailer, while towing to a NHRA national event, destroyed the
entire rig and car. Undaunted and with the help of Ed Wills, the two veteran racers got a new
car ready in record time. AA/GS racer Twig Zeigler inspected and purchased the ruins of the
W&M AA/FC and in early 1971, Zeigler's funny car hit the race track in his home state of Washington.
Twig had taken a burned-up mess and recycled it. When Twig decided to build a new car for the
1972-73 season, Jim Murphy took ownership of the Ex-W&M and Zeigler ride. It became the
first of many Holy Smokes funny cars for Murf.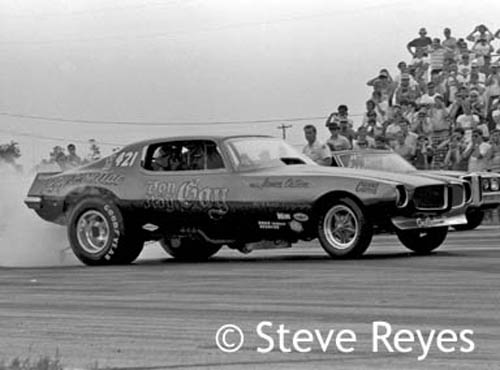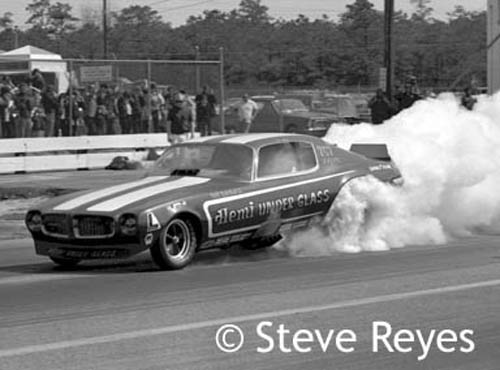 After the death of his brother Roy, Don Gay lost interest in funny car racing. He held one heck
of a fire sale which saw their Firebird funny car end up with wheel-stand king Bob Riggle.
So how did the car return to racing? Dale Emery, Dee Gant and Waterbed Fred Miller
were hanging out at Riggles place in Ohio when they spotted the Ex-Gay funny car in the
corner of the shop. They asked about the car and whether or not, if they put the car together,
they could make a few laps with it. "Sure, why not?" said Riggle. Then the Hemi Under Glass AA/FC
hit the drag strip with Dale Emery at the controls. The car only ran a few match races and one
NHRA National event in Ohio before it disappeared into the funny car abyss.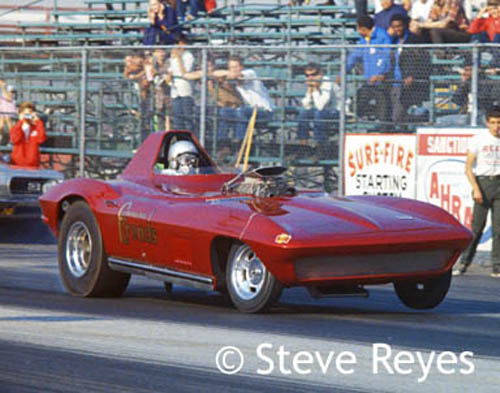 One of the first funny cars to crank out 200 mph passes was the Fiberglass Trends Corvette funny car
of Don Kirby with Pat Foster at the controls. For a while, the car was billed as the "World's Fastest Corvette."
With Beach City Chevrolet coming onboard as a major sponsor, Kirby revamped his Corvette and had
Gary Gabelich at the controls. Foster had found another ride in Roland Leong's Hawaiian. Well, it is a
good thing Kirby had a major sponsor because he needed it. The Corvette funny car managed to burn
to the ground twice. Once at Irwindale with Gabelich driving and the second and last time at OCIR with
Ron Goodsell driving. The Kirby Brothers, Don and Bud debuted an all new Camaro AA/FC in which they
maybe raced three or four times. Jim Liberman made the brothers an offer on their Camaro and it
joined the Jungle Jim funny car fleet.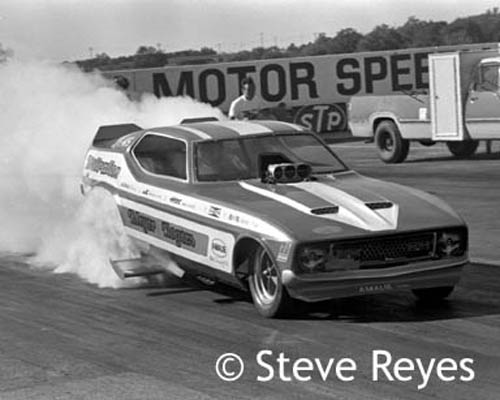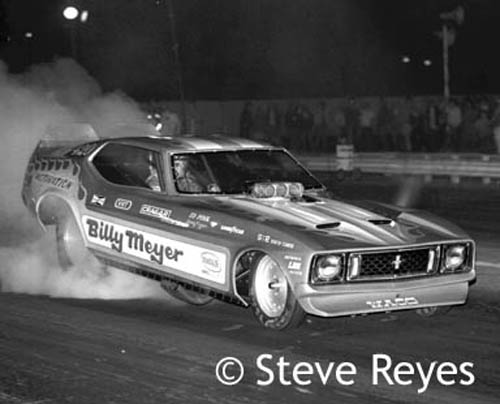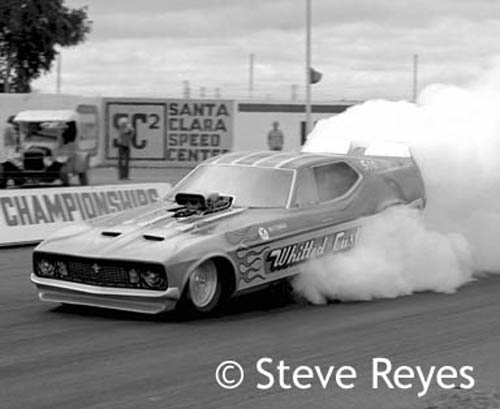 Billy Meyer was no stranger to recycled funny cars. His first ever funny car ride was in Grover
Roger's Buccaneer AA/FC. Meyer like funny car racing and became partners with Rogers and
soon purchased the entire operation. Billy came through for the team of Whitted and Custy
with a recycled AA/FC. The W&C had just burned their AA/FC 'Cuda to the ground and needed
a replacement so they could meet their match race bookings. Meyer came to the rescue with
one of his back-up funny cars and quickly W&C were back on the funny car circuit only to burn
that ex-Meyer Mustang to the ground. That is funny car racing!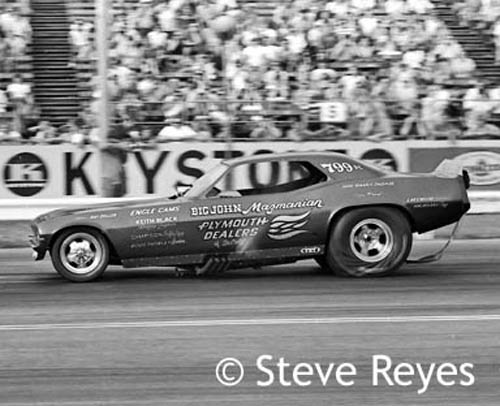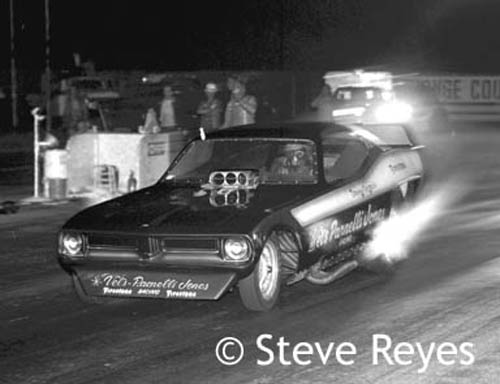 The Vels/Parnelli Jones folks didn't have to look far for a funny car to purchase.
Big John Mazmanian put out the word he was selling his complete funny car operation
in 1973. The Vels/Parnelli Jones folks were there with the cash in hand. Big John's candy
'Cuda became the Vels/Parnelli Jones 'Cuda AA/FC. You could say driver Danny Ongais was
happy, he was the last Mazmanian 'Cuda driver and now the first Vels/Parnelli driver.