Sun, 03 Dec 2017, 09:32 AM



Second Year on Tour is All New for BIGFOOT Driver Larry Swim



Courtesy of Kelly Topolinski



CAMP FUJI, Japan -
Summit Racing BIGFOOT 4x4® Monster Truck driver Larry Swim is experiencing Operation Appreciation for the second time. Last year, the tour ventured to the Middle East and military installations in Kuwait. This year, it's a whole different scene as the Tour of Champions, including Summit Racing NHRA Pro Stock drivers Greg Anderson and Jason Line, Harley-Davidson Vance & Hines NHRA Pro Stock motorcycle riders Eddie Krawiec and Andrew Hines, and BIGFOOT drivers Swim and teammate Dan Runte, are visiting American troops on station at various locations in Japan.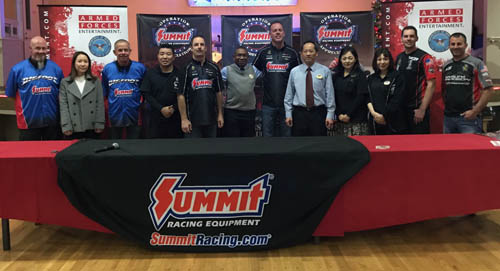 A big thank you to the staff at Camp Fuji.
There were a lot of active duty members out on deploymen
t when we arrived, but the staff did everything
they could to ensure a god turnout with maximum outreach for the troops.
The third day of Operation Appreciation 2017 took the group to Combined Arms Training Center Camp Fuji, a United States Marine Corps installation that sits at the base of Mount Fuji. Swim shared his experience following a meet and greet at the Roadhouse, the club on base where military members can congregate to share a meal, play darts or pool, or watch television.
"So much about this trip is very different. Last year, we were in the desert. This year, we have Mount Fuji in the background. The landscape and the culture are completely different, but the one thing that's the same is how welcoming the members of our military are. They have been great, just like they were in Kuwait, and everybody is very friendly and appreciative that we're here. It's always strange for me that they thank us when really, it's our honor to be here. We get to do what we do because of them.
For complete story go to www.onallcylinders.com