Sat, 02 Dec 2017, 11:34 AM



Andrew Hines Speaks of Unique Experiences During Visit to Yokota AB



Courtesy of Kelly Topolinski



YOKOTA AB, Japan -
The second day of the annual Summit Racing Equipment-sponsored, Armed Forces Entertainment-organized Operation Appreciation took six Motorsports champs to Yokota Air Force Base, where they were greeted by members of our U.S. Armed Forces - as well as many of their children. In a departure from recent years, when the morale trip brought the team to remote bases where military members were on deployment, this time around there are troops on station accompanied by their families.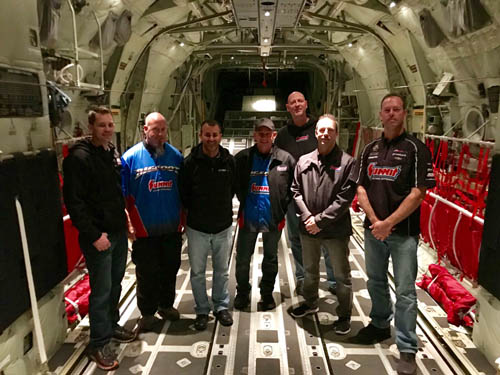 The team inside the cargo area of a
new C-130 on the air field at Yokota AB.
At the end of the day there, Andrew Hines - rider of the Harley-Davidson Vance & Hines NHRA Pro Stock Motorcycle - broke away from the group to talk about visiting Japan for the first time and sharing the experience with his Harley-Davidson teammate Eddie Krawiec, Summit Racing NHRA Pro Stock drivers Greg Anderson and Jason Line, and Summit Racing BIGFOOT 4x4 drivers Dan Runte and Larry Swim.
"Yokota is an extremely large base, and this year we are seeing a different side of things in terms of the size and infrastructure of these bases. They have full school systems, from elementary school through high school, and some of these installations are capable of holding tens of thousands of troops and their families. It's probably more like bases you would see in the United States, and it really gives you the full idea of how large and well-organized our military is. It's surprising to see for yourself how many troops are over here in Japan - and we've just been to two bases so far. It's an impressive experience.
For complete story go to www.onallcylinders.com