Sun, 26 Nov 2017, 09:10 AM



Jose Gonzalez Dominates Pro Boost



Courtesy of Lisa Collier


Photo: Gary Rowe / RaceWorks.com / PDRA660.com





PITTSBORO, N.C. --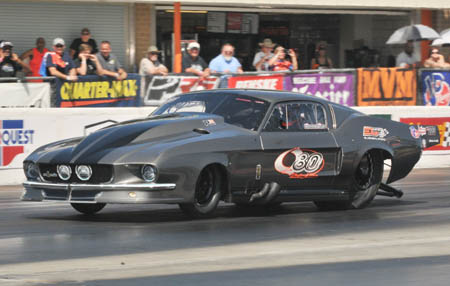 Jose Gonzalez
Running two classes could have made for an extremely challenging year for Jose Gonzalez. But Gonzalez made it look easy. Not only did he finish in the top five in both classes, he waltzed away with the 2017 Andy McCoy Race Cars Pro Boost World Championship.
Gonzalez, who runs out of the Pro Line Racing Engines and FuelTech camp, won the first two PDRA races this season, quickly establishing, and then never relinquishing, his Pro Boost points lead. He closed out the year with another final, solidifying himself as the king of Pro Boost this season. The PDRA World Finals was a raging success for Gonzalez and the El General Racing team. The Dominican Republic native reset the National ET Record at a 3.638 in his turbo-powered '67 Mustang while teammate Eric Dillard reset the National MPH Record at 215.89. Gonzalez and Dillard then worked their way to the final round, putting a decisive exclamation point on their season.
Impressively, Gonzalez also ran competitively in Pro Extreme. Two semi final finishes helped him manage a fifth place points standing for the year. What could have been a distraction in running two professional categories, Gonzalez used to his advantage. The extra seat provided an opportunity to hone his reaction time, and he often posted the best reactions of both categories.
"The Pro Line Racing and FuelTech family is unbelievable," stated Gonzalez. "If we ever had a problem, there were numerous hands in the fire to do whatever was necessary to make sure we were at the top each race. It's an amazing feeling to take home the 2017 PDRA Pro Boost championship. We had this goal at the beginning of the year and we did just that! Pro Boost is one of the most competitive classes in drag racing and to beat out the GALOT team just shows how strong of a program we've built, and we're ready to do it again in 2018."
In addition to Gonzalez behind the wheel, the El General Racing team consisted of crew chief Steve Petty, Brandon Stroud, Chris Foster, Chris Johnson, Pedro Apolito, Eric Dillard, Bud Hodge, Hunter Dillard, and Bum Harrison. Both cars are powered by PLR Hemi engines and utilize FuelTech EFI.
After a one year hiatus, turbos are back on top again in Pro Boost. The war between turbo and blower will continue in 2018 in the class that has consistently been a fan and racer favorite.
Gonzalez, along with the other PDRA World Champions, will be honored at the PDRA Awards Banquet, December 9 in Indianapolis, Indiana.