Tue, 07 Feb 2017, 14:08 PM



Hall Sets Sights on Success at Summit Motorsports Park in 2017



Courtesy of Mary Lendzion


Photo of Dennis Hall by Moto Lenz; photo of Hall's Malibu by Mary Lendzion





NORWALK, Ohio --
Dennis Hall has celebrated many accomplishments since he began racing at Summit Motorsports Park in the early 1990s, but the Mansfield, Ohio resident said none have been as impactful as the most recent.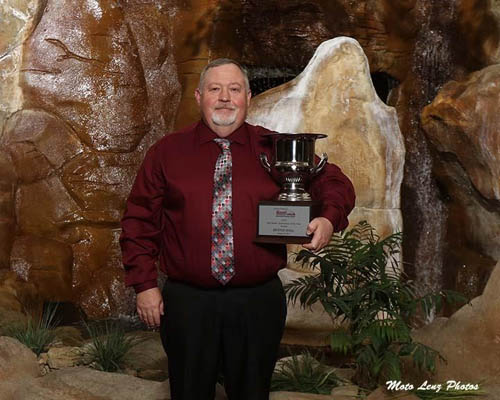 Header Goes Here
He was named the 2016 Bill Bader Sportsman of the Year during Summit Motorsports Park's 43rd Accel Banquet of Champions in January 2017 at Sawmill Creek Resort in Huron, Ohio, and was welcomed to the stage by previous Sportsmen of the Year as hundreds in attendance applauded.
"I was honored beyond belief," said Hall, an engineer for Warren Rupp, Inc. in Mansfield, Ohio. "I appreciated every hug and every handshake as I made my way to the stage, and once I got there, it was very humbling to be standing alongside people who had been named Sportsman of the Year before me. It's a great group of people."
Coincidentally, through the park's R&R Auto Body Paint My Ride program, Hall also earned a free paintjob at the end of 2016 for the eight-second 1978 Malibu powered by a Fowler Racing Engines-built big-block Chevy which he races in the park's Edelbrock Super Pro category, and the black, red and white beauty was on display during the banquet.
Now, with the Bill Bader Sportsman of the Year title and a new paint job on his car, Hall has his sights set on competing in the park's 2017 Edelbrock Super Series beginning April 22.
Summit Motorsports Park is at 1300 State Route 18, Norwalk, Ohio. For more information, please call 419-668-5555 or visit www.summitmotorsportspark.com.