Sun, 22 Dec 2002, 11:13 AM



Worsham Reflects on 2002



Courtesy of Bob Wilber


Photo copyright 2002 Auto Imagery, Inc.





Looks Forward to 2003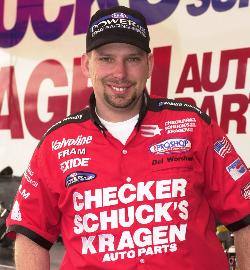 Del Worsham
Del Worsham, driver of the red Checker-Schuck's-Kragen Funny Car, sat down recently to answer a few questions for Drag Race Central. The popular young driver won four races on his way to finishing third in POWERade points in 2002, matching his effort from the year before. Worsham reflected on chasing John Force, what it will take for anyone to wrestle the POWERade championship trophy away from the perennial champ, and the future of Team CSK and the NHRA POWERade Drag Racing Series.
Q. You just had another great year, finishing third by winning 35 rounds and four races for the second consecutive season. Is that what you expected out of yourself and your team?
DW. I really don't know how to answer that with one easy response, other than "we're proud of what we accomplished in 2002." Everyone called 2001 my "career year" and it was, up to that point. I had won three races in ten years and then we cranked out four of them in 2001, so my first aim going into 2002 was to show that wasn't a fluke. But also, for the first time in my career we really were looking up the points sheet, at the top, and we were aiming for that and trying to give Force a run for it. So, we worked hard all year and ended up with 35 rounds, four race wins, and another third place finish. The exact same numbers as 2001, which was kind of weird. We proved it was no fluke, I guess, and we took another step on the road to being real contenders, but we weren't satisfied. We know there's more out there.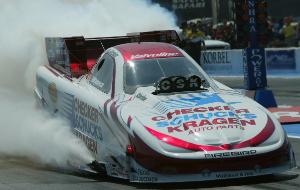 Worsham in the red car.
Q. Taking the crown from John Force seems to be the biggest mountain to scale in all of auto racing. What's it going to take for Team CSK to keep getting better?
DW. The answer to that question is very simple and a complete riddle, all at once. First, you have to have the funding to have all the parts you need, because you can't be trying to run with Force while you're being conservative. Second, you have to always be pushing and trying new things. You have to be on the lookout for the latest stuff, while you dream up new stuff yourself. Third, you have to have some really smart people around, because Force is surrounded by really smart people who pay attention to the tiniest details. Fourth, you have to believe you can do it. It's easy to say you can do it, but you have to believe it. I think we have all of those things, and we took a huge step this year toward really believing in ourselves. And finally, the driver has to do a great job, because let me tell you, people don't give Force enough credit for what he adds to that team when he's in the car. He is a great driver, who is best when he absolutely has to be. So there's all those things you can do, but you can take all of that and go out there for 23 races and do a great job and still not do it. For the last decade nobody has been able to catch him. I know we can do it, it's just a matter of being almost perfect.
Q. Is that what it will take to dethrone the champ, a perfect season?
DW. I imagine whoever does it will look back on their season and see that they did just about everything right. You'll need a little luck too, but you can't rely on that and you can't rely on Force giving you anything. The Castrol team will be just as hard to beat in '03 as they have been since I started driving. One of the things I'm most proud of, and most aware of, is that our team has gotten better every year. We've done that by limiting mistakes, both mechanical errors and tuning errors. We haven't eliminated enough of them to knock off the top guy, but we're getting better and that's a good trend. No one will ever have a totally perfect season. Even Force survives the odd bad day. You just have to limit those things to the greatest degree.
Q. Are there any key moments in 2002 that you can look back on and see where mistakes were made?
DW. Sure. Most obvious is the DNQ at Gainesville. Force hasn't DNQd since the last ice age. We also let him off the hook in the final round at the Winternationals, when we should have beaten him. We got a little lost for a couple of races and went out in the first round at Atlanta and Englishtown, back-to-back. We lost first round races in Columbus and Indy, and those were races where I really thought we should have gone deeper in eliminations. The DNQ absolutely hurt us, and those other things all didn't help. At the end of the day, you add them all up and maybe it's another five or six rounds. And if we win five or six more rounds, maybe the guys ahead of us win a couple fewer. If that happens, it's a race.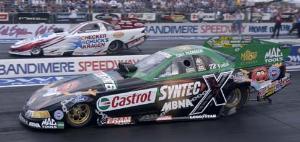 Del won Denver over Pedregon.
Q. It's not just Force though, is it?
DW. Absolutely not. Look, we were 4-3 against Force last year, but 2-4 against Tony Pedregon, 0-2 against Capps, and 0-3 against Bazemore. I'm sure those guys, along with everyone else in the top ten, are just as psyched up about giving Force a run for it as we are. They're all strategizing all winter too, about how they're going to knock him off. You can't go out there and think you've just got to beat John Force. First of all, that's not easy to do, and secondly all these other teams might just fly right by you.
Q. It's one thing to go from being an 8th or 10th place team to a top five team. Is it harder to improve from third to first place?
DW. That's a great question and the answer is absolutely yes. If you're 12th in points, or 10th in points, you're letting a lot of rounds get away. I know, because I've been there. At that point, you can make one or two key changes and just start getting out of round one more consistently. If you get to the second round at every race, you're going to move all the way up to sixth or fifth. Once you get to third place, the going gets a lot tougher. You have to start looking for every little thing you can do better. Adding to the round win total becomes harder, because you're asking yourself to win even more of those second round and semi-final races, and those are almost always against really good cars. You start getting to the point where, when you analyze it all you know the improvements will be small, but every mistake or missed opportunity is gigantic. It's back to that "perfect" thing. No one can be perfect in this sport. No one is ever going to go 92-0 and win all 23 races. But the team that is closest to perfect will win the POWERade Championship. We're not there yet, but we're working at it.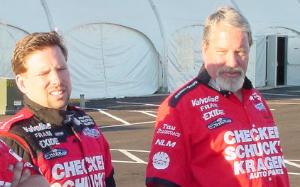 Del and Chuck
Q. You and your dad, Chuck, took over the tuning duties again in mid-season this past year, after Rob Flynn left the team. The results were obvious, but how did you hold up under the strain.
DW. Better than I used to. I'm getting older, and I've got my wonderful wife and two gorgeous little girls to keep me a lot more grounded than I used to be. I'm still pretty hyper, and I can get wound up with the best of them, but I don't let every little thing overwhelm me anymore. One of the things that was hard was having enough time to do everything at the race track. I kind of got used to having a lot of time to hang out with sponsors and sign autographs, and then after Rob left the program I didn't have time to even change shirts sometimes. As drivers, we have a lot of responsibilities and obligations, to our sponsors and the amazing fans, but I also have my hands on the car, I'm looking at the computer data, I'm talking to the crew as they service the car, and my dad and I are constantly having to make decisions. My reaction times were down a little this year, just a hair, and I suppose that's a direct reflection on me having so much on my mind.
Q. What can you do to make that better in 2003?
DW. It was already getting better in the late part of the season this past year. I was learning to adapt to it all as the year went on, learning to allocate my time better. We bought a motorcoach last year too, and that helps a lot. No more fighting traffic at 7:30 in the morning, or waiting for breakfast in a packed restaurant. The team is running very well right now, and the chemistry is just fantastic, so I'm not about to mess with it and add in more people just to take the load off of me. I'll just keep relying on the great guys we have and keep adapting to it.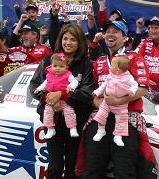 Del and family.
Q. There have been some additional changes at Team CSK since the end of the season. How do you see it all shaking out?
DW. Yeah, we brought the blue team out to our new shop in Anaheim after the season ended. That was a big important move for us. We were the only multi-car team being operated like two completely different teams, and looking back on it that never made much sense. We did it originally because we had the shop in Auburn, Indiana and didn't have room in our old shop out here. So, a lot of the guys who originally went to work on that car were from Indiana and Ohio. When we moved the blue team out here, some of the guys either didn't want to move out here or couldn't. That was a major contributing factor to us parting ways with Dave Fletcher. It was probably time for a change anyway, for us and for Fletch, and he and Rob Flynn are going over to Cruz Pedregon's team. Dave and Rob are very good and I count them both as good friends, but our thing ran its course and now we have a new organizational set-up.
One thing we wanted to do was run the cars the same, or at least have a consensus on how we're tuning them. We couldn't imagine bringing in an older established crew chief, because what we really wanted was to have the blue team run as an extension of the red team, and vice-versa, a total shared tune up thing. We really weren't looking for a high-priced guy to come in and say "Let me show you how to tune one of these things." I mean, maybe his ideas would be great, and there are lots of different ways to go about tuning a Funny Car, but we've worked really hard on our combination and that's what we plan to run with.
So, we promoted Marc Denner and Chris Cunningham to co-crew chiefs on the blue car. They're both veterans, who have seen it all, and deserved the chance to run the operation, and they're both dialed in to our combination. Marc has been my right-hand guy for years, and Chris has tons of great experience. Tuning wise, they're going to be two more sets of eyes, and two more very sharp brains, all added to the mix. I think they're perfect for the job, and I think Johnny Gray is going to be very happy with how his car runs. Tom Leskovan, who was a first-year guy on the blue car last year, was the only holdover on that crew. So, we added three new guys to the blue team and one new guy to the red team, where Tom Abbett, Terry Snyder, and Ed Boytim are all back as full-time guys and John Fink, Nick Puglisi, and Frank Gilchrist join us at the race track. The new guys are all experienced crewmembers who wanted to be a part of this, and who we wanted on board. They're all working hard right now, and it's all coming together very well.

Blue, Red and black cars.
Q. For three races in '02, Team CSK fielded a third car with Cory Lee driving. Any plans for adding a third car in '03?
DW. Plans? No, we have no plans to do that. We do keep the idea on the table however, and should a sponsor step to the plate and say they want us to run a third car with their backing, we'd be willing to do it again. But , I absolutely don't see us doing it the way we did it last year, which was on a tiny budget with a lot of temporary help to get it done. You couldn't run a car that way all year and hope to qualify much. If we ever do it again, it will be on a full budget with a lot of new stuff. We keep the lines of communications open with a number of sponsors, but you just never know how that all is going to pan out. I prefer to just look at our two-car team and focus on that, because if the third car were to ever come back, the funding would have to be pretty good and we'd have to put some people in charge of it. Basically, the red team, my dad, and I did a lot of the work on the black car this year, because the crew was mostly guys who could only come on the weekends. We wouldn't do that again. It's exhausting.
Q. You're still running a Pontiac body on your cars. What's in the future for Team CSK body styles?
DW. For 2003, we'll run the same style Pontiac we ran in 2002. That's not that bad a deal, for the short term, because we're very comfortable tuning to this body and we can go fast with it. But I suspect the other body styles will keep evolving, and we can't afford to get too far behind in the years ahead. As everyone knows, GM pulled out of the Funny Car class prior to last year, and it has been a difficult thing. Pontiac was extremely good to us before they left, and we're very loyal to them. We stay in constant contact, and we're supporting their efforts every way we can. GM is working on some great new ideas, and a lot of people there are really trying hard to get them back into the Funny Car class, but there's a lot of work still to do, and nothing is in stone right now. We're very supportive of what they're trying to do and we're willing to be patient and loyal. Hopefully, by 2004 we'll be on the track with something new and fast, and it will have a Pontiac logo on it. I hope so, anyway.
Q. 2003 will be your seventh season with Checker-Schuck's-Kragen. For a guy who was never sponsored before picking up CSK in 1997, the growth of your program must be very rewarding.
DW. Absolutely. It's amazing to look back on the last six seasons with CSK, actually. Back in 1997, they were looking around for a team to get involved with, but they only had approval for a very limited budget. We were just glad to be sponsored, and since that day we've allocated a lot of what we do around here to keeping them happy and building the program. To look back on it now, at our tiny little sponsorship in 1997, when we hardly had money for matching shirts, through the years to what we have now, it's very rewarding. Our little deal has turned into a contending two-car team, and CSK sponsors the Phoenix race and is the Official Auto Parts Store of NHRA. We've all grown up together.
Q. Any major changes in the immediate future, with regards to your CSK deal?
DW. Every year we've been associated with CSK we've grown the program and added new things to it, and next year will be the same. We're changing our pit area set-up around a little, adding quite a bit more hospitality space at selected races. It's important to know what works for your sponsors and address those issues, and when they told us they wanted to entertain more people in our pit area we got to work on a new layout. We'll still have the viewing courtyard between our two transporters, where the fans can actually walk into our pit and see the cars from the side, instead of from behind the ropes in the back. That deal is really popular with the fans, we get comments and emails all the time about how people appreciate the chance to walk in there and get so close to the action. We also have a new transporter for the blue team, and have repainted our red rig. They'll both look brand new and look very nice.
Q. And what are your thoughts about the state of NHRA and the direction the sport is headed?
DW. I've never been shy to speak my mind when I think things aren't being done right, or when decisions are made that make no sense or aren't fair. We've all been critics over the years, so I think it's important to step up and be honest about how the sport and NHRA are doing now. What we've seen in the past two years has simply got to rank as some of the most important things in the history of the sport. The ESPN package changed everything, and I'm sure it had a big impact on the people at Coca-Cola when they decided to come on board and make POWERade our series sponsor. We talk about how this is just the beginning of it, and how much the sport is going to grow and develop in the next few years, and I'm absolutely convinced of it.
All of this, of course, has happened under Tom Compton's watch, so I don't have any trouble adding that all up and seeing where the credit goes. Tom Compton is probably the most valuable asset this organization has. It's not going to be easy, and we're not going to see all the growth at once, like a windfall. But we've never been in a better position, and everyone on our team is pretty excited about it.
Q. Any predictions for 2003?
DW. No, I never do that. I just know we're going to work hard, work smart, and our guys will be as dedicated as ever. Hopefully, we'll come out of the box strong and keep getting better at limiting those mistakes. We've got tough competition everywhere, and next year it's only going to be tougher. One of these years, someone is going to take the crown away from Force, and I really hope it's us, but only time will tell. All we can do is our best, and then we'll see how it all ends up.