Fri, 3 Jan 2003, 08:47 AM



Sam White Teams With Indian Motorcycle Corporation of 2003 Season



Courtesy of Nina Henderson



White Gets Indian's Seal of Approval for 2003 Racing Effort



COLUMBIA, SC --
Along with the number five painted on the wheelie bars of his Nitro Indian, Sam White will launch the 2003 race season with a new team member on board. Following his visit to the Gilroy, California headquarters, White and Indian Motorcycle Corporation's Fran O'Hagan agreed to display, promote and compete using the Indian brand at AHDRA events in 2003. White has Indian's 'blessing' to keep Indian prominently painted on the bike and a preliminary level of support.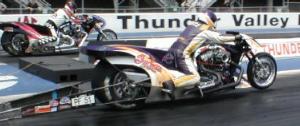 Sam White
"Indian has a huge history in racing," said O'Hagan. "Road racing and flat track were dominated in the 20's and 30's by Indian Motorcycles. There are numerous winning machines in museums across this nation. Sam White's Nitro Indian team is off to a promising start, and we are pleased to help the team continue its momentum."
The 2002 racing season marked White's third year 'learning the ropes' of Nitro drag racing. After debuting a completely new motorcycle in late spring, White officially launched his 2002 season in July – with victory at Budd's Creek. Using only a half of a season of racing, White earned fourth place in AHDRA's Eastern Division, along with a fifth in the AHDRA national points.
"We exceeded our goals and had a great time as a team. Indian coming on board as a sponsor is a huge step for us," said White. "Don't read this to mean that they're the title sponsor of this team. We'll date before we get married, as they say. But Indian is ON this team. And that keeps us right on track on my team performance schedule. Indian Motorcycle Corporation will now have an inside look at drag racing and the marketplace.
"This is exciting for motorcycle enthusiasts, dealers all over the nation (especially in cities where we race) and for owners/riders," he added. "I can't wait to get the Indian corporate staff to an event with us."
White's first 2003 burnout takes place at the AMA Prostar M*R*E Nationals at Gainesville Raceway Park February 28 – March 2. "That will allow us to test a new component at a super smooth racetrack at sea level," said White. "If things go as planned, we'll be dominant at the season opening AHDRA Bike Week Nationals at that same track March 3 – 5."
Dave Wycoff, Nitro Indian Crew Chief and Indian dealer Dave's Place in Columbia, SC, has been to the track with White this winter to complete all pre-season testing. Tony Mattioli, Nitro Indian Team tuner is testing new components at his Mountain Cycle race shop in Middlegrove, NY that will be mounted for the first time on the Nitro Indian when the season opens in Florida.
When he's not racing or thinking about his Nitro Indian, Sam White works as a principal of Walker-White, Inc. a plumbing, HVAC and mechanical contracting company in Columbia, SC. He spends most of his time focusing on the company's long-range goals, structuring growth and profitability. He is a Mechanical Engineering graduate of Old Dominion.
The Nitro Indian team will also debut their new pit vehicle - a 2003 Indian Chief that is unlike anything you'll see on your dealer's floor. Look for more information about this new Hot Rod Indian soon.
Sam White's Nitro Indian Racing Team recommends products and services from Indian Motorcycle Company, Dave's Place (Columbia, SC), Mountain Cycles, AJ's Artwork & Extreme Air.