Wed, 24 Dec 2014, 06:16 AM



Diesel Power Coming to PDRA in 2015



By Brian Wood


Photo copyright 2014 Robert Grice/Extreme Motorsports





Diesel pioneer Greg Hogue will compete in Top Dragster



PITTSBORO, N.C. --
Drag racing has always been a hotbed of innovation and experimentation, and with that in mind the Professional Drag Racers Association is proud to announce that a bold new step forward will be taken when diesel motorsports pioneer Greg Hogue enters the Top Dragster wars in 2015 with his unique diesel-powered dragster.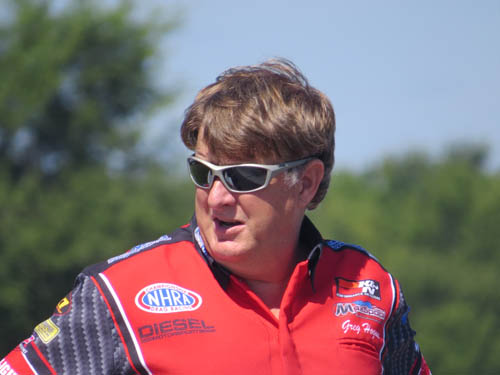 Greg Hogue
For the last decade Hogue has been a leader in the rapidly expanding diesel motorsports arena as an engine builder and components manufacturer, as well as a highly successful racer. His credentials include, among many accomplishments and accolades, being the first to push a diesel-powered truck through both the 9 and 8-second barriers, and also being the first to compete with a diesel-powered vehicle in NHRA's Super Street, Super Gas, and Super Comp categories.
With such an extensive background it's easy to see why PDRA organizers are excited about Hogue's commitment to run the entire 10-race schedule in 2015.
"I've been racing for 30 years, in everything from Competition Eliminator to Stock Eliminator and most everything in between," said the 54-year-old retired fire department lieutenant from Aledo, Texas. "I've always liked to run unusual combinations, and I ran a V6-powered dragster in Comp, for example.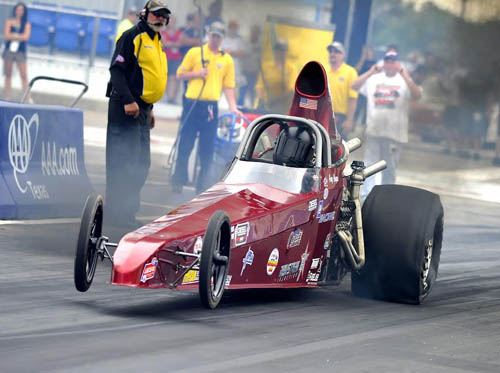 Greg Hogue
"I actually got into diesel by accident," Hogue said when asked about his latest foray into out-of-the-ordinary racing equipment. "I ran out of motor program when I ran Comp and just wasn't all that competitive. A guy hauled an old Pro Stock Truck into my shop about ten years ago and had me drop in a Cummins diesel engine. I eventually went racing with the truck and over the years I was the first to go into the nines in a diesel truck and later I was the first to run in the eights, too. I love a challenge and this was a challenge to me. We made it work and I've been running diesel power ever since.
"The car that we're taking to PDRA next season has been in the works for four years, and we're pretty sure it will be competitive," Hogue said. "We ran 4.71 at 141 recently with a little hit of nitrous, and I know there's a lot more there. Once we go with a full load of nitrous we'll be making the equivalent of 4,000 horsepower in a gas-fueled Pro Mod car. The motor likes a lot of nitrous, but you have to remember that it's not the same as a gas motor. We know it will take a 4.20 to get in the PDRA field and we are confident we can get to that level of competition once we get the tune-up and gearing the way we want it for the eighth-mile."
Hogue's "clean diesel" car, which is sponsored by GM Racing and Industrial Injection, is a 255-inch slip-joint car from the Charlie Stewart Race Cars shop, and is one of the first dragsters built specifically for a diesel application. Power will come from a tricked-out 389-cubic-inch Chevy Duramax diesel engine that burns synthetic diesel fuel made from natural gas. According to Hogue, the engine will turn 6,200 rpm and generate 1,500 horsepower.
"There's nothing mysterious about a diesel motor," Hogue said. "Anyone who can build a gas motor can build a diesel motor. I tell people to run from so-called diesel experts who have no gas experience, because a motor is a motor is a motor. I build diesel motors because there is nothing special about a diesel. The diesel motors make good power, last a long time and the fuel is less expensive, so I hope that once people see what we're doing there will be more diesel cars coming to PDRA."
In addition to his racing and engine building, Hogue is also a motivational speaker, a fixture on Bob Long's AutoWorld and Motor Trend Radio, and owner of MaxSpool Engineering, a company that supplies valve trains, springs, pushrods and cams for diesel engines.
"I've been doing broadcasts about every six weeks on Bob Long's radio programs, and we are already negotiating with PDRA to do some live shows from select events in 2015."
Hogue may have extra time to do some broadcasting next season because if everything goes according to plan Scottsdale, Arizona's Valerie Thompson will also be taking a turn behind the wheel. Thompson is a seven-time land speed record holder and has tackled everything from the Bonneville Salt Flats to NHRA Pro Stock Motorcycle racing.
"Valerie can do it all, and when I was hurt on the job last year she jumped in the car and did a fantastic job," Hogue said. "On her first pass she had an .032 light, and it was the first time she had ever sat in a dragster. Everything depends on her schedule for next season, of course, but we hope to get her into the car as often as possible."
On the business side of things, Hogue's car is presently sponsored by GM Racing and Industrial Injection, with additional help from GearVendors, Frankenstein Cylinder Heads, MaxSpool Engineering, Diamond Pistons, Polydyn Coatings, Winberg Cranks, Carillo Rods, Mickey Thompson Tires, Weld Wheels, XS Power, ZZ Custom Fabrication, Snow Boost, RPM Performance and Nitrous Outlet.
"Of course we're still looking for sponsors, and most of those will become smaller decals once we find a major sponsor," Hogue said. "We're hoping to draw a lot of attention with this car and we think the PDRA is the place to showcase what can be done with a diesel."
"We are always glad to have new racers joining the PDRA family," said PDRA Race Director Bob Harris. "With such a unique race car and engine combination Greg's diesel-powered dragster will be a first for the PDRA. It will really be interesting to see how his set-up stacks up against the more conventional dragsters he'll be competing against."
For more on the world's premier eighth-mile drag racing organization visit www.pdra660.com. Follow the PDRA: Facebook, Twitter, Instagram, YouTube.