Tue, 23 Dec 2014, 09:52 AM



Bubba Stanton Pro Extreme King Once Again



Courtesy of Lisa Collier


Photo: Gary Rowe / RaceWorks.com / PDRA660.com





PITTSBORO, N.C. --
While the name Bubba Stanton has become nearly synonymous with the Pro Extreme class it's been eight long years since his reign as World Champion. But now Bubba is back on top as the newly crowned 2014 PDRA Pro Extreme World Champion. His reign really began in April of this year at the PDRA opener in Rockingham, N.C. There Stanton took a brand new, untested car and engine program to the winner's circle and the points lead. Stanton never relinquished his lead, winning again at the second and sixth stops on the inaugural tour, and racking up a fourth final at Memphis Drags in May. Add to that a handful of number one qualifiers and top speed awards and it was Stanton's year from start to finish.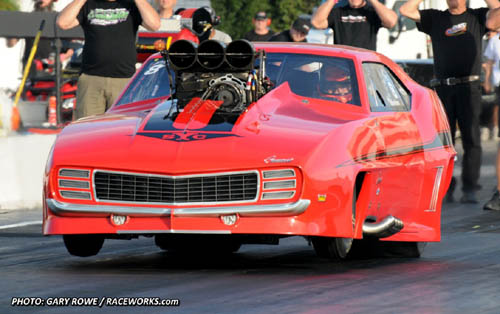 Bubba Stanton
"It feels pretty good to be Champ," Stanton said with the same calm and collected manner that he takes to the strip. "It's a tough series, but everything pretty much came together for us this year. I got a new Jerry Bickel car before the first race. We didn't get a chance to test anything going into Rockingham. We set the world record with the car and won the race in our first time out. The car's been fantastic all year.
"Coming out with a brand new car a brand new engine program, not being able to test, and winning the first time out, that meant a lot to us. That says a lot about the chassis builder, Jerry Bickel and his guys, and also Mitchell and Jason Scruggs who do my engine program."
Although Stanton won the ADRL PX Championship in 2006 and was points leader going into the Battle for the Belts in 2007, he recognizes that competition has only gotten more intense over the years and winning means more than ever.
"The type of cars and guys that have been racing the PDRA make up an extremely tough field," he added. "The ADRL deal was Battle for the Belts so it was a one race shootout where the top 8 competed for the Championship. One race determined the Champion. The way it is now with the PDRA, where the combined points from throughout the year determine the Champion, I like that way better. In the PDRA, everybody seems to be like family. Everybody came and celebrated with me and congratulated me on the win. It's a great feeling.
"I want to thank my family and my wife, Jennifer, thanks to Roger and Shirley Henson, my car owners. Also thanks to Jason Scruggs, my crew chief, and his dad Mitchell Scruggs, for all the hard work they do on my engine program. I also couldn't do this without my whole crew and want to thank them and the companies that support us, Hoosier Tires, Snyder Motorsports, Jerry Bickel Race Cars. Last but not least I want to thank my dad. He got me started in this when I was young. I wouldn't be where I am without him.
For more on the world's premier eighth mile drag racing organization visit www.pdra660.com. Follow the PDRA: Facebook, Twitter, Instagram, Youtube.