Sun, 21 Dec 2014, 08:25 AM



No Rest for XPS Champ Cary Goforth



Courtesy of Lisa Collier


Photo: Gary Rowe / RaceWorks.com / PDRA660.com





PITTSBORO, N.C. --
After winning two Championships in two different organizations in one weekend one might think that Cary Goforth is off on a much-deserved vacation. Instead, the driver of the Dean's Casing Service Camaro is doing more of what got him to this level of success. He's testing at his local track, already working toward 2015.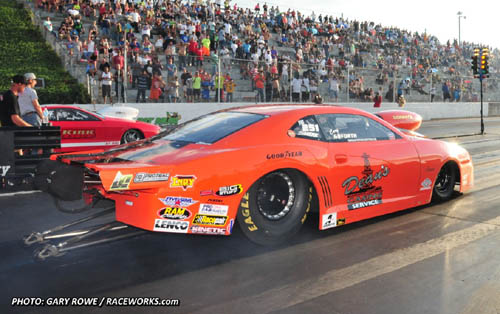 Cary Goforth
When bad weather ended his hopes of securing his PDRA Extreme Pro Stock Championship at Dragstock XI, Goforth knew he was heading for what he calls "controlled chaos". In order to ensure his domination in both the PDRA and IHRA Goforth needed to qualify at both organization's final events. Being in two places at once is improbable at best, but for the Goforth family it wasn't entirely impossible. More rain in the forecast at Richmond made things trickier still, but the father and son duo were determined to beat the odds.
Cary managed a qualifying run at Richmond on Saturday that clinched his role as the first ever PDRA XPS Champion. Then he and crew chief Jeff Dobbins flew straight to Memphis where they made it just in time for their final qualifying session for the IHRA event.
"We were hauling the mail," relayed Cary. "We got off the plane in Memphis. Dad and the TV people were there. We got our stuff off the plane and went right over to the track. I walked in the trailer, put my fire suit on was right out the door to the staging lanes. If we were 10 minutes later we wouldn't have made it.
"In hindsight that weekend doesn't seem like such a big deal, but all this running back and forth really started at Rockingham even before it started to rain. Maybe it was all in my mind because I wanted it to be over, but it just didn't seem like things were going fast enough to get the race done in time. Plus we were having some issues with the car. Of course we found [the issue] Saturday night in the last qualifier. We barely got in, and that was another nail biter there. They called us up to the lanes for first round knowing it was about to rain. I needed to get that round in [for the Championship] but it didn't happen. Then I have a month to stress out over that. Then we got to Virginia and it actually went as smooth as it possibly could have, other than the rain. We made our qualifier and we knew we were going to be in, and I thought it was done. But then when I was talking to people about loading the car up, I found out the person I had adding the points up for me was adding an extra round per race. Then we thought that Pluchino still had a chance of catching me. But Bob [Harris, PDRA Race Director] assured me there was no way he could catch me now.
"With the way the events worked out with the rain delays we almost came back to Richmond to try to finish that race just in case there was still a chance Pluchino could catch me. But they ended up running in Virginia before we could have got there. We came within an inch of coming back. It was crazy.
"Looking back at it, it seems like it all went pretty smooth, but at the time it didn't seem smooth. It just couldn't happen fast enough for me. The only time I got really bad edgy this year was Rockingham and Richmond. It's just impossible to be two places at once, but we did everything we could. It was organized chaos. That's about the only way I can describe it. It's something I don't ever care to do again."
With the chaos behind him and Championships in hand, Goforth is able to set aside the nerves, reflect and be grateful.
"Dad told me that this is something that's not going to happen to many people," he continued. "I'm very proud of that, but I try to keep things in perspective. Things can turn on a dime and you can have one of those years you don't want to have. I'm very proud of it, though, that's for sure. I'm very appreciative of that situation and the opportunities we've had. I think it took about five years off my life, but it might be worth it.
"We all thank God and I thank God first and foremost for everything, even though I may be one of the biggest sinners and screwups on earth. I believe in Christ and I don't have to worry about that part of it. But I don't believe the Lord gives you round wins. I pray for safety. I don't pray for round wins. But I do believe that it takes some God-given talent to drive all these cars that we wield. That goes for everybody. You just can't do it without some help from above. That's what I thank the Lord for, that and for all the safety, everybody's safety.
"I want to also thank my mom and dad for sure, my family, my kids and all the family support I have. My mom and my sister take turns watching my daughter. Of course, my crew, Jeff Dobbins. Everybody knows that story by now, but there's not too many people outside of my team that really knows what kind of bad situation we got put in. I definitely have to thank Jeff and Cindy and Jeffrey for coming on. Also my brother Chris, Jason Roberts, Keith Harr and everybody that's helped us.
"I can't leave out our sponsors - everybody at Dean's Casing Service, Pay Pro who is actually our payroll service, Lithium Pros Batteries, Alan Cape at Flying A Motorsports for everything he does for us, and I definitely want to thank Jerry Haas for a great car and Sonny Leonard for the horsepower. I've had a lot of support from all these people."
Although the dust from the season's end hasn't even settled yet, Team Goforth is already working toward 2015 and Cary wants the competition to know he's not looking to let up anytime soon: "I just want everybody to know that nobody knows when their last day of doing this stuff is. So Thursday and Friday we're going to Tulsa to test some stuff we're working on. I'm not letting up on these guys. We're starting 2015 in a couple of days. They better be up on the wheel because we're going to be there. I need a nap but I ain't getting one."
For more on the world's premier eighth mile drag racing organization visit www.pdra660.com. Follow the PDRA: Facebook, Twitter, Instagram, Youtube.