Sat, 20 Dec 2014, 10:57 AM



Todd Tutterow Brings Championship Home for GALOT Motorsports



Courtesy of Lisa Collier


Photo: Gary Rowe / RaceWorks.com / PDRA660.com





PITTSBORO, N.C. --
The GALOT Motorsports Team quickly rose to the top of the PDRA Pro Boost class in this inaugural year. The two GALOT drivers who called Pro Boost home this season, Todd Tutterow and Kevin Rivenbark, dominated the class, finishing one and two respectively in Championship points. Tutterow book-ended his year with final round appearances at both the PDRA season opener and the PDRA Finals. Add to that a couple of runner up finishes and a heavy handful of number one qualifiers and Tutterow came in first by over 200 points. Rivenbark earned the number two spot with back to back wins at Virginia and Tulsa.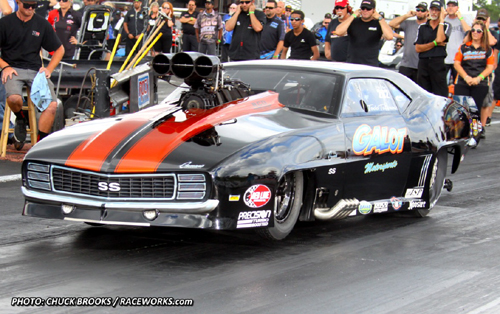 Todd Tutterow
Tutterow points to the team's sponsor as a major component to their success: "Our sponsor allowed us to do the testing and supplied the parts we needed to be successful. Kevin did a good job of driving. That always helps out, too. It's pretty cool to be the first Pro Boost Champion. I like the class. Looks like it got very popular. I think we had more cars than any other class at the last race. They expected it to be and 8 car field when we started out, but the very first race had 16 cars."
Pro Boost was as popular among fans as it was among drivers and promises to be a star class again in 2015. Both Tutterow and Rivenbark plan on competing in the class again next season, proudly sporting their well-earned numbers.
"I want to thank Jeff Bohr who came on board with us this year," Tutterow added, giving credit where credit was due. "With multiple cars it was a lot for me to handle. He helps keep things rolling. Then I got Brad Schmidt that's been with me for years. Also Scott Bertinotti and my son, Ty Tutterow. Of course, Earl Wells, and Kevin Rivenbark and John Strickland."
GALOT Motorsports would also like to thank Hank Thomas and Sunoco Fuels, Mark Payne Performance, Ross Racing Pistons, Neal Chance Racing Converters, Goodridge Fluid Systems, Triple T Trucks, MVM Motorsports and Miller Welders and Red Line Oil. The PDRA wasn't the only place Tutterow had success this season. He was also crowned king at the ultra-tough Piedmont Dragway-based Big Dog series.
While most of their program stays the same for 2015, Tutterow said that GALOT Motorsports may possibly field a Pro Extreme car next season, along with the two Pro Boost entries. "It's a possibility, but we don't know definitely yet," he informed. "I"m looking forward to next year. Can't come quick enough."
For more on the world's premier eighth mile drag racing organization visit www.pdra660.com. Follow the PDRA: Facebook, Twitter, Instagram, Youtube.