Sun, 24 Aug 2014, 07:32 AM



Countdown to AAA Texas Fall Nationals and Playoffs at Texas Motorplex Is On



Courtesy of NHRA Communications


Photo copyright 2014 Auto Imagery, Inc.





ENNIS, Texas --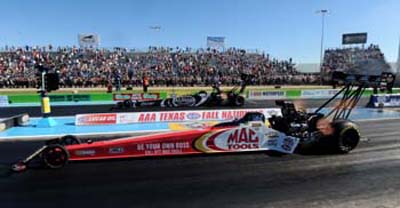 Doug Kalitta defeated Shawn Langdon
in the Top Fuel last year.
A year ago when NHRA's Countdown to the Championship landed at Texas Motorplex for the second playoff race, names like Schumacher, Force and Anderson were the odds-on favorites to leave town with Wallys.
When you have the kind of success those three drivers have experienced at the all-concrete Motorplex, that's almost a given. Then again, when it comes to the AAA Texas NHRA Fall Nationals, slated for Sept.18-21 this year, fans can sometimes expect the unexpected.
For instance, who could have foreseen Doug Kalitta ending a 71-race losing streak and picking up his first Top Fuel win since 2010?
"That was Doug's first win here since 2002 so yes, you could say that was a bit of a surprise but it was so great for him and for the fans," Texas Motorplex President/GM Gabrielle Stevenson said. "Overall, last year's race was probably one our most successful ever and there's not a doubt in my mind that we'll surpass that this year.
"With our race being the second one of the playoffs there's so much on the line and the outcome always plays a huge role in the championship scenario. If you're a drag racing fan you're going to want to be here to see how everything unfolds because I can guarantee you, there's going to be plenty of excitement."
While there are two more events before the 29th annual AAA Texas NHRA Fall Nationals, there are already a number of drivers showing their hands as Kalitta currently leads the Top Fuel standings over Antron Brown while Robert Hight is engaged in a fierce battle with16-time champion John Force for Funny Car supremacy. Jason Line grabbed the Pro Stock point lead in Brainerd, Texas native Erica Enders-Stevens and Allen Johnson are in striking distance. Andrew Hines is battling Harley-Davidson teammate Eddie Krawiec in Pro Stock Motorcycle point lead.
Of that group of eight drivers, only Enders-Stevens and Hines have never scored wins at Texas Motorplex.
"All of those drivers are more than capable of winning here and actually, with the exception of Erica and Andrew, they have," Stevenson said. "Of course, who knows what's going to happen between now and when they get here? I would expect that all of them would certainly be in contention for championships, which just means the AAA Texas NHRA Fall Nationals are all the more crucial."
Tickets for the AAA Texas NHRA Fall Nationals are available now, ranging from just $10 to $380 for weekend packages. Youth tickets for children 12 and under start as low as $5. For tickets or more information, please call the Texas Motorplex office at (800) MOTORPLEX or visit www.texasmotorplex.com.
The first ever PreStage Fan Fest in Downtown Ennis will be held Wednesday, Sept. 17 between 5-10 p.m. with food trucks, music, driver appearances and more.
Gates open for the 29th annual AAA Texas NHRA Fall Nationals at 10 a.m. Thursday, Sept. 18 with sportsman qualifying runs between 10 a.m. and 6 p.m. Two rounds of professional qualifying, at 2:15 and 5:15 p.m., highlight the Friday, Sept. 19 schedule, along with sportsman qualifying throughout the day. Saturday, Sept. 20, is packed with sportsman eliminations and the final two rounds of professional qualifying at 11:15 a.m. and 2:15 p.m.
Gates open at 8 a.m. Sunday, Sept. 21, with pre-race ceremonies at 10 a.m. and final eliminations getting under way at 11 a.m.