Sat, 05 Apr 2014, 17:18 PM



K&N Spring Fling Friday Results



Courtesy of John DiBartolomeo



LAS VEGAS --
Maytag Silverstate Refrigeration Friday opened first with the winner's circle photo for Thursday's Super Pro winner Glen Kern. Kern soled in the final Thursday night when his opponent was unable to return after a top end collision. At that point no one was in the mood for a winner's circle celebration so it was held Friday morning.
Kern said, "I didn't necessarily want to win this way but it was a great race nonetheless."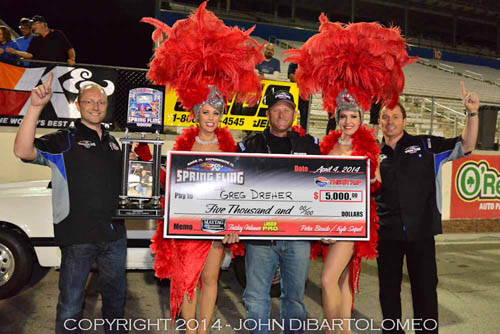 Pro Winner
With no time trials today, eliminations began immediately at 8:00 am sharp with the Pro class. By the time the Pro class was down to the semifinals, last night's Pro winner Garrett Parsons faced off with Howard DeVore with Parsons streak coming to an end as DeVore took the win. In the other half, Greg Dreher raced James Kirkman with Dreher running dead on his dial with a 1 to take the win. The final was started off with the reaction time advantage going to DeVore, but at the finish line it was all Dreher for the win.
Dreher said, "I'm just overwhelmed. So many people have helped me to get to this point. My father gave me an engine block a while ago and I wouldn't be here if it wasn't for that."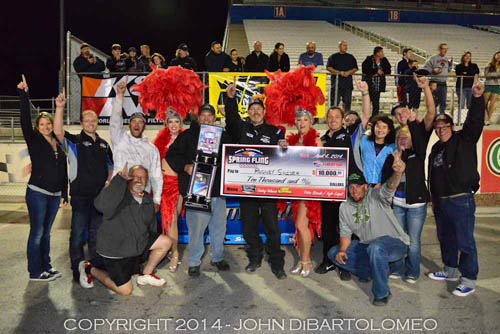 Super Pro Winner
In Super Pro, four cars remained in the semifinals with Gabe Torres besting NHRA Winternationals Super Comp winner Don Meziere. The other half had two door cars facing off with one another as Rodney Snider took the win over Sean Shaffer. In the final, a runner-up from last year, Rodney Snider took it one step further. The Grand Junction, Colorado racer used a better reaction time to take the win over Torres.
Snider said, "It feels great and I'm at a loss for words. I have to thank Kyle Seipel and Pete Biondo for putting on a great race. The purses are great and this is a great venue and atmosphere."
Two more days of racing left including the patented Spring Fling $20,000 Challenge on Saturday morning where 20 randomly selected drivers are chosen. The drivers are a given a shot at the 'Tree whereby each one that records a .00X reaction time is awarded $100 cash. If any happen to record a perfect .000 reaction time, they receive $1,000.
The video and audio of the event sponsored by JEGS and Steve Schmidt Competition Engines is still live as it happens. Visit www.bracketraces.com for the feed and more info on the K&N Spring Fling series of races.