Thu, 03 Apr 2014, 14:03 PM



K&N Spring Fling Vegas Shootout Day



Courtesy of John DiBartolomeo


Photo copyright 2014 John DiBartolomeo





LAS VEGAS --
The weather wasn't typical "Vegas-style," except for the wind, but the racing prevailed. The dreaded R-word (rain) came through for a brief period but never really slowed the action for long.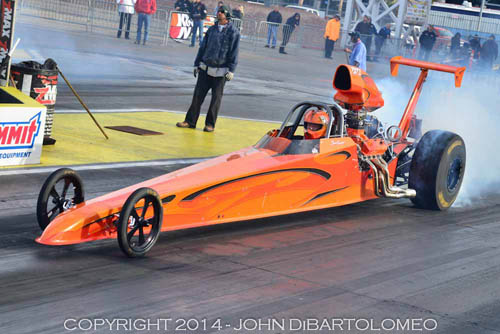 Shane Thompson
Day 1 of the K&N Spring Fling Vegas event at The Strip At Las Vegas Motor Speedway was reserved for a free test 'n' tune day sponsored by Yukon Gear & Axle. By the end of the day, over 400 tech cards were sold coming from 18 states, three Canadian provinces and Mexico. With more entries expected in the coming days, it will once again set Spring Fling Vegas attendance records.
The day also included the Ultimate Shootout reserved for the first 48 door cars and 48 dragsters to enter the high roller event. Each category ran separate until the final round where the winner of each squared off with the winner receiving a brand new Don Davis Race Cars roadster and the runner-up receiving a new Racetech dragster.
With two cars left to run in each class and nightfall upon the track, the decision was made to complete the race on Thursday morning. The remaining combatants are Mark Simonian in his '89 Firebird and will race Zak Clark in his Nova for the right to go to the final against either Shane Thompson or Aaron Steinky.
For live video and audio of the event sponsored by JEGS and Steve Schmidt Competition Engines, visit www.bracketraces.com and watch the excitement as the rest of the weekend event unfolds.