Wed, 26 Mar 2014, 11:32 AM



David Pace Named Grand Marshall of SHRA Spring Nationals



Courtesy of Chris Graves



The Southwest Heritage Racing Association presented by MalloryPrint.com is proud to announce that former NHRA Top Fuel driver David Pace will serve as the Grand Marshal of the 2014 season opening race for the SHRA on April 5th in Denton, Texas.
David has an extensive driving career in NHRA Division 4 drag racing dating back to 1970. It was that year that David made his first pass down a drag strip in Johnny Williams C/Fuel Dragster at Green Valley Raceway in Texas. David was very familiar with this car as he had served as a crewmember on this 502 cubic inch big block Chevy front engine dragster. From there, Pace built, drove and maintained his own injected Chevy powered B/Dragster, until teaming up with Phillip Morris to campaign a blown Donovan power alky dragster in Pro Comp Eliminator with the help of John Dearmore as crew chief. David competed with this car and others including the late Ed Cluff's A/Fuel Dragster in Division 4 events, open shows and national events in Bristol, Bowling Green, Indy, Tulsa, Baton Rouge, Pomona, Orange County and Ontario during the mid 70's.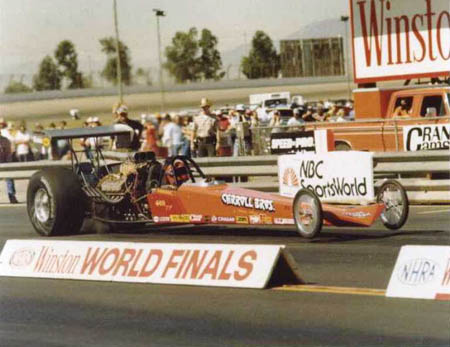 David Pace in 1980.
Photo copyright Les Welch Photo
>From there Pace landed a ride in the famed Carroll Brothers "Texas Whips" Top Fueler when they decided to return to the Top Fuel ranks in the late 70's. Pace was added to a long list of drivers that spent time at the Carroll Brothers that included the likes of Bob Gibson, Dave Settles, Buddy Cortines, Richard Tharp, Marshall Love, Kenny Bernstein, Murray Oxman, Ben Griffin, James Ludden, Gary Bailey - all Division 4 Hall of Fame pilots! David Pace would drive what National Dragster would call 'the loudest Top Fueler in existence' to runner up finishes in 1981 at the NHRA U.S. Nationals at Indy and the NHRA Mile High Nationals at Denver. Pace would qualify #1 at several events in the Carroll Brothers car along with adding track records and Low ET/Top Speed of the meet honors to his resume plus a Top Ten finish in the 1981 NHRA Winston World Championship Series. Added to this impressive list of accomplishments would also be a spot in the NHRA 250 MPH Club, being the 11th person to accomplish this feat in a quarter mile. With the able assistance of Larry Meyer, the team would compete nationwide and mixed it up with the likes of Gary Beck, Shirley Muldowney , Jeb Allen, Connie Kalitta, Frank Bradley, Jody Smart and others. They were always a threat at any track they unloaded at.
After a twenty year absence from drag racing, Pace found himself in the seat of the nostalgia Top Fuel Dragster of Al Schramm Racing from Tulsa for a couple of years before moving on to drive Brad Green's "Speed Merchants" top fueler from Arkansas competing in the NHRA Heritage Series and Goodguys events. Most recently, Pace has driven the AA/FD of Art Dromgoole from Charlotte, NC and has acted as a test pilot in other front engine Top Fuel cars and a couple of NHRA A/Fuel Dragsters. Looking forward, David Pace plans to continue to drive front engine Top Fuelers when he can and would like to get some time with a team on the Outlaw Fuel Altered series in the coming year.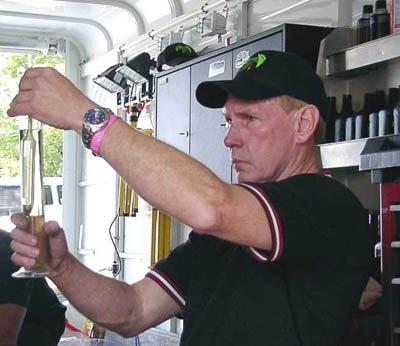 Photo copyright 2014 Max Cackle Photography
The SHRA Spring Nostalgia Nationals will take place at North Star Dragway in Denton, Texas on Saturday April 5th. Spectator gates open at 2PM with the first qualifying session blasting off the line at 4PM. All five classes of the SHRA will be competing in the season opener that will include Old School Electronics, Old School No Electronics and all three of the Nostalgia Eliminator classes. This will be the first event for Nostalgia Eliminator racers to earn points in the prestigious Shootouts for the NE1, NE2 and NE3 classes recently announced by the SHRA. More details on this event and the full slate of SHRA events can be found at
www.SHRAracing.com
.