Wed, 26 Mar 2014, 10:42 AM



Larsen Motorsports and IHRA Team to Create Jet Technology Center at Nitro Jam Events



Courtesy of IHRA Communications



NORWALK, Ohio --
Have you ever wondered what it takes to operate a professional racing team? How about the intricacies of designing, engineering and fabricating a jet engine-powered racecar? At every IHRA Nitro Jam event in 2014, fans will see all of that and more through a unique, interactive experience within the Larsen Motorsports Nitro Jam pit area.
The all-new Jet Racing Technology Center (JTC), presented by Embry Riddle Aeronautical University, will walk fans through what it takes to engineer, design, fabricate and even paint professional racecars. Now you can see actual future Larsen Motorsports Jet Dragsters built in front of your very own eyes.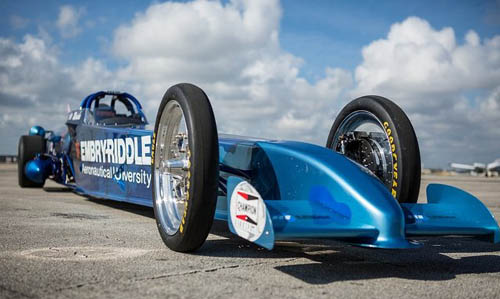 Fans will learn how Jet Dragsters are made in the
Jet Technology Center at all IHRA events
The Larsen Motorsports Jet Technology Center will join a completely redesigned Fan Fest pit area at all IHRA Nitro Jam Drag Racing Series events in 2014. In addition to the Jet Technology Center, fans can also enjoy the all-new Hollywood Cars of the Stars collection featuring some of the most famous vehicles from film and television. All of this will be packaged in one convenient area where fans can meet the drivers, see the cars and take part in a number of interactive stations.
"This is a complete redesign of the fan experience at IHRA national events. When fans come to a drag race, they want to be entertained both on and off the track. The new Jet Technology Center, along with the Hollywood Cars of the Stars and pit arrangement, will help us achieve that goal by providing a great product on the track, as well as a unique and fun experience in the pits," said Scott Gardner, President of IHRA Motorsports.
In the new JTC, fans will learn the intricacies of the General Electric J-85 engines used in jet racing with actual, full-size live cut-away jet engine demonstration models. See how the air flows through a jet engine. Learn how the flame-throwing afterburners that nearly double the thrust of an engine work. Learn from the engineers at Larsen Motorsports how chassis structures are designed and how the cars are aerodynamically engineered for stability and airflow at nearly 300 miles per hour.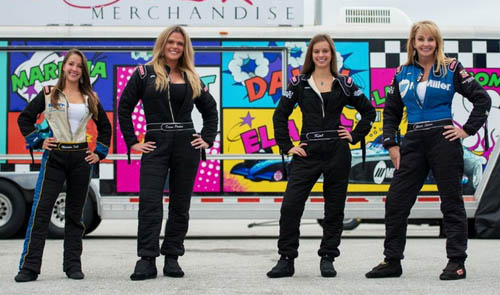 The Larsen jet team promises to be a
popular addition to the Nitro Jam series
Fans will witness future Larsen Motorsports jet cars being welded by engineers and the precision fabrication required to build a jet dragster. See actual future Larsen Motorsports driver's compartments and the fixtures they are built in that are custom made to travel to each Nitro Jam event, giving fans an opportunity to see real chassis assembled in person.
Finally, see live paint work being done by Matrix Paint System artists and what it takes to keep the award winning Larsen Motorsports paint schemes attached to a jet dragster at nearly 300 miles per hour. Learn the tricks of the trade as some of the most talented airbrush artists in the world show you how to create amazing paint schemes.
Want more? Learn what it takes to drive and crew jet dragsters from the actual Larsen Motorsports team. Watch live on stage interviews as the official host of the Jet Technology Center interviews drivers and crew chiefs at key times scheduled throughout the day. Get the questions you have always wanted to ask answered by the pros themselves.
Learn more about the all-new Jet Technology Center and other exciting announcements throughout the season at www.NitroJam.com and learn more about the Larsen Motorsports team at ElaineLarsen.com.