Sun, 02 Mar 2014, 20:19 PM



New DragParts.com Blown Alcohol Thunder Series Set for 2014



Courtesy of Rich Bailey


Photo Credit: Paul Grant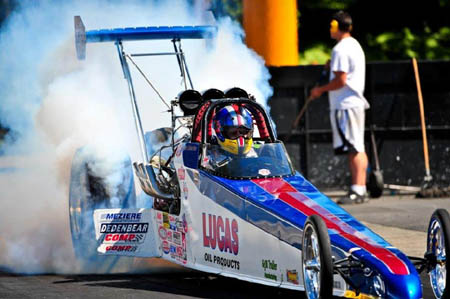 John Evans
A new six race series called the "Dragparts.com Blown Alcohol Thunder Pro Comp Racing Series" sponsored by Good Vibrations Motorsports, Power Punch and NGK Spark Plugs will be competing at four tracks stretching from the Oregon-California border into Canada. The tracks include Champion Raceway in Medford, Oregon, Renegade Raceway in Yakima, WA, Spokane County Raceway, in Spokane, WA and Eagle Motorplex in Ashcroft BC.
The new series is designed to include all types of funny cars, alterds and dragsters (rear engine and front engine) that are equipped with any type of roots blower or injected on nitro and is open to any team with a car that fits that description.
The format will be "Chicago Style" meaning each car will make two passes with the quickest two cars coming back for the final round. In the final, the car that reaches the finish line first wins the event. The cars leave the starting line heads up and there is no index or ET restrictions. Each car gets paid per round at every event and the over all winner of the series will win a $1,000 bonus at the end of the year.
Race teams are not obligated to race the whole series and can select a race or races close to them or events that fit into their schedule. Blown Alcohol Thunder is not an association and there are no membership dues but teams must enter each race in advance to get free entry by going to the series website www.capracing.com/blown_alcohol_thunder.html or by calling Rich Bailey at 503-370-9164.