Sun, 02 Mar 2014, 11:49 AM



2nd Annual Pro Mod vs. Fuel Altered Showdown Set For July 4-5th at North Star Dragway



Courtesy of Chris Graves


Photo copyright 2014 Max Cackle Photography





DENTON, Texas --
On 4th of July weekend in 2013, North Star Dragway made history when it hosted the 1st Annual Pro Mod vs. Fuel Altered Showdown in Denton, Texas. For over a decade, the rivalry between the Texas Outlaw Pro Mods and the Painless Performance Outlaw Fuel Altered Association had been brewing and a vision from event promoter Chris Graves brought this epic showdown into reality. Interest in the event was proven as a stunning 35 car field of door slammers and altereds packed North Star Dragway battling for a spot in the sixteen car show. The track set its highest attendance mark of the calendar year at this special two day event and at the end of the day, Kebin Kinsley was the last man standing winning the final round with a 3.86 at 195 mph in the Roger Hennen owned "Nitro Junkie" AA/Fuel Altered. This year the thrilling showdown will again be a two day feature event, Friday and Saturday, July 4th and 5th in Denton, Texas.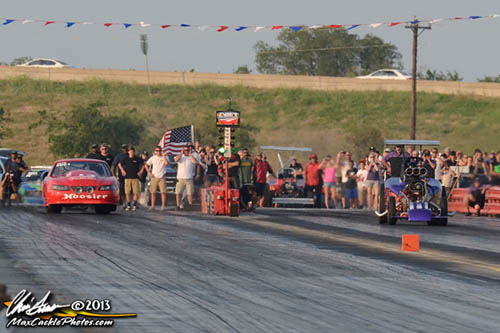 "The idea of this event stemmed from a similar event held back in 2001 and 2002 in Sealy, Texas. I had spent the past five years presenting this event to local tracks across the Dallas-Fort Worth area but no one jumped on the opportunity until last year when Gene Nicodemus had no hesitation in booking the event at North Star Dragway," says Graves. "I felt there was a definite demand for an event like this one; lining up the two most popular outlaw racing series of the area against each other creates an undeniably entertaining show for the fans with side by side three second passes, but also gives the racers a fun and exciting event to participate in. Fans get to see a totally unique show while drivers find interest in lining up against cars they would never have a chance to race at any other event."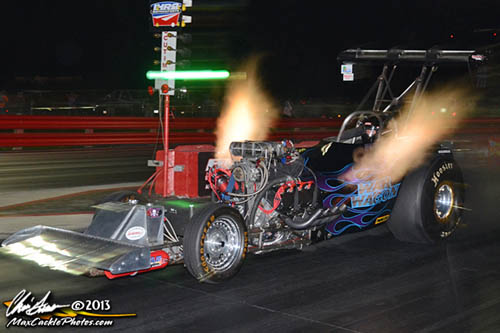 This year, an equally impressive field of cars is expected to fill the pits over the holiday weekend this summer with new attractions to really take this event to the next level. The first round has been expanded to a 24 car field, the quickest twelve pro mods and quickest twelve fuel altereds after four sessions of qualifying will make the big show. Also on the bill for the 2014 Pro Mod vs. Fuel Altered Showdown is the "Ms. Demeanor" Jet Funny Car driven by Tammy Gatlin, the only female jet pilot in the state of Texas. An impressive line-up of local cackle cars will shoot nitro flames through the air in a Cacklefest on Saturday night, daredevil racers will have their chance to win cash in a wheelstand contest both nights and the Texas Beat The Heat racers will strut their stuff in their cop racecars. A little secret that can't be revealed just yet will really put a cap on the impressive attractions set for this event, let's just say, the track record of 3.52 will certainly be in jeopardy at this event.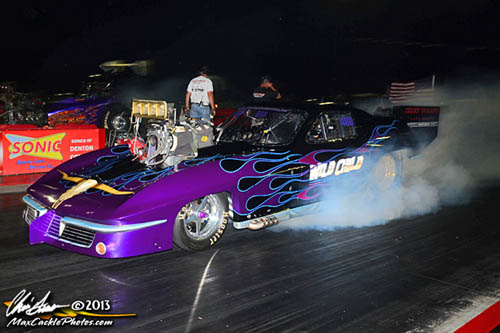 The pro mod racers say they have plenty for the altered teams, or "buggies" as they've been labeled. The fuel altered drivers see no threat from the doorslammers as they remind them that "real racecars don't have doors". This friendly rivalry will continue to simmer and a new event Champion will be crowned Saturday night, July 5th. Names like Jimmy Jones, Gaylen Smith, Bobby Marriott, Steve Wiley, Mary Reep, Doug Riesterer, Mitch King, Eric Clark and many more are expected to pull out all the stops to defend their ground. This event is open to any pro mod or fuel altered in the country so if you think you have what it takes, come on down to Texas and getcha' some. For more information, visit www.promodfuelalteredshowdown.com or check out the event Facebook page.