Wed, 19 Feb 2014, 09:02 AM



Southeastern Hose Re-Signs Spradlin Motorsports for 2014



Courtesy of Spradlin Motorsports


Photo copyright 2014 Spradlin Motorsports





Qualifies #1 in Top Dragster and Races to Final Round of NHRA LODRS Orlando Event



ORLANDO, Fla. --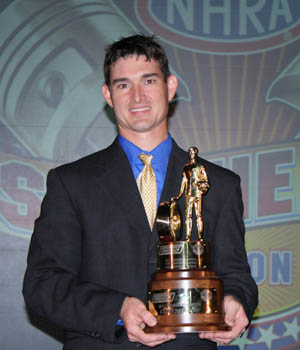 Casey Spradlin
Spradlin Motorsports, multi-time division champion Top Dragster and Top Sportsman team, recently announced the re-signing of their primary marketing partner, Southeastern Hose. Casey Spradlin, team driver, exclaimed "We are thrilled to continue our relationship with Southeastern Hose and we are very blessed that they continue to support our team. We truly appreciate their support in this tough economic climate and I believe it shows the value our team brings to their marketing and employee relations efforts."
The re-signing of Southeastern Hose, leaders in the hose assembly and expansion joint industry, is not the only exciting news the team has to report. The off season has been a very busy one for the team as they have replaced the nitrous injected power plant in the '37 Chevy Coupe Top Sportsman entry with a supercharged methanol burning engine that will bump the power levels from 1300 to 2200 horsepower! "It turned out to be quite an undertaking as we have been working in the shop constantly since Thanksgiving," says Casey.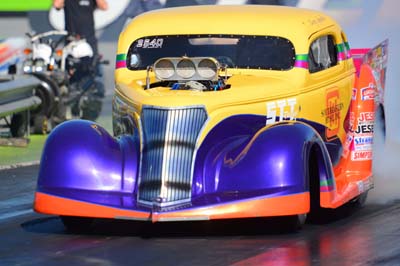 Casey Spradlin
All of the hard work paid dividends when the team finally got on the track at the recent rain soaked NHRA Lucas Oil Drag Racing Series event in Orlando, Florida. The team unloaded two untested combinations and proceeded to click off 200+ MPH passes in easy fashion. In Top Dragster Casey picked up his second pole position with an E.T. of 6.41 at a speed of 210 MPH! The team's beautiful '37 Chevy Coupe Top Sportsman entry was almost equally as impressive while qualifying 3rd with a 6.74 at 204 MPH. The event was shortened from three days to one with one round of qualifying on Sunday morning and then eliminations immediately following because of persistent rain showers throughout the weekend. A three thousandths from perfect foul start dashed Casey's hopes of moving out of the first round in the Coupe, but gave him additional determination to make something happen with the dragster. "The new combination in the Coupe, while fast, is still very new and will take some laps to get my routine down, but I couldn't be happier with the performance and stability of the car at those speeds", says Spradlin.
After surveying his side of the ladder in Top Dragster, Casey saw other former champions Steve Furr, Dylan Stott, and Anthony Bertozzi in his path to hoisting a "Wally". Casey ended up in a quarter final pairing against multi-time world champion Bertozzi and was able to win by a meager thirteen thousandths of a second, about 3 feet, win margin! "That was a big round not only because of the opponent but also because I decided to take a trip to the beach while I was in Florida so we had to go back to the trailer and strip the car down and clean it from front to back," Casey jokes while referring to his visit into the sand trap. "It was totally my fault as I was trying to save time by not having to pack the chutes during the short turn around between rounds." The race continued well into the evening and the dew started to move in and settle onto the track and with fewer cars making laps this made for less than ideal track conditions.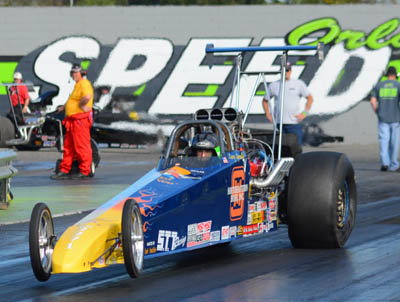 Casey Spradlin
The semifinal race against the formidable Jimmy Shaw was also a close win margin made even more interesting by the track conditions in both lanes. "We were both sliding around down track and Jimmy actually said he had to crack the throttle to straighten his car out." This set up the final round battle between Casey and renowned chassis builder Kurt Damron Sr., number one qualifier against number twenty-four qualifier respectively. Spradlin got the hole-shot with an eight thousandths from perfect reaction time after waiting on the 1.2 second handicapped start and blasted off after Damron but the deteriorating track conditions made it impossible for the 1950 horsepower dragster to complete the run. "It left fine and then I was looking at the wall and then the center-line, so I had to throw in the towel and coast to the finish," says a very disappointed Spradlin after the final. "I am very appreciative to have gotten this far though with the new combination and zero test time."
Increasing the power and speed of the Top Sportsman entry before the season started, in addition to the Top Dragster entry already making laps down the quarter-mile in excess of 210 MPH, meant the team needed to take a second look at the safety of its driver. Spradlin Motorsports is pleased to announce that S.T.T. Safety Equipment of Atlanta, Georgia will be making sure Casey's focus remains on winning. "Tiffany and Paul at S.T.T. are the best people in the safety business to work with and their products speak for themselves," Spradlin says. "Driving the stripe at 200+ is enough to worry about, so not having to worry about stopping is just weight off my shoulders. Talk about product R&D, one of the owners drives a jet dragster for goodness sake.I think that's speaks for itself," laughs Casey.
Spradlin Motorsports intends to chase the NHRA Lucas Oil Drag Racing Series Southeast division championship in both Top Sportsman and Top Dragster for the 2014 season. The team also intends to participate in several national events starting with the prestigious NHRA Gatornationals in Gainesville, FL March 14-16. That makes for many opportunities for Spradlin Motorsports fans to get out and see the 200 MPH action in person!
Spradlin Motorsports is grateful for the support of great marketing partners like Southeastern Hose, Smith Brothers Push Rods, Jet Hot Performance Coatings, Tim Gaines Performance, TCI Transmissions, and S.T.T Safety Equipment. For more information about the team please visit our website at spradlinmotorsports.com and also our facebook page at facebook.com/spradlinmotorsports.