Mon, 27 Jan 2014, 13:06 PM



Marla Weidenaar, Clutch Specialist Valvoline MaxLife Dodge Charger R/T



Courtesy of Jeff Wolf, DSR



BROWNSBURG, Ind. --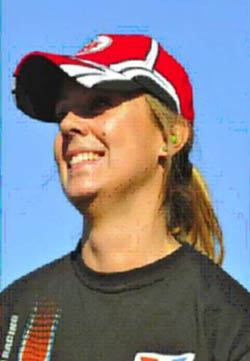 Marla Weidenaar
Women race-car drivers are old news in NHRA drag racing.
However, finding one who works on the 10,000-horsepower land rockets is unique.
Marla Weidenaar is one of the newest crew members at DSR and is working as the clutch assistant on the Funny Car team of 2012 world champion Jack Beckman and new crew chief Rob Flynn.
Weidenaar, 25, an Illinois native who lives in Avon, Ind., graduated in 2006 from the University of Northwestern Ohio (UNOH) with an Associate Degree in Applied Science and major in High Performance Technology.
She began in the sport as a part-time utility crew member for Terry McMillen's Top Fuel team in 2010 and 2011, and worked at Kalitta Motorsports from August 2011 through November 2013 as a rods/pistons specialist and installed the right-side cylinder head at races on one of Kalitta's Funny Cars.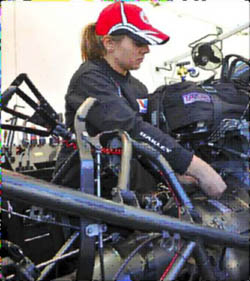 Marla Weidenaar
"I became interested in mechanics in 2005 after I went to some local bracket races," she said of events held near her home at New Lenox, Ill. "After I went to my first NHRA Mello Yello drag race at Route 66 Raceway (near Chicago) that year, I was committed to making that my career choice and started to research schools.
"From the first time I saw a Top Fuel dragster go down the dragstrip, I knew I wanted to work on a professional race team. That same weekend I started to network and spoke to anyone who would give me the time of day."
She is engaged to marry Michael O'Guin, the clutch specialist for DSR's Matco Tools Top Fuel team, on March 22.