Fri, 24 Jan 2014, 13:03 PM



TAD Racer Mark Taliaferro Hires Norm Grimes for 2014 Championship Run



Courtesy of Will Hanna/ Pro Race Communications


Photo courtesy of David Smith, Pro Sportsman Association





ODESSA, Texas --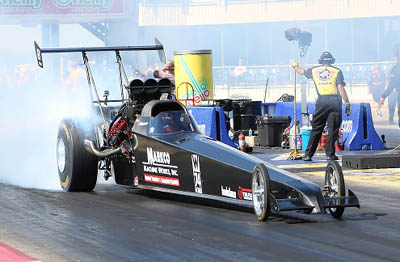 Mark Taliaferro
After making the transition back to the blown alcohol combination last year, NHRA Top Alcohol Dragster driver Mark Taliaferro and his Markco Machine Works sponsored team have retained the services of seven-time national champion Crew Chief Norm Grimes for 2014. Grimes has most recently tuned Jim Whiteley to back-to-back national championships the past two years.
When Whiteley made the decision to step out of the seat of his Top Alcohol Dragster around the middle of last season, the wheels were set in motion to get Grimes hooked up with Taliaferro.
"I had a few talks with Jim, and he let me know that he planned to step out of the seat at the end of last season and that Norm would be available," said Taliaferro (pronounced Tal-if-er). "It's not every day that someone with Norm's credentials becomes available. As a matter of fact, there are few with Norm's credentials, period. We worked things out to where he would come to work with us for 2014. He helped us some towards the end of last year, but his main focus was winning the Championship for Jim.
"When we came back into the Top Alcohol Dragster class, it was with the intentions of being able to compete for a National Championship," Taliaferro continued. "We made the switch back to the blown combination this past year because guys like Whiteley and Demke were having a lot of success with it. Now that we have Norm in our camp, we are looking forward to making a strong run for it this year."
Despite having Grimes in his corner, Taliaferro is quick to point out a national title will be no easy task.
"Even with the best parts, people, everything, it is a tough job to try to win a championship," commented Taliaferro. "There are some awful good racers out there gunning for the same title and it remains to be seen how the A/Fuel cars will run this year with 1% more nitro and colder fuel. I'm sure it will be a dog fight, but we're going to do everything we can to be in the middle of it. We would really like to go make a good showing for our sponsors Markco Machine Works, W74 Oil Tools, Taurus Manufacturing and MCO Construction this year."
Taliaferro and his Markco Machine Works team will kick the 2014 season off at the season-opening Circle K Winternationals at Auto Club Raceway in Pomona, Calif., Feb. 6-9.
Markco Machine Works is an API Licensee for manufacture of new Blow Out Preventers, as well as re-manufacture and repair of blowout preventers. Markco also manufactures wellhead equipment and is a supplier of BOP replacement parts. Find out more at www.markcomachineworks.com
W74 Oil Tools is your one-stop resource for downhole fishing tools and oilfield support services. Located in the Permian Basin of West Texas, one of the largest oilfields in North America, we have over 35 years of fishing tool experience. Through decades of servicing national and independent companies, we have established a name representing quality and reliability. Find out more at W74.com
MCO Construction, leaders in oilfield fabrication and maintenance, was established in 1975. Along with fabrication and maintenance, MCO offers services in pipe cleaning, reclamation systems and CNC plasma cutting and machining. Find out more at www.MCOConstruction.com