Sun, 19 Jan 2014, 19:02 PM



Hangover/Racers Appreciation Race at San Antonio Raceway



Courtesy of J.M. Hallas



MARION, Texas --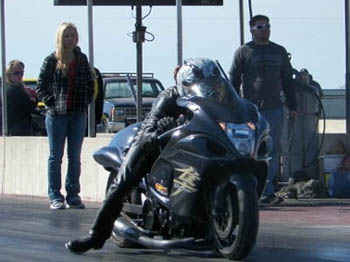 Dialing for Dollars winner Brandon Mitchan
coming off the line on a pass.
While people in the mid-west and north-east are buried under mountains of snow or shivering in sub-zero temperatures, Mother Nature provided central Texas with a beautiful day for drag racing. San Antonio Raceway hosted its annual Hangover/Racers Appreciation race on the drag strip just east of San Antonio.
Sunny, warm conditions with temperatures in the lower 70's(eat your hearts out northern states) greeted drivers as they made some of their first passes of the year using the 1/8 mile track. The early race gives everyone a chance to break in their new Christmas toys, try out new parts or just get dialed in again following the end of last seasons points.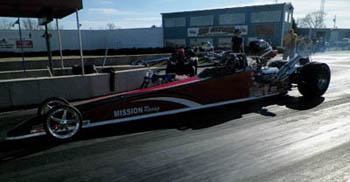 Electronics(Box) winner David Bills(near)
and runner-up Preston Pennington(far)
doing burnouts before their final run.
Two of the three regular classes, Electronics(Box) and Foot brake(No-box) were on hand competing for some post holiday cash. Jr Dragsters ended up being a no show. Track conditions were a bit cool early, but with the sun out warmed to the mid 80's throughout eliminations.
Mitchan Grabs Money in Dialing for Dollars
Last years No-box champ and Motorcycle Shootout runner-up, Brandon Mitchan took home the pot in Dialing for Dollars. The impromptu second qualifying round, with a buy-in jack pot up for grabs, saw Mitchan go out early and lay down a pass that no one could beat. Mitchan, in prime form, put his Suzuki Hayabusa through with a .0011 package.
Bills Best in Box Bash
Two perennial contenders squared off in the Electronics(Box) Finals with David Bills(San Antonio) and Preston Pennington(Three Rivers) going head to head. Bills cut a .0161 light and needed every inch of the lead as P. Pennington ran quicker but came up short by .002 at the line as Bills scored the hole shot win.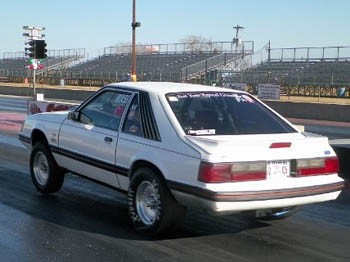 No-box co-winner, Dennis Soefje getting the front end up on launch during his semifinal bye run.
David Bills, 4.928 @ 137.49 defeats Preston Pennington, 4.827 @ 132.55
Bills in his 2007 TNT Dragster, sponsored by Mission Racing, defeated M. Mathews twice(1st round and semi's), Russel Fields in round 2 and took a third round bye. P. Pennington, in the Dave Simon Motorsports, Dixie House Cafe, TNT Dragster, bought back after a round 1 loss, then took out Matt Esper, and Brett Zampese before a bye in the semi's.
Zampese and Soefje Split No-box finals
Former San Antonio Raceway owner/promoter, Todd Zampese(Converse) and Dennis Soefje(Seguin) opted to split the cash and fore go the final run in No-box.
Todd Zampese/Dennis Soefje---Split Finals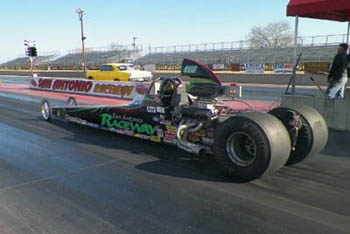 No-box co-winner Todd Zampese
waits for green to chase down
Laurie Vontour in his semifinal.
T. Zampese in his dragster took down Ruben Gallegos(red) in round 1, J. Garza, Matthew Villarreal, Laurie Vontour and James Tijerina in the semis, with a round 3 bye. Soefje, in his late wife's 83 Mustang GT, trailered Brandon Mitchan(break out), R. Floyd, Roland Wray(break out), M. Frankson(break out) and M. Merino(red) before a bye in semi's.