Fri, 03 Jan 2014, 09:28 AM



They Said It Couldn't Be Done



By Bob Frey


Photo copyright 2014 Auto Imagery, Inc.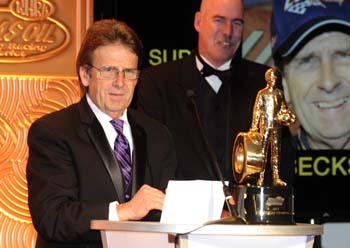 Rick Beckstrom celebrates championship.
Over the years I have learned that there is one thing that you don't tell a drag racer, or any racer for that matter, and that is "you can't do that." The simple challenge that comes from that phrase seems to motivate a racer more than anything else I can think of. After "Big Daddy" Don Garlits had that horrible explosion at Lions Drag Strip people told him that he couldn't come back, and when he decided to return and do it with a rear-engine dragster those same people told him he can't do that, either. Well, he did, and he revolutionized the sport at the same time. When John Force had his devastating accident in Dallas in 2007 everyone told him that he couldn't come back from that. But he did, and he just won his sixteenth national championship. And when everyone told Alan Ellis that he couldn't win the Competition Eliminator championship with a big-block, short wheelbase car he went out and proved them wrong. There are, literally, hundreds of other examples of racers who stared adversity or a big challenge right in the face and went out and excelled. Another example would be the 2013 Lucas Oil Super Gas World Champion, Rick Beckstrom, who proved to everyone that you can win a round, a race and a championship in the 9.90 category while driving a full-bodied car.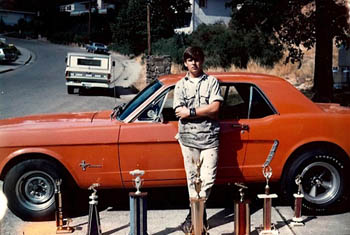 Rick Beckstrom and his Mustang.
There are a lot of familiar sights at the drag strip but few are more recognizable than Rick Beckstrom and his wife of forty years, Patti. "We are inseparable," Rick said. "She is my best friend and I couldn't have done any of this without her. She does so much at the track with the car, she knows what all of the competitors can do and is very aware of any changing track conditions." By way of a quick background check both Rick and Patti were very successful at other endeavors before they got into drag racing. "I actually started racing in 1965," Rick said. "I had a 1956 Chevy convertible that I raced in the E/MP class at tracks like Half Moon Bay and Fremont." And while he enjoyed that the same can't be said of his parent's reaction to the sport. "I won a trophy my first time out and brought it home and my dad was not pleased. I raced a little after that with a '65 Mustang that ran I J/Stock but that was it for a while." Whether his parent's reaction to drag racing was the reason or not Rick decided to try his hand at something else after. "I rode dirt bikes for about fifteen years," he said. "I did enduro racing and cross country racing and won a championship in District 36." While he was excelling at two-wheel racing Patti was winning at something completely unrelated. "I used to show horses," she said. "In the late 1960's I won a big competition at the Cow Palace in San Francisco." And as good as she was, after that big win she hung up her saddle, but she does point out a few similarities between horses and racing. "Both demand a lot of attention if you want to be successful," she said. "But at least you can put a race car in the garage when you're done and you don't have to keep feeding it all the time."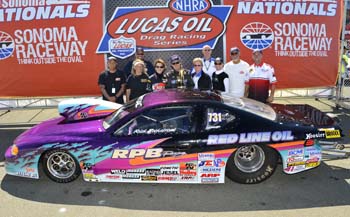 Beckstrom and team celebrate Sonoma win.
The Beckstrom's have been competing in NHRA drag racing for almost twenty years and they have a couple of top ten finishes to their credit. "I don't know about the other racers," Rick said. "But I never set out to win a world championship. I thought those were reserved for the 'other guys.' I just wanted to win a divisional race and maybe a national event and have fun." It's that "have fun" line that may have been the most instrumental thing in Rick's championship year. "At the start of the season we just sat down and said that we wanted to go to races and tracks that we enjoy, see our friends and have a good time. If the wins came then that was just an extra benefit." Well, the wins did come and they came early in the year for Rick as he picked up his first Super Gas national event win at the Winternationals. "I have always had good luck at Pomona," he said. "I won my first national event there when I won Super Comp at the World Finals in 2001." Another one of his favorite venues is the Sonoma track which is close to his home in Novato, California. "When I won the national event there this year I really started to think that I could make a run at the championship."
The car that Rick drove to the championship, that unlikely full-bodied Pontiac, has been in his possession for years now. "To be honest I was always more comfortable in the Super Comp car," he admitted. "But this year the Grand Am and I really bonded together." He first thought about getting a car like that when he saw Mike Ferderer's Pontiac in 2003. "After I saw Mike's car I knew that's what I wanted. On the way to the All Star race in Chicago that year I stopped by Rick Jones's shop to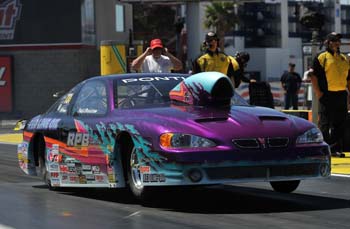 Rick Beckstrom
take a look at one that he had. I decided that I would get it but only if Mike agreed to help out with the set up." So after picking up the car, setting up the engine and making sure that all the wiring was done correctly, Rick called on Mike who stopped by and finished the project. "He came down from Seattle, helped with the car and told me to go to Fallon and make a run to see how it felt." Well, according to Rick, it felt great and he has been racing and winning with it ever since.
For someone who has raced as long as Rick has there have to have been a lot of great moments. "Yes, there were," he said. "I've been very fortunate and I would have to say that winning Indy in 2004, at the 50th anniversary race, was the highlight of my career up until now." At the race, which lasted eight long rounds, Rick had to beat some of the best in the country including Sheldon Gecker, Mike Ferderer (with a perfect 8.900), Edmond Richardson and more including Super Comp standout Tommy Costales in the final round. "But as nice as that was, and it was nice, and as great as it is to win the championship, I have to say that my proudest moment had to be after I clinched the title in Vegas this year. I came back to my pit area and they were dozens of racers there and I couldn't figure out what was going on, but when I pulled in they all stood up and gave me a standing ovation. To earn the respect of your fellow racers like that means everything to Patti and me and that was really special."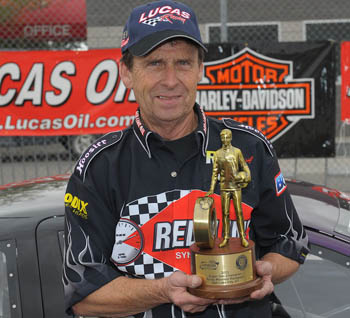 Beckstrom celebrates after
winning Las Vegas divisional race.
Photo copyright 2014 Bob Johnson Photography
Rick and Patti work hard at their racing program but they also have fun. "We enjoy the racing, the competition and the people. Sometimes you have a lucky day and everything goes your way and you win, and sometimes it doesn't, but it's important to enjoy yourself." With that philosophy the pair will spend the winter months freshening up the cars, especially that Grand Am, and prepare for their title defense. "Winning a championship was never on my bucket list," Rick said. "But I sure would like to go out and do well next year." If past history is any indication Rick will not only do well but Patti will be there at his side, helping him and encouraging him, and who knows maybe another championship is in their future, after all, they did it this year with a car that nobody thought could win, so why not do it again?