Fri, 06 Dec 2013, 11:22 AM



NHRA Division 1 Standout Cultrera Reflects on Double-Up Championship



Courtesy of Kelly Wade



ELIOT, Maine --
NHRA's Northeast Division is plump with a group of what could arguably be called some of the toughest Lucas Oil Drag Racing Series competitors in the nation, and division titles in the region are therefore coveted and held in very high regard. For young Kyle Cultrera, the 2013 season ended like a dream as he accomplished a feat almost unthinkable for a driver so youthful in his career: he won Divison 1 championships in both Competition Eliminator and Super Comp.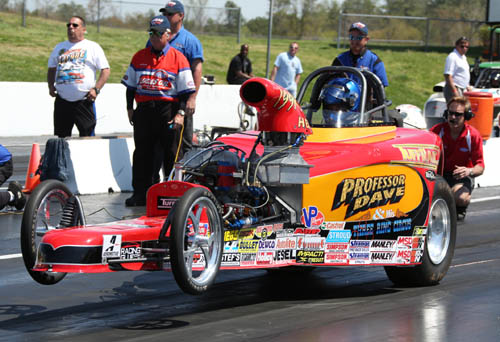 Kyle Cultrera in the Comp car.
photo credit: David Smith
"This was an unbelievable and exciting year," said Cultrera, who accumulated a total of four wins in five final rounds across the two categories. "My goal at the beginning of the season was that I wanted to win one championship, but I just had one of those years where everything seemed to fall in the right place. Winning two championships in one year is something that is rarely done, and luckily we were able to accomplish that."
Although Cultrera gives much of the credit for his success to the level of support that he receives, his skill behind the wheel in both categories most certainly came into play in regard to the final outcome. The driver who shares his time between Charlotte, N.C., and his hometown of Eliot, Me., was a finalist in each of the final five Division 1 races in 2013.
"We just kept going rounds, and to put it in simple terms, that's just what you have to do to win a championship," said Cultrera. "It can be challenging sometimes to run two cars, but my dad is a great help. We've got a good system. This is my third year in Comp, and this year we really pulled it together."
Cultrera put a tough 2012 season in the rearview mirror and was ready to launch into 2013 with guns blazing as the driver of the Dave Ring and Al Ackerman-owned '32 Bantam in Comp Eliminator and his own dragster in Super Comp. Adding to the excitement of the year ahead - as well as to the challenge - was that Cultrera's sister Lauren would be making her debut in Super Comp and running a full schedule. Cultrera eagerly embraced the opportunity to offer instruction and guidance throughout his sister's rookie season, and he readily and confidently accepted the responsibility of adding one more car to the mix to be concerned with and dial effectively.
Despite Cultrera's enthusiasm, the early days of the year were peppered with challenges - the Comp car suffered mechanical issues and there was a delay in receiving parts for the Super Comp dragsters that resulted in a late start. Things soon changed, however.
"Everything turned around at Lebanon Valley," said Cultrera, who won three rounds in Comp at the Division 1 opener in Richmond and then went to the semifinals in Norwalk, bowed out in the second round at the Reading divisional, and clocked out in the quarterfinals at the Englishtown national. "Two weeks after Englishtown, we won Lebanon Valley. Then we went out to Joliet and Norwalk and finished in the semis both weekends. From there on out, I was in the hunt nationally with the Comp car."
Cultrera was a semifinalist on back-to-back weekends at the national events at Route 66 Raceway and Norwalk's Summit Motorsports Park, and two weeks later, back on his home turf for the division race at New England Dragway, the University of North Carolina Charlotte (UNCC) engineering student finally experienced a return to success in the dragster and brought home his first Super Comp win of the season.
A runner-up performance in Comp at Atco Dragway was followed by another Super Comp win at Cecil County Dragway, and after logging a semifinals finish in the dragster at the esteemed U.S. Nationals in Indianapolis, Cultrera returned to the Comp winner's circle with his most important victory of the year at the last race of the division at Englishtown Raceway Park, and the victory boosted him into the lead in the national points for the first time in his career. Although Bruno Massel went around him to take over the No. 1 spot, Cultrera was anything but disheartened.
"A lot of people thought I had a lot more pressure on me because I had the possibility of winning the world championship, but when all of this was going on, I wasn't even thinking about that," he said. "I was focused on the division because it's still early in my career. Probably the biggest challenge I faced was at the Englishtown division race. I pretty much had to win the race to still have a chance at winning the championship, and I had to run Joe Carnasciale in the first round. He was chasing me in the points, and he was pretty close at that point. I beat him and went on to win the race, but that one round was probably the biggest challenge I had all year."
Cultrera had the division lead in Super Comp heading into the Englishtown divisional, but an early exit there in the dragster brought about a forfeiture of his edge. A semifinals finish in Charlotte, however, paired with another trip to the semis in Reynolds, Ga. - where he wrapped up the Comp Eliminator Division 1 championship when his last challenger was taken out early - kept him in the hunt until the very end.
Without any more division races to claim in Super Comp, Cultrera made the journey to Las Vegas anyway in an attempt to take fate into his own hands. Fellow Division 1 driver Shawn Fricke had one last opportunity to take over the points lead there at the Division 7 closer, and if the ladder lined up right, Cultrera would have had the chance to take his rival out himself. Ultimately, the two would have been matched in round four, but Fricke was ousted in the second round, and the championship was Cultrera's.
The 23-year-old competitor hadn't just accomplished his pre-season goal of winning the division; Cultrera had won the division in two demanding categories that require separate skillsets, intense focus, and tremendous dedication.
"It's definitely been one of those years that you can never forget," said Cultrera. "It's crazy to think that if I would have done just a little better at one or two races, I could be the world champion. In the end, sure, there is a little disappointment. But it's weird because I've never really been in this situation. This sport is so hard, you don't know if you'll ever be in this situation again. You think about every round that you lost, but you also think about all of the rounds you won where things could have gone different. It puts things into perspective. It was so close, but it's just given me more incentive."
For the first time in his career, Cultrera will relinquish the number he holds close to his heart, 199k, in favor of No. 3 on his Super Comp dragster and No. 4 on the Competition Eliminator car for 2014. With two gold cards and free entry for next season in both cars, Cultrera plans to make the most of the opportunity and devote as much time to racing as he possibly can. The second-generation drag racer has very clear goals.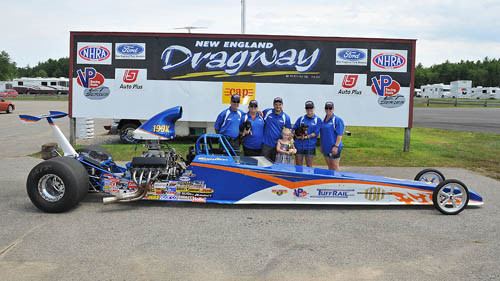 Kyle Cultrera and team celebrate
division win at New England Dragway
photo credit: Kubicke Photography
"Of course you always have that future dream of going pro, and that would be awesome if one day the opportunity were to come up," said Cultrera. "But I have some unfinished business as a sportsman racer. I want to be the world champion one day. To be honest, I enjoy bracket racing so much that I don't think I would be able to give it up. If I went pro, I would probably still be racing Super Comp at every national event and running two cars. I like that repetition.
"This past year was something special, but right now I'm already thinking about what's next on the agenda, and that's to make the JEGS Allstars. I have the lead in Super Comp and I'm 10 points behind in Comp with one more race in Richmond next April. I want to go down to Virginia and qualify for the Allstars in both cars - that's my goal."
Although drag racing is one person in one racecar vying for round wins, event trophies, and championships, Cultrera recognizes that success in the sport requires a strong support system.
"I have so many people to thank for where I am in my career, but I really have to say thank you to my dad, Stephen," emphasized Cultrera. "He sacrificed a lot to make sure that I was successful in Comp, and we went through a lot this year - but he never gave up. His enthusiasm and work ethic really inspired me, and I really believe that he deserves to win Wrench of the Year for Division 1. When it comes to the Comp car, he really was the deciding factor in how I won the championship. If it wasn't for him, we would have been struggling all year. He's everything. He and my mom both give me everything I need to make this work.
"I want to thank my mom, Jo Ann, and my sisters, Lauren and Jessica. All of my immediate family has been pretty cool. They all get really excited when I do well, and it's kind of funny because they're always bragging on me. I just brush it off, but really, I like to make them proud of me. It's pretty cool what we were able to do together, and I'm very proud of Lauren's progress. She is showing big improvements in her Super Comp car, and we are all very excited about her future.
"I'd also like to thank Dave Ring and Al Ackerman for the opportunity they gave me with the Comp car; Charlie Yanetti; our teammates Donny and Joe Algeri; Scott and Cliff Moberg and Tuffrail; Tom Vigue and 3V Performance; Abruzzi Racing Transmissions; Rick and Carl and Independent Boat Haulers; Jack Sepanek and Sepanek Racing Transmissions; Scott Hall and Moroso; and Mickey Thompson Tires. I have to mention the racers in Division 1 because we are without a doubt the toughest division in the country. We have great car counts in Comp and Super Comp and the Division 1 staff does such a good job with the track. I only have five years experience, and I don't think I'd be where I am without all of the good racing that I've had over those years. We're very lucky to be able to race in such a good division. I get to race with the best."