Wed, 04 Dec 2013, 16:48 PM



Quite An Accomplishment



By Bob Frey


Photo copyright 2013 Auto Imagery, Inc.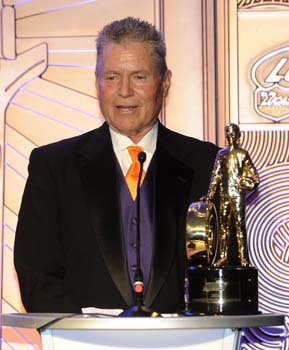 Alan Ellis at the Awards ceremony.
The list of Competition Eliminator World Champions is full of some of the great names in drag racing. Going back to the very formative years of the class and the eliminator getting "World Championship" status you had the great Charlie Smith in 1964 and the "Flying Junk Man" Virgil Cates a year after that. Half Moon Bay's Chico Breschini and Ray Hadford followed with others like Ben Griffin and Tom Trisch having their time in the spotlight in 1970 and '71. Fast forward to the more recent times and the champs included some of the best sportsman racers ever like Dean Carter, Jeff Taylor and Frank Aragona. In 2010 Al Ackerman showed that the "old guys" still had a trick or two up their sleeves when he took his little car to the title at the ripe old age of sixth-three. Now, three years later, a few years younger and a lot of miles per hour faster Alan Ellis has joined the Comp champs and he did it in style. Take nothing away from anyone else who ever won in the class but nobody ever did it with a car that is as quick or as fast as Alan's. But then when you are driving a car with an engine that was prepared by the "Professor" Warren Johnson I guess you wouldn't expect anything else.
Before going any further I am going to say something that I thought I would never say and that is did you know that Roy Hill had something to do with the 2013 Comp World Champ? Granted, it's a long, round about way, but he does. Many years ago when Alan was at the Roy Hill Drag Racing School he crossed paths with some folks who travelled the country and who were friends with Warren Johnson. Later that year Alan ran into those same folks again at the races and they asked if he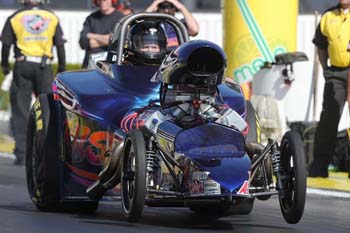 Alan Ellis
wanted to meet WJ. Well, what self-respecting drag racer wouldn't want to do that? "We met in his pit area and he couldn't have been nicer," Alan said. Later, when Alan decided to step up to the rugged Comp Eliminator ranks he called Warren and asked if he would be interested in helping and the answer was yes. "He and Kurt have been so good to me over the years and I really can't thank them enough," he added. They were especially good to him and for him this year but more on that later.
Alan may have won the championship this year but it sure didn't look that way early in the year. After a good runner-up finish at the season-opening Winternationals Alan struggled not only to win a race but to win rounds at the first several divisional races that we went to. "Yeah, Pomona was good but we didn't do much right after that," he said. All of that changed dramatically in the middle of the year when he put 339 points on the board in the span of eight weeks. That included a pair of wins at the Division 6 doubleheader in Seattle and a win at Rocky Mountain Raceway as well as a runner-up finish at the national event at Pacific Raceways. "I guess you could say we had a pretty good couple of weeks," Alan said. Amen to that!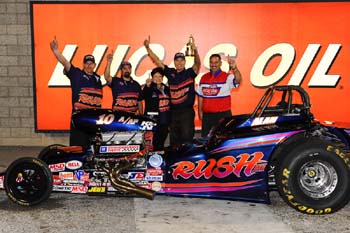 Ellis and team celebrate
Las Vegas division win.
Photo copyright 2013 Bob Johnson Photography
As well as he was running Alan knew that all was not well. "We hurt my good engine and the backup one wasn't real good, either." So what do you do in that situation? "Well, we called Warren and asked if he could help out again," Alan said. Help, that is, if Alan could get his engine to Georgia in a couple of days in order to fit into the Johnson's work schedule. "I thought about shipping the engine down there but then it would have been out of my control so I decided to drive it there." When you add up all the time and miles you'll see that Alan drove about 4,000 round-trip miles in just a few days. "You can get people to fix anything anywhere but they don't all have the right parts, the special parts we needed and Warren did."
With all of that behind him Alan, crew chief Steve Wilmoth and crew member Jim Plummer started thinking about winning the championship. "Steve has competed in Comp so he knows what's involved from both a driver's and a tuner's point of view, and Jim was with Dean Carter for his two championships so he, to, had a handle on what we were trying to do." And what they were trying to do was win rounds and races. "We would get together and say what do we do, take the strip or save the index and the answer always came back the same..win the race. You don't get that many chances to win a championship so we all knew what our goal was at every race down the stretch."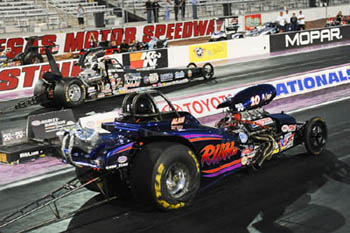 Ellis defeated Don Thomas
in Las Vegas divisional final.
Photo copyright 2013 Bob Johnson Photography
That mental attitude came into play at the final division race of the year in Las Vegas. Bruno Massel was leading the points but couldn't claim any more races, but there were three other drivers who could. "Don Thomas, Brandon Huhtala and Adam Bowdish all had a shot at winning," Alan said. "I needed to get to the final round at Vegas to get around Bruno and close the others out." Huhtala went out early, but in storybook fashion the other three drivers all made it to the semi-finals with Thomas getting the bye run into the final round while Alan took care of business by beating Bowdish when the young driver fouled out. So now it was a match between Alan and Thomas, a match that Alan won to lock up his first-ever national championship. "It's just so unbelievable," he said. "We've tried so hard for so many years and ran a car that people kept telling us could never win a championship. I think that's what makes this even more gratifying, we did it and we did it our way."
For a man in his sixties to be able to compete and win at this level is really special. "Yeah, not bad for an old guy, is it? Alan asked. But when you have been through all of the trials and tribulations like he has in a single year winning has to be even sweeter. "Let's face it, all of these things kind of even out, don't they? We had a good car early in the year and little things kept us from winning. For a while it seemed like anything that could possibly go wrong did. But then we made some changes, added some weight, switched classes, made a cross country trip, got things together and then everything kind of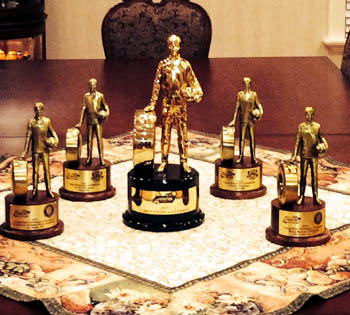 Ellis' trophies.
fell in place. I still can't believe it." And just what do you do with your championship trophy now that you have it? "It's sitting on our dining room table surrounded by the other trophies we've won. It's really nice to look at." You can tell that his wife, Donna, is very understanding, after all, how may wives would let their husbands store their trophies on the dining room table? "She's the best," Alan said. "She comes to a lot of the races when she can and I couldn't do this without her support."
As winter sets in and the 2013 season fades away Alan already has big plans for next year. "We're going to give it another shot and see how we do. The engine is being freshened up, Warren and Kurt have some new things they want to try and the chassis is back at the Neil & Parks shop being updated. I'd love to have another year like this one." Well, except for that cross country trip, I imagine.