Wed, 27 Nov 2013, 15:47 PM



Happy New Year



By Bob Frey


Photo copyright 2013 Auto Imagery, Inc.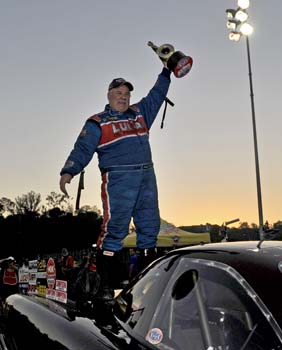 Frank Manzo celebrates Pomona win.
I know, it isn't even Thanksgiving and here I am wishing you a Happy New Year so you must be wondering.. "What's up with that, Bob?" It's simple, I am taking this time to wish all of the competitors in the Top Alcohol Funny Car class a Happy New Year because they will enter 2014 knowing that Frank Manzo can not and will not win the Lucas Oil World Championship. That's because the "Ace" has formally announced that he will not compete next year in the class that he has dominated for, well, ever. After getting hot, to put it mildly, in the latter parts of 2013, Frank went on to win his seventeenth national championship and then promptly announced what everyone knew for a while and that is the fact that he was retiring as a driver. "I will be around in 2014," Frank told me. "I just won't be driving." He then went on to say how the competition is getting tougher and the "young kids out there are gaining on me" and other platitudes that made me think that maybe Frank should run for political office next year now that he has all of that free time.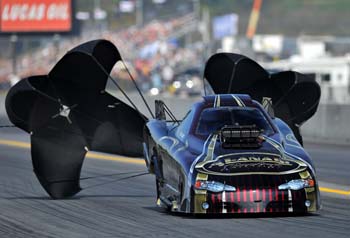 Frank Manzo
When I retired last year I announced that I have had the good fortune to be able to be involved in the sport from John Mulligan to John Force, from Bob Muravez to Robert Hight and from Doug Cook to Doug Kalitta, and while that's true I have also had the privilege to be involved in the sport from the era of Frank Manzo to Frank Manzo. That's because Frank has been such a great part of the sport for over thirty years and he has been competing at a high level for all of those years. Let's face it, there are and will continue to be people in this sport (and any sport) who put together a couple of good years and then fade from view. But Frank, from his first divisional final round in 1979 when he lost the Pro Comp final to some guy by the name of Joe Amato, to his last race at Pomona earlier this month, has excelled and has been the one by which all others are judged. The numbers alone speak for themselves. He won 105 NHRA national events, second only to John Force (138) and he is one of only two drivers to go over the century mark in national event wins. And as I always do, I try to put the numbers in perspective, so I will point out that John won his 138 races in 635 events and Frank won his 105 races in just 265 events (including the twelve he raced in Pro Comp and 253 in the alky Funny Car class). Do the math and you'll see that Frank won just about forty percent of his national event starts, and while I don't have the exact number of divisional races that he attended I can tell you that he won 118 of them and was runner-up at another thirty-nine. As impressive as those numbers are Frank's record in final rounds at the national events is even more impressive. He won those 104 alky races in 129 final rounds and that means that he won seventy-eight percent of the final rounds he was in. Of course that includes the incredible streak of forty-two consecutive final round victories, a streak that was stopped by Shane Westerfield at Dallas in October. Nobody in the history of the sport has come close to that kind of domination in the final rounds and I think it's safe to say that nobody ever will. Records, they say, are made to be broken but that one won't be.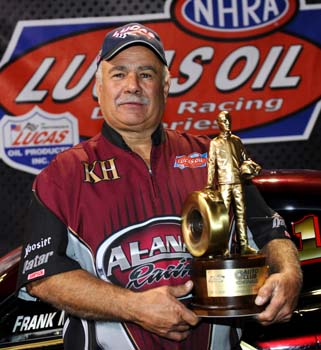 Numbers aside, and we'll get to some more of them later, the simple fact is that Frank Manzo did it all. He drove the car, he tuned the car and he did both better than just about anybody else. Of course through it all he had the love and support of his wife, Michelle, who was there every step of the way. In fact, if I may be so bold, I think there were times when Michelle wanted to race and win more than Frank did. "She was my rock, my support and my encouragement all these years," Frank said. "I couldn't have done it without her." The two made a great pair, travelling across the country to race tracks, big and small, to do what they loved, and until recently they did it while Frank held down a full-time job at home in New Jersey. It was a construction company that his father started, and fans in New Jersey could see Frank win at Englishtown on Sunday and then wave to him as he was riding a piece of heavy equipment along New Jersey's highways on Monday. Or you could catch him helping out in Norwalk when they had water problems at the national event a few years ago. Yes, that was Frank on the backhoe lending a hand.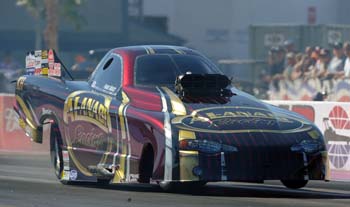 In the 1990's Frank had some great rivalries with Pat Austin, another one of the greats in the class. As a fan, when I saw that Frank and Pat were entered at the same event I knew that it would be a fun race. Pat, in the short period of time that he ran, was dominant and he and Frank brought out the best in each other. "I always enjoyed racing the best, and Pat was," Frank said. "I think we both enjoyed the challenge." Pat, who competed in 229 races, won seventy of them and that computes to a thirty-one percent winning record, and in the head-to-head races with Frank Pat won ten and so did Frank. Amazing that two of the greats in the class split their twenty meetings, isn't it? Other rivalries included Bob Newberry, Vern Moats, Tony Bartone and Frank's good friend, Jay Payne, and as good as they all were, and make no mistake about it they were good, Frank had a winning record against all of them. In fact, against those four giants of the class Frank was a combined 74-37. I know that numbers don't always tell the story but if you have that kind of record against that kind of competition you are good, very good.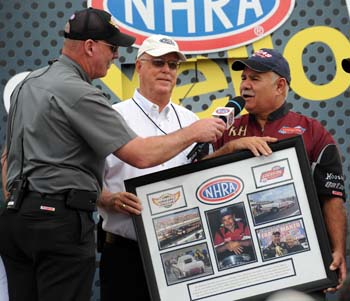 Manzo was honored during
the Reading prerace ceremonies.
In addition to his wife there has been another constant in Frank's career and that is John Glade. John has been there with Frank for every national event win and has become a very familiar figure at the races, although unlike his counterparts in the pro ranks, John doesn't get nearly the recognition he deserves. "He is such a talent," Frank said. "We would always bounce things off one another and he was often the great counter to my way of thinking." For two people to work so well together is amazing and for two people to do that for so many years and do it at such a high level is unbelievable. "I've been blessed to have a lot of good people and that made my job easier," Frank added. "And I have to mention Ed Hoffman and Fred Bauer who have been with me since around 1996 and they have been a big part of our success." The fact that Frank was a very good driver goes unmentioned by the champ and that's done in typical Frank Manzo fashion. For all he has done he has never been one to blow his own horn, although he could, after all his numbers speak for themselves. He had an even 100 number one qualifying spots, set low elapsed time 121 times and recorded top speed 139 times, and he put them all together and swept the race fifty-four times and that, too, is something that nobody else has done in the sport although you will never hear Frank talk about any of that. "I'm just a lucky guy who was able to live his dream," he said. "When I started out all I wanted to do was win one race." Mission accomplished!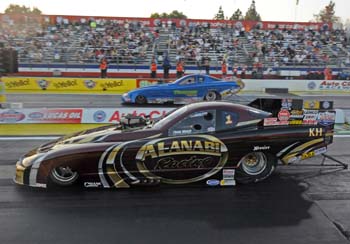 Manzo defeated Clint Thompson
in the final at Pomona.
When Frank won the last race of the year it enabled him to do something that not many people in any profession get to do and that is go out on top. "Yeah, I have to admit I had a couple of good weeks at the end of the year," he added. "We won the ADRL race (Alex Hossler driving) in Houston and locked up the championship there and then won Las Vegas and Pomona, two races I had never won before. I couldn't have scripted it any better if I tried." And it was all capped off with a fitting tribute at the NHRA award's ceremony in California. "I want to thank Tom Compton and Graham Light for the way they treated me this year, that was really special. And a special thank you to all of my competitors over the years." Frank did say something about his competitors coming up to him in Pomona urging him to reconsider his retirement plans, but between you and me, I don't think they really meant it, because now someone else will win the 2014 Top Alcohol Funny Car championship, and I'm sure that when they do Frank will be the first one there to congratulate the new champ.
Frank will be around the races next year and he will be working with the Al Anabi team. "I really don't know what my role will be and I know that I'll miss the driving," he said. "But it will be a new chapter in my life and Michelle and I are looking forward to it." He is one of the greats and will be missed on the track, and who knows, if he gets bored maybe he'll come out and race again, and if he does I know what all the racers in the Top Alcohol Funny Car are thinking.."try a dragster Frank, they're a lot of fun."