Mon, 25 Nov 2013, 11:30 AM



The 22nd Annual NHRA Hot Rod Reunion



By Steve Reyes


Photo copyright 2013 Steve Reyes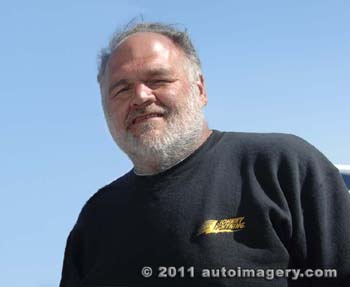 Steve Reyes
It was that time of year; pumpkins, leaves turning, a cool chill in the air and of course the sweet smell of nitro in the air in Bakersfield, California. The 22nd Annual NHRA Hot Rod Reunion came to the open spaces of Famoso Road and the legendary Bakersfield Drag Strip. For me, getting there was half the fun and a true divine happening in my life. Back in March of this year at the Gatornationals, my long time friend Rick Shute (Auto Imagery) asked if I wanted to attend the CHRR 2013 in Bakersfield. Of course, I wanted to attend but I couldn't give him an answer seven months ahead of the event, so I put in on the back burner of my mind.
In mid-July, I received an email from NHRA Museum guru Greg Sharp asking if I had a few pix of Larry Dixon, Butch Leal, John Rasmusson, Roy Brizio, Tommy Allen and Jim DeFrank. These were the honorees and Leal was the Grand Marshall of the event. Since Greg is one of the good guys I have encountered over the past twenty-five years, it was no problem to supply him with images of these quarter mile heroes. The next thing I know, Greg emails me stating he loves one image of Larry Dixon and his top fuel car at Lions in 1970 and would he be able to use it on the cover of the program? Well, a little wheeling and dealing and I gave Greg the green light to use the photo. Then I received an email from Rose at the NHRA Museum saying she wanted to use the same image for the event poster and collectible metal sign. After Rose and I did our wheeling and dealing it was a big go on the poster and metal sign. Now, it started to grind on me that I really would like to attend the event. I hadn't been since 2009 when I was one of the honorees and it would sure be cool to hang out with racers and photographers of the golden era of drag racing.
Well, before I knew it, it was the first of October and if I wanted to attend I must get a hold of Shute and see if his offer was still good. An email to Rick and just like that he came through with a round trip airline ticket from Tampa, Florida to Bakersfield, California. Now that is a good friend! I can't thank Rick enough for my plane ticket! Now I had to worry about a rental car and motel. Just like that, God reached down and blessed me with an email from Ed Sexton at Revell/Monogram. They were doing a 1/18th scale model kit on Roland Leong's Hawaiian funny car and did I have a photo for the box art? Yep, I sure did and after making a deal with Ed my rental car and motel were handled and I was off to CHRR 2013.
I guess I could give a boring who beat who at the event but for me that would be a bore, I was there for the people who drove and owned cars as well as my pals who created classic images of the by-gone days of drag racing. Arriving at the race track on Thursday, I didn't have to wait long to see old friends. Paul Sadler was the first photographer I was greeted by, then Don Gillespie and then Dan Kaplan and Phil and Dee Morris of Gasser Wars Magazine. That was in the parking lot waiting for media credentials!
With proper passes in hand, I entered the somewhat dusty pit area of the famed raceway. There I saw row after row of race car trailers with their cacklefest cargo. This year, eighty cars cackled at the CHRR, it was amazing. Thanks to Phil and Dee Morris, this old gimp got to ride in style in the Gasser Wars Magazine golf cart on Thursday. Believe me I needed it to ride around the sea of race cars at the event. A quick ride around the manufacturer's midway and I found old buddy Dave Wallace Jr. and his Hot Rod Nostalgia tent. Besides maintaining his HRN booth Dave, manages the Leslie Lovett Memorial photo contest at the event. Wallace offered his booth to be my semi-home for the event and of course, I accepted his offer. Dave asked if I brought anything for the photo contest, yep I brought photos, five binders of 8x10's. I had set aside fifteen different 8x10's that I thought would have a chance at first place in the contest. Now, I worked it down to three 8x10's (the limit for the contest). Oh, yes, they had to be at least twenty-five years old.
Now that the contest was handled, it was time to see old friends, Wayne King of the Doss, Clayton and King top fuel car, Herm Petersen of the Petersen and Fitz top fuel car, Jerry "The King of the Northwest" Ruth, and Bobby Rex of the Mexican Revolution funny car. Friday produced even more racers and photographers. I ran into photographers Rick Shute, Dave Kommel, Andy Willsheer, Roger Gorringe (from England), Tom West, Alan Earman, Jere Alhadaff, Howard Koby, Tim Marshall, John Shanks, Marc Gewertz, Gary Nastase and of course Paul Sadler. It was great to see such a great group of talented guys. Then on Friday and Saturday, I ran into Don Prudhomme, Roland Leong, Tom McEwen, Gerry Glenn, Bill Schultz, John Wiebe, Gary Cromwell, Dale Emery, "Waterbed" Fred Miller, Dee Gant, Bob Pollard, Rod Hynes, Tommy Ivo, John "Tarzan" Austin and Jim Murphy. Then Fuel Altered owner Rich "Pure Hell" Guasco and his AA/FA could be found along Fuel Altered row with Pure Heaven, Randy Bradford, Ron Hope's Rat Trap, High Heaven and the Winged Express.
To be honest, I didn't get to see a lot of racing, I know top fuel was plagued by oil downs and thirty-eight retro funny cars were there for a sixteen car field. Cruz Pedregon took time off from the NHRA Mellow Yello circuit to race his retro California Charger funny car. Robert Hight was also in attendance for event sponsor Triple A of Southern California. When he wasn't signing autographs he was watching the retro racers battle down the 1320. The weekend flew by but it was a one of a kind weekend for me. I got to hang with my fellow photographers and racers of yesteryear. I did win the photo contest and my biggest surprise was when on mid-day Sunday, Photographer/Top Fuel dragster owner John Ewald put my large body into his Master-car top fuel car and let me cackle it. What a rush with nitro fumes burning my nose and eyes, I loved every minute of it. This wasn't my first time cackling a top fuel car. In 2008 I cackled Wayne King's car. However, anytime I get the offer, I am ready and willing to experience the rush.
It was a fantastic weekend with lots of reminiscing and if you ever get the chance to attend one of these events, you will have a wonderful time meeting all the personalities that have made this sport great. I do want to thank Rick Shute, NHRA, the lovely Monique, Steve Gibbs, Rose and the ladies of the NHRA Museum, Dave Wallace, Greg Sharp and my wonderful wife who let me be away on our 24th anniversary weekend for this awesome event.
If you wish to purchase prints of the photos below, they may be obtained by contacting us at blrenterprise@cox.net. Other photos may be viewed by following the link at the bottom of the page at www.reyesontour.com.
Adam Sorokin picked up all the marbles in the Nostalgia Top Fuel class.
Sorokin was piloting the Champion Speed Shop Chevy powered top fuel car.
He defeated Denver Schutz in the final.
Two of my personal favorite Fuel Altered's were on display at CHRR 2013.
The Beaver Hunter AA/FA's were lookin' good.
The best of the Southwest top fuel racers were on hand at Bakersfield.
Bennie Osborn (left) from Oklahoma and that ol' crafty Texan Vance Hunt (right).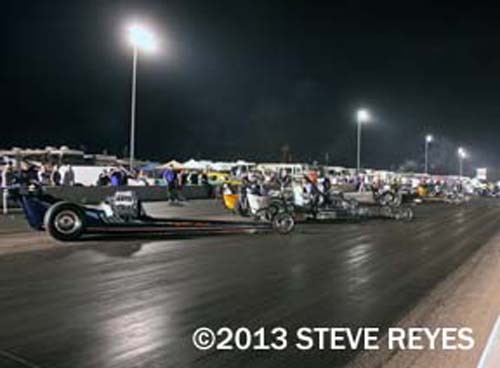 It was a wild and woolly 80 car cacklefest.
Cars and more cars with nitro fumes filling the Bakersfield night.
The noise was a delight to the SRO crowd Saturday night.
What does a NHRA Mello Yello funny car racer do on his weekend off?
If your Cruz Pedregon, you park your regular Snap On Tools funny car and go racing
with your slick retro funny car, his California Charger Firebird.
It looked like Denver Schutz had the top fuel field covered, on paper anyway.
Schutz posted low ET during eliminations with a 5.671 that was better than his low qualifying mark of 5.674.
Schutz fell in the final to Adam Sorokin.
Suddenly it is the early '60's at CHRR2013.
Garlits, The Greek, and TV Tommy Ivo were all in one great display.
All the way from Euclid, Ohio came Alan and Kathy Nosse and their beautifully restored mid-engine
top fuel car formerly raced by "Mr. C," Gary Cochran. The push car was very cool also.
With the deluge of cackle cars, an extra hand was needed to help tech them all.
Top fuel great Herm Petersen stepped forward and answered the NHRA's call for help.
Jason Rupert driving the Bays and Rupert, Black Plague nostalgia funny car took home the
overall third consecutive title in the 2013 Heritage Series Championship in Nostalgia Funny Car.
At the 2013 CHRR Jim Murphy locked up the nostalgia top fuel title.
Murf's bid to win the top fuel title at CHRR was stopped with a loss to
Brent Harris in the second round.
However, Murphy's overall point total clinched the Nostalgia Top Fuel Title.
It was a big holeshot win in the second round for John Hale over Mike Lewis in the Brand X Mustang.
Lewis was the defending champ in the Nostalgia funny car class.
Hale clocked a 5.86 at 246.48 mph to Lewis' losing but better 5.77 at 245.09 mph.
The Guy Tipton tuned Camaro defeated Dan Horan in the final to win Funny Car Eliminator.
The great state of Kansas had one of its greatest top fuel racers in attendance at Bakersfield.
John Wiebe did double duty in the cacklefest cackling both his 1970 and 1971 top fuel cars for their new owners.
The line was so long at the cacklefest that it gave Wiebe the time to cackle one car at the start of the
'fest and then hurry back and cackle one towards the end of the line.
Here are a few of the good ol' veterans of the golden years of drag racing wandering around enjoying
the sights of yesteryear. Left to Right are: Kenny Logan (Driver of Joe Winters AA/FD),
"The Ol' Master, Ed Pink (Engine Builder/Top Fuel Owner),
"Hand Grenade" Harry Hibler (Track Manager and Journeyman Top Fuel Driver), and Art Chrisman(Dragster Pioneer).
Yours truly won the Leslie Lovett photo contest with this image of Joe Winters
losing the body off his funny car at Fremont, California in 1971.
Joe didn't blow the body off, he had a latch failure at the finish line.
It is the highest I ever saw a body go.
Being a NorCal guy this car was special for me.
It is the Northern California based Masters and Richter Special top fuel dragster.
"Riceman" and his shop did one heck of a job recreating this potent and popular NorCal top fuel car.
Capping off my perfect weekend at Bakersfield was cacklin' John Ewald's Master-Car top fuel dragster.
Ewald stuffed my large frame into the cockpit of his top fuel car and fired it up.
That is crewman Mario Garcia handling the throttle.
Nothing like the smell of nitro and the sound of a cacklin' 392 Hemi.
The brand new retro top fueler of Peeples and Williams made its debut at Bakersfield.
That's Bobby Rex (left) and "Beaver" checking out the gold plating on the new top fuel car.
Putting on one heck of a show were the mighty AA/Fuel Altered's of Rich Guasco and Ron Hope.
Guasco's Pure Hell was fresh off the boat from England.
Guasco cackled Pure Hell at the Goodrich Festival in front of over 100,000 fans.
Anyway, at Bakersfield, the race with Hope was a Fuel Altered classic.
Pure Hell clocked 201 mph and Hope ran a one half mile in a one quarter mile and the fans loved it.
It had been awhile, about forty years, but there were Bill Schultz and Gerry "The Hunter" Glenn back together again.
They posed with the newly restored Schultz and Glenn 1971 NHRA World Championship winning top fuel dragster.
Running the show at Bakersfield was Steve Gibbs (left) and to his right NHRA Museum's Greg Sharp.
Here at the meeting Gibbs laid out the rules for the cacklefest.
With eighty cars in the cacklefest Gibbs made sure all teams understood rules and answered questions.
One of the most beautiful top fuel dragsters of its time, Marvin Schwartz's Anaconda made its
yearly appearance at Bakersfield. The top fuel car was one of the eighty that cackled on Saturday night.
Somewhere Starvin' Marvin Schwartz is smilin'.
Left to Right: Walt Stevens (Gas Company, Odd Couple and The Trip driver),
Hand Grenade Harry Hibler (Race Track Manager and Journeyman Top Fuel Driver)
and Captain Billy Tidwell (Kuhl and Tidwell, The Skinner Brothers and Lisa & Rossi Driver)
were taking in the sites of CHRR 2013.
A CHRR isn't the same without Wayne "The Peregrine" King.
The always charming Mr. King drove the Doss, Clayton & King Top Fuel car and drove for Bill Crossley.
He also raced his own funny car and rear engine top fuel cars in the 1970's.
Wayne brings the all original Doss, Clayton, and King top fuel car to the CHRR Cacklefest.
The three stooges of photographer's were in attendance at CHRR.
Left to Right: Reyes, Paul Sadler and Tim Marshall.
That's over a hundred years of racing photo experience!