Fri, 22 Nov 2013, 08:41 AM



Mr. Versatility



By Bob Frey


Photo copyright 2013 Auto Imagery, Inc.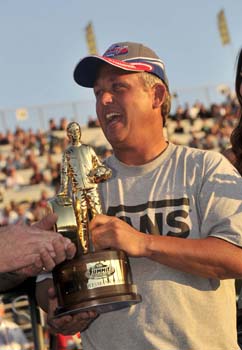 Jeff Hefler celebrates Summit Racing ET
Series national championship.
Here's a major understatement, it takes a lot to win an NHRA event. When you think about the thousands of racers who have competed at NHRA national, divisional and regional races for the past fifty-eight years, and then when you look at how many have actually won a race you will see, I believe, that the number is relatively small. Many racers will tell you that they are racing simply for the joy of competing against their fellow racers. Some, like the great Warren Johnson, one of NHRA's top ten drivers, have always said that they enjoy just making their "stuff" go faster than the other guy. Dale Armstrong, another of NHRA's top ten drivers of all time, echoes WJ's sentiment. "I just liked making my car go fast and the driving was always secondary," he once told me. And even though driving wasn't the highlight for either of those two they were both very good at it and their cars usually did go faster than the competition. Today, however, there is a new breed of racer, one who has actually been on the scene for years but only recently, thanks to Summit Racing Equipment, got to race for a national championship. As you know, in bracket racing it's not how fast your car can go but how consistently it can "run the number." And being a good driver, that is, getting your car off the starting line with a good reaction time is also key to the success for any bracket racer, and in recent years there aren't many who have been able to combine those two talents better than Jeff Hefler.
I wrote a story three years ago about Jeff when he won the Summit Racing ET Series national championship, and while several racers have been to the Summit ET finals more than once there are only a few who have won it more than once, and when he was there in 2010 Jeff was the first and only driver to ever qualify for the championship race in two classes in the same year. "The Summit ET Series championship really is a big deal," Jeff said. "Sometimes you don't realize how cool it is until it sinks in a few days later." And this year the entire season took on special meaning for Jeff since he was racing the same car his father won with at Pomona in 2002, and the same car in which his dad won class at Indy a year ago in one of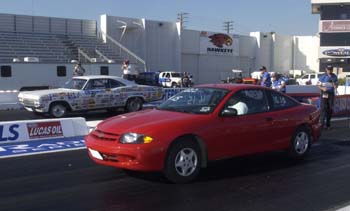 Jerry Hefler (far lane) defeated Leon Robertson
in the 2002 Sportsman final.
his last passes down the quarter-mile. "Dad had cancer and we lost him about two years ago," Jeff said. "He was a guy who raced back in the late 1960's an early 1970's and he won a lot but he had never gone to Indy. Well, when he was sick a couple of his friends, Mike Braswell and Norman Marsden, took him to Indy in 2011 and he won his class with the Impala and he did it on a holeshot. He had a .004 reaction time and won the race and he was so happy. For all he had done in his racing career that was probably the highlight and I can't thank Norman and Mike enough for helping out."
For a guy like Jeff who has raced and won a lot, and that's putting it mildly, you might think that winning the Summit Series national championship for a second time would be old hat, but it wasn't. "I think just the fact that I was racing dad's car, the same car he won with eleven years ago, and the last car he drove down the track, I think that made it special. I'm not a real emotional guy but I have to tell you when that win light came on it was one of the best experiences of my life." It also capped a six week span in which Jeff did just about everything right. "Yeah, I've had good streaks before but nothing like that," he said. "I actually won six 'Wallys' in six weeks and I only went to the track five times." He did that by winning a couple of National Dragster Challenge events at his home track of Texas Raceway along with the Division 4 Summit Series title and the national championship. He also won a rained-out and re-scheduled event where they were giving out 'Wallys,' and oh yeah, he won that day in two different classes. "They also offered $1,000 to anyone who could win in two classes at that race so I won trophies and cash and it doesn't get much better than that."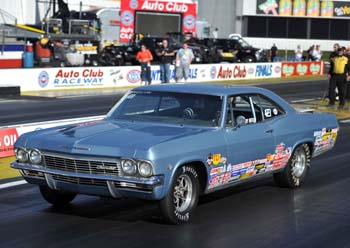 Jeff Hefler
For Jeff, who has been racing and winning for over twenty years, spending time on the track is in his blood. His father raced and his brother, Jeromy, still races, although he has kind of gone off the deep end lately. "Yeah, he's in to circle track racing now and he does that a couple of times a week. He's crazy!" Jeff added. "But I think he may do a little more drag racing next year." Whether his brother races more or not is uncertain, but one thing that is for sure is the fact that Jeff will be out in force again in 2014. "I intend to race about the same schedule as I did this year and I'll try for another championship at the bracket finals." By the way if you're keeping score, Jeff has won eight Division 4 bracket championships including several that were held before the age of the national championship race at Pomona.
There was one little departure for Jeff in 2013 and that was the fact that he did some racing in Competition Eliminator. "Brad Klein has an engine business and he contacted me about driving his Comp car and, thankfully, we were able to put a deal together." The team, with their "Dream Chaser" 2010 Chevrolet Cobalt, did very well this year and they ran quick enough to run under the national record. "Brad has raced cars for many years in a variety of classes and all have carried the name 'Dream Chaser,' Jeff said, "We ran it a couple of times in Top Sportsman just to shake it down and then we had a good run at the Noble point's race. We ran under the record but hurt the engine a bit and didn't get to back it up. I'll tell you, Brad builds really good engines and that car was a lot of fun to drive." For a guy who has already won NHRA national events in Super Stock, Stock and Super Gas, the chance to add a Comp title to his r?sum? was something he couldn't pass up. "I hope we get to do more of it next year," Jeff said.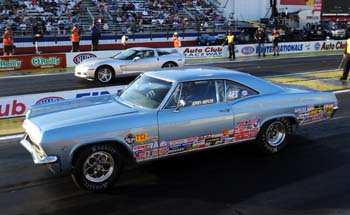 Jeff Hefler defeated Gary Hairfield
in the Sportsman final.
The fact that he had been to Pomona before had to help Jeff in his quest for a second championship. "The first time you go you are a little intimidated, and I have to admit that you're also feeling pretty good about yourself. After all, you just won a bracket finals race and here you are at Pomona. Well, let me tell you, when you come out of the staging lanes and see all those people it can be intimidating, especially for some of the guys who have never run at a national event before, but I just tell myself, don't be nervous, let my opponent be nervous and I guess it works." I guess it does, that and the fact that Jeff had three reaction times of .014, .015 and .019 and ran right around his dial in all three rounds. "I got a little break in round two when I won on a double-breakout," he said. "But that's all part of the game."
The game has been good to and for Jeff Hefler, and the fact that he won a second Summit title and did it in his father's car may be the highlight of a very good career. But make no mistake about it, he will be back in 2014 and try for a "three-peat" at Pomona, and who knows, if he doesn't qualify for the Summit Series again he just may be there in Comp Eliminator. "I've been very fortunate," Jeff added. "I believe that if you surround yourself with good people and have the support of your family and friends it's hard not to do well." With the success that he has had it's hard to argue with that philosophy, isn't it? Another thing that's hard to argue with is the fact that his father sure would be proud of what Jeff did this year.