Fri, 22 Nov 2013, 06:43 AM



Anderson Talks Shop with Troops in Bahrain



By David Fuller,



BAHRAIN -
Captain David Meron is in charge of the Naval Support Activity (NSA) in Bahrain.
He is ultimately responsible for more than a dozen boats, 17 military working dogs, and hundreds of enlisted men. Yet, all he wanted to talk about on Thursday was drag racing and his unfinished bracket car back in Oklahoma.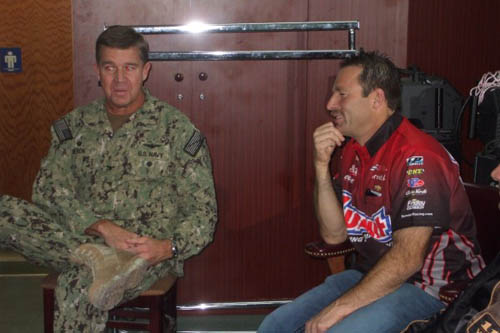 Anderson swaps stories with Captain David Meron of NSA Bahrain.
Captain Meron and his Naval base hosted the Operation Appreciation tour on Thursday, and Meron couldn't be more excited about it. A native of St. Paul, MN, Captain Meron was more than happy to spend one-on-one time with the group, talking with fellow-Minnesotans Greg Anderson and Jason Line about things like cam swaps and optimal engine firing order.
He wasn't the only one.
The U.S. military is full of gearheads and drag racers, and they turned out in full force at today's meet-and-greet with the Operation Appreciation contingent. From the soldier whose father raised him on racing at Rockingham to the sailor whose dad was chaplain in the Racers for Christ organization, servicemen with racing in their blood are very common. And it's not lost on Anderson, who shared these thoughts after day four of the tour:
For complete story and more photos log on to On All Cylinders