Thu, 21 Nov 2013, 09:35 AM



Andrew Hines Happy to Be Closer to the Front Lines



By David Fuller, On All Cylinders.com



SOUTHWEST ASIA -
After the cool, rainy conditions in Kuwait, Operation Appreciation headed to Southwest Asia and found warm weather-and an even warmer reception.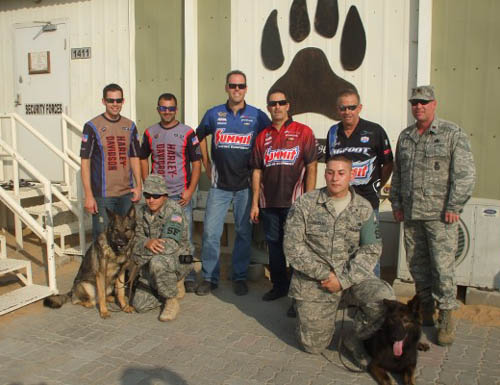 The team poses with the 380th Expeditionary Security Forces
Squadron military working dogs team. Members of Operation Appreciation
got a demonstration of how the dogs identify and help subdue potential threats.
The group visited the 380th Air Expeditionary Wing in Southwest Asia on Wednesday. They were attacked by dogs from the Expeditionary Security Forces Squadron's (ESFS) military working dog (MWD) team, got to drive M-ATVs, and checked out some of the base's aircraft. And when it was all said and done, Andrew Hines shared these thoughts on the experience:
For complete story and more photos log on to On All Cylinders