Sat, 16 Nov 2013, 10:50 AM



It Was A Great Year



By Bob Frey


Photo copyright 2013 Auto Imagery, Inc.





As always, at this time of the year, the winners in the Mello Yello classes (professional classes) get a lot of the attention. The lavish NHRA award's ceremony gets promoted and shown on You Tube, and while it's true they acknowledge the Lucas Oil champs it really is an after thought. This year they did do a nice tribute to Frank Manzo and rightfully so, after all, he is retiring as a driver after a career that really is second to none, but generally it's the top four classes that get most of the
Jim Whiteley
Photo copyright 2013 Bob Johnson Photography
press. Having said that I would like to take a general overview of the past season in this column and then I will feature all of the Lucas Oil champs in the coming weeks. I will also take a look at each of the four Summit Racing Series champs so that by the end of the year we will have focused on all of the sportsman champions across the country.
Jim Whiteley dominated the Top Alcohol Dragster class as he won his second consecutive Lucas Oil Championship and then promptly announced that he was retiring from driving. As a fan of the class I wish he would reconsider, although I know he won't, because Jim and his team have provided us with some of the best moments in the class in recent years. And even though he didn't win the NHRA Auto Club Finals he did make some of the best runs in the history of the class including a pass of 5.218 and a run of 276.86 mph. In the final run, with title in hand, Jim, Norm Grimes and the rest of the team may have been shooting for the moon, and by that I mean a run of 5.16 or quicker that would have been their best ever and the best for a supercharged dragster. Chris Demke, who gave Jim a run for his money last year, finished second again and Brandon Booher came in third with Ray Martin and former champ, Bill Reichert, rounding out the top five.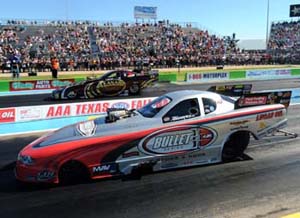 Westerfield defeated Manzo in Dallas
For a while in 2013 it looked like we would have a new champ in the Top Alcohol Funny Car class, but as we all know looks can be deceiving, and when it was all said and done it was the "Ace" winning title number seventeen. Frank did it by putting together a stretch of races that was impressive even by his standards. Over the last seven races Frank's worst effort was a semi-final finish while he was runner-up once and he won five. Frank also won a couple of races that he never won before, the one in Las Vegas and the Finals in Pomona and he ended up winning the championship by 151 points the second biggest margin in his career. There were a lot of other good performances this year including the one when Shane Westerfield beat Frank in the final round in Dallas to end Frank's amazing final round win streak. Dan Pomponio's great start had him in the headlines and Paul Noakes also got a lot of attention when he won the Maple Grove race while others like Jirka Kaplan and Clint Thompson also had good years. And even though Jim Whiteley is retiring we will still have his wife, Annie, racing next year, and with Frank out of the picture she has a real chance to make some history and win the championship in 2014.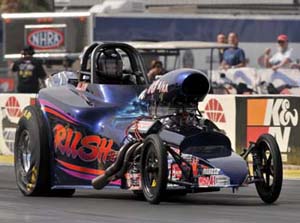 Alan Ellis
Alan Ellis won the Comp title and for a guy like me who really loves the class that was something special. I did a feature story on Alan in 2008 and he talked about his love for the class, his association with Warren Johnson and more. Winning a national championship is great for anyone but to do it in a class like Comp in a car like Alan's is extra special. To the best of my knowledge Alan's is the quickest and fastest car to ever win the eliminator bracket, and while others said you couldn't do it in an A/A car Alan proved them wrong. His title didn't come easy, though, and he had to hold off the former champ, Bruno Massel, to finally lock it up. Bruno, who made his Pro Stock debut at Pomona, finished second only a few rounds behind Alan and Jeff Lane, another very good, consistent racer, came in a close third. Jeff finished the year with a win in Pomona and he may be, if you'll pardon the phrase, the best sportsman racer to never win a national championship. The top five was rounded out by Kyle Cultrera, who also made the top five in Super Comp, and David Rampy who finished in the top ten for the twenty-third time in his career.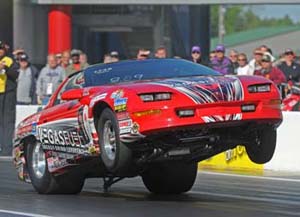 Byron Worner
Another first time champ, like Alan, is Byron Worner, the Super Stock kingpin. Byron, part of the great Worner racing family that includes his brother and father (all of whom have won national events) edged Anthony Bertozzi, the 2002 champ to get the title. This class wasn't decided until the last weekend of the year when Jeff Dona, the only driver with a shot at catching Byron, did not go to Pomona. Jeff would have needed a final round showing to pass Byron and he eventually finished in fifth place. The others in the top group were a couple of real studs, and I mean that in the most flattering way, Dan Fletcher and Jimmy DeFrank, both former multi-time national champions. This is always a very competitive class, and because of the great wheelstands they do they probably get more air time on the ESPN shows than any other sportsman class. Hey, maybe if the Pro Stock cars rearranged their wheelie bars and did big wheelstands, well, don't get me started.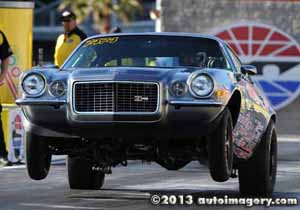 Justin Lamb
For years people who have watched Justin Lamb race figured it was just a matter of time until he won a national championship and this was the year. With great support from his family Justin took the lead at his home track in Las Vegas at the next to last race of the year and that was enough to secure the title. Justin is a very versatile driver with national event wins already in five different classes despite the fact that he is still a very young man. Drew Skillman, who led the points for most of the year, and who burst onto the scene with his two wins at the Atlanta national event last year, had to settle for second place, and that had to hurt when you figure that he lost by just one point. One stinkin' point! Oh well, there's always next year. Charlie Downing, who was the runner-up at Gainesville but who flew under the radar for most of the season, came in third and he was only twenty-five points out of first. The others in the top five were former champ, Joe Santangelo and one of the best young women racers in the sport, Katie Sepanek. I know this isn't a "did you know" column but did you know that Katie's fifth place finish was the best for a woman in Stock Eliminator since Mary Ann Method put back-to-back fourth place finishes on the board in 1993 & 1994?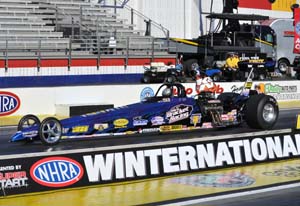 Luke Bogacki
Luke Bogacki, who had won a lot of races prior to 2013, finally won the big prize when he walked off with the Super Comp title. Now I know what a lot of you are thinking (I really do) and that is the fact that Luke had won a lot of those big money bracket races before, but as any racer will tell you winning an NHRA national event, let alone a world title, is the pinnacle of your career. Luke had a very good season in 2013 with multiple final rounds and wins on the national scene as well as two divisional races to outlast everyone else in the category, including Ray Miller who finished second for the second time in his young career. For Luke the championship came after finishing third last year and second in 2010. When you consider the number of drivers who participate in the 8.90 category to have three top three finishes in a short period of time is very impressive, and it's even more impressive when you consider the fact that Luke failed to get out of the first round at his first two races this year. Following Luke and Ray are Kyle Cultrera, Sherman Adcock and William Carrell another of the many second-generation racers who have a bright future in the sport.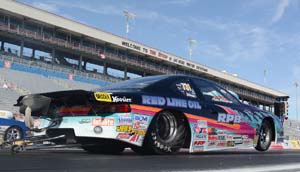 Rick Beckstrom
Photo copyright 2013 Bob Johnson Photography
The Super Gas title went to Rick Beckstrom, a guy who has been racing for a long time. Rick's first final round at an NHRA event was in 1996 when he won Super Comp at a Division 7 race, and three years later he made his first trip to a final round at a national event, and ever since he has been a fixture on both levels. Rick didn't take over the lead in the standings until late in the season, but his deep run in the class at the Las Vegas divisional race put him over the top. Along with his wife, Patti, Rick has been one of the better and more consistent racers in both Super Comp and Super Gas for years and now he has a Lucas Oil title to go with all of the other accomplishments he has achieved. Rick needed that good Las Vegas showing to pass Jason Lynch who led the points for most of the second half of the year. The always tough Troy Coughlin Jr. finished third, while the father and son team of Ray and Mike Sawyer finished a very impressive fourth and fifth in the standings. Special note goes to Jeff Lopez, the 2012 champ, for his fine year that resulted in a sixth place finish. Making the top ten in Super Gas once is tough but to do it in back-to-back years with one of the years being a championship is very impressive.
That's a very quick capsule summary of the Lucas Oil classes in 2013, and as I mentioned we will have a full report and profile on each of the winners in the coming weeks. In the meantime, congratulations to all of them, enjoy the off-season and good luck in 2014.