Wed, 13 Nov 2013, 10:46 AM



Sorry I Missed It



By Bob Frey


Photo copyright 2013 Auto Imagery, Inc.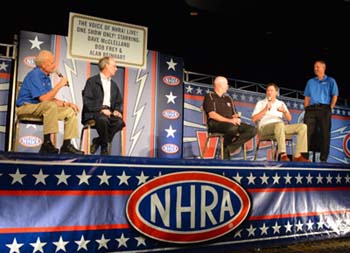 Dave McClelland, myself, Alan Reinhart,
Cameron Evans and Dave Rieff
Photo copyright 2013 NHRA
A good starting point for this week's column would be the
NHRA
breakfast that was held at the
SEMA
show right before the start of the
AAA Club Finals
in
Pomona
. For some wacky reason the folks at NHRA thought it would be a nice idea to honor some of the men who have been at the microphone at the national events over the years. I was fortunate enough to be included as were
Dave McClelland
and
Alan Reinhart
.
Cameron Evans
, the son of the late
Steve Evans
, was also there to accept a special award in honor of his father. Without going into all of the details let me just say that it was a wonderful affair with a standing-room only crowd.
John Force
also made a guest appearance and he was gracious in his comments about the announcers. All in all it was a fun morning and I want to publicly thank NHRA for inviting me and I want to thank all the fans who showed up. Hey, they haven't forgotten me?.yet! I really think we could have had a three hour session (or more) but the ninety minutes we were allotted seemed to fly right by and I truly think that everyone in attendance had a great time?.Now on to
Pomona
.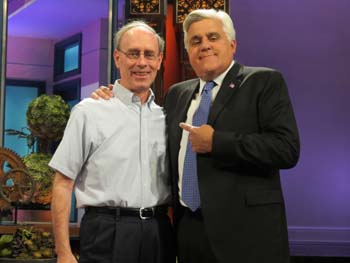 Here I am with Jay Leno.
I always enjoyed the last race of the year. Maybe it's because it was the last race and that meant a little break in the action, a little time at home and a little opportunity to reflect on the year that just concluded. I will always remember sitting in the tower at Pomona and looking out at the crowds and remembering the history of the famous southern California track and the NHRA Finals that has taken place there since 1984. Some of the best racing in history and all of the sport's top names have made the "Finals" one of the premier events on the NHRA calendar. For those reasons, and a few more, I am sorry that I missed the action this year, although I have to admit that I was in town for a few days and I did drive by the track but resisted the urge to go in. Now before you think that indicates some sort of problem (although it may) let me explain. I came to California in search of the Holy Grail, or at least my Holy Grail, and that is some of the missing numbers from NHRA races in years gone by. As you may or may not know I provide the stats to ESPN that they use on their shows, and as such I am always striving to make sure that I have the most complete files available. With that in mind I scheduled several stops at locations that I thought might have some old race results, files, books or magazines that could help me. As it turned out I was right and I considered the trip a success?.Besides the business portion of my trip I also had one visit that was strictly pleasure and that was a visit to the world famous Jay Leno garage in Burbank as well as a stop at the scene of the Tonight Show. To put it mildly the garage is unbelievable, and I have to admit that I was pleasantly surprised when the man who greeted me was wearing a Tasca Ford shirt. Jay has cars of every size and shape imaginable and it was a real treat to be able to see his wonderful collection?While I was in sunny California I also visited Art Chrisman's shop which was something I've wanted to do for a long time and I also got to spend some time with Richard and David Parks, the sons of Wally Parks. So you see, even though I didn't get to the track I had a great So Cal drag racing weekend. Oh yeah, I forgot to mention that I also stopped by the home of Floyd Lippencotte Jr. (and yes, he does have an "e" at the end of his name). Any time you can chat with a legend, a former Pomona champ and see his Bakersfield trophy it's a good day for a drag racing fan like me!!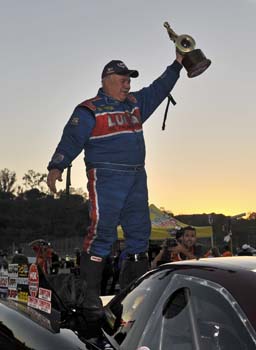 Frank Manzo celebrates 105th win.
Having said all of that I still miss the excitement of the last race of the year. Granted there wasn't a lot of suspense this year in the pro classes, or any of the classes for that matter, but there was still the sight of Shawn Langdon getting his first Top Fuel title, Jeg Coughlin grabbing his fifth Pro Stock crown and the Summit Series drivers racing on the big stage and that is always fun?..Even though there wasn't a lot of intrigue the fans still saw some great racing, and without taking anything away from the drivers in the Mello Yello classes the ones in the Lucas Oil ranks, especially the two alky classes, really put on quite a show. Frank Manzo capped his driving career with a dominating performance as he punctuated his seventeenth national championship with a win at an event that he had never won before. And even though he didn't win Jim Whiteley and his Y-Not team showed the dominating performance that carried them to back-to-back titles. In the end, however, it was Johnny Ahten picking up his first NHRA national event win. Johnny put together four runs between 5.35 and 5.42 to get the win and become the 135th driver to win in the class. Did you know that he joins fifty-three other drivers who have only won once in the class, and among them are Eldon Slick, Dan Nimmo and Johnny Gray? Congratulations to Johnny for a well deserved win and I hope it's the first of many in his career?.And since I am mentioning some Lucas Oil racers how about the job that Jeff Adkinson did? Jeff won the Super Stock crown, the first national event win of his career, and in the process beat three World Champions in the last three rounds. In round four he stopped Peter Biondo, in round five it was Anthony Bertozzi, and after a bye run in round six he then beat Don Keen in the final round. Now that's winning in style. Isn't it?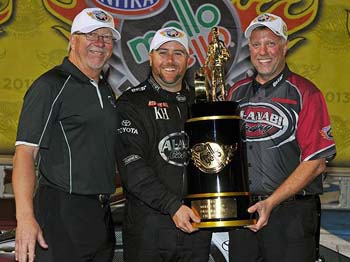 Alan Johnson, Shawn Langdon and Brian Husen
Photo copyright 2013 Gary Nastase Photography
Speaking of style that's what Shawn Langdon did when he not only locked up the Top Fuel title but he won the race. I'm sure any racer will tell you that to win the final race of the year on the same day you win the championship is great, and as it turned out Shawn was the only one of the 2013 Mello Yello champs who did that. Ironically Shawn didn't have the quickest or the fastest car on the property but he did have the most consistent and that's what wins races. On Sunday he bunched four runs together between a 3.756 and a 3.784, he left first on all four of his opponents and he never looked back. Obviously Shawn gets a lot of credit for winning the championship and his name will be on the trophy, but let's not forget the job that Alan Johnson has done over the years along with the rest of the Al Anabi team, from crew chief Brian Husen on down. Since I mentioned "leaving first" did you know that Shawn has done that 71% of the time in his Top Fuel career? And in 2013 he was first off the line almost 70% of the time, and with a car like he has if you let him get off the line first he is going to be awfully tough to beat. In fact, did you know that of the forty-eight times that he was first off the line (not counting the 4-Wide race) Shawn won forty-two races? If there ever was a total team effort to win the championship this was it.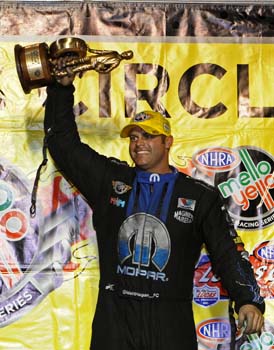 Matt Hagan celebrates
fifth win of the season.
John Force was hotter in October than the Boston Red Sox and that's saying something. Like the Sox John got hot at the right time of the year, everything he touched turned to gold, and in the end it resulted in his sixteenth national title. John didn't win the race but he did win the war, and when you're competing with the teams from Team Schumacher and others it really is a war. John set the Pomona track record with his 3.995 in qualifying and then made three runs on Sunday that were winners and one that came up just a bit short. His 4.057 in the finals just wasn't quite enough to beat Matt Hagan's 4.018. Matt, who had set a Pomona speed record in qualifying (320.20) went one better in the final round when he ripped off a 320.66 mph blast to hold off John and win the race?.The win by Matt, besides being a nice way to end the year (any time you beat John Force it's a good day at the races) was done with crew chief Dickie Venables on the sidelines. While he was recovering from surgery Mike Knudsen took control, and with the team that had given Matt a good car all year and they won the race. Nice job Mike, Matt and the entire team and get well Dickie....John didn't win the race but he did have a very good car, one that set low elapsed time of the meet with that shot in qualifying. Did you know that, coming on the heels of his number one spots in Reading and Las Vegas, it was the first time in over two years that John was number one and set low elapsed time at the same event three races in a row? He did it at four straight events early in the 2011 season but didn't manage to win one of those races. You really have to admire what John has done, especially lately, and to me he seems as good as he ever was, and that's saying a lot.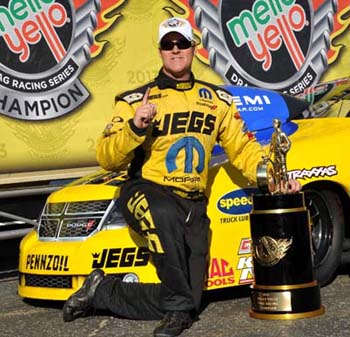 Jeg Coughlin celebrates
fifth Pro Stock Championship.
Most observers that I talked to early in the year said that when Jeg Coughlin teamed up with Allen Johnson it was going to be a very formidable combination, and they were right. With Jeg's driving ability, which is second to none, and the power from Allen and Roy Johnson, the latest "Dodge Boy" was sure to be competitive and a real threat to win the championship. All of that proved to be true and Jeg is now a five-time NHRA Pro Stock Champion and a six-time champ overall (he won the Super Gas title in 1992). Did you know that Jeg's last championship was in 2008, and that five year gap equals the longest in the Pro Stock class? Jason Line won the title in 2006 and again five years later in 2011, and Bob Glidden won in 1980 and his next one came in 1985. All of those drivers had great careers that featured good cars, good driving and longevity, and all of those are good traits to have when you're looking to win multiple titles. Did you know that there are only nine drivers in NHRA's long history who have won six or more championships? And there are only eight drivers who have won five or more in the professional ranks, so Jeg joins a couple of very
Rickie Jones celebrates first National event win.
exclusive groups and adds to his already impressive r?sum?
Rickie Jones
won the last race of the season and joined a very select group of drivers who have won in the Pro Stock class. I mentioned earlier in the year that if Rickie ran at all of the races he would be a top ten driver, and since he finished eleventh in the points after going to only sixteen races this year I think it's obvious that I was right. With power from the
Elite Motorsports
program, the same folks who helped
Shane Gray
to a win in Las Vegas, it looks like that combination could be a factor in 2014. It was nice to see Rickie get the win especially since he did it on a holeshot in the final round.
Did you know
that ten Pro Stock finals were decided this year on holeshots and five of the six races in the "Countdown" were also decided that way? And
did you know
that equals the most holeshots in the final round in Pro Stock history? There were also ten races won that way in 2006. Shows what a good driver can do for you, doesn't it? And mark my words, Rickie Jones is a good driver.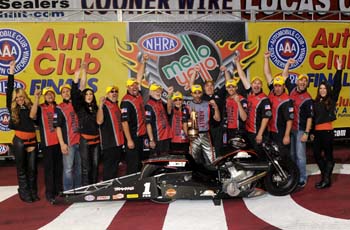 Eddie Krawiec and team celebrate win.
Matt Smith won his second national championship and joined his father, Rickie, as a 2013 champ and that had to make for a really nice night at the awards ceremony. I have known Rickie for a long time, going back to our IHRA days together, and I'm sure it was a very emotional night for both of the Smith family members. Matt had a great year with seven final rounds and three wins, and since two of those wins came in the "Countdown" he basically ran away from the crowd to win his second title. Another key to Matt's success was the fact that he only lost twice all year in the first round. Did you know that Michael Ray, who finished second, lost four times in round one, Eddie Krawiec who finished third lost five times and so did Hector Arana Jr.?...Speaking of Eddie he went to three finals and won two races in the "Countdown" so you have to think that he'll be challenging for another title in 2014.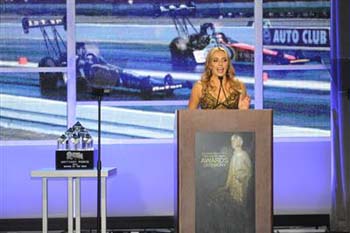 Brittany Force won the
"Rookie of the Year" award.
Photo copyright 2013 NHRA
Brittany Force won the "Rookie of the Year" award and Ford won the Manufacturers championship. Did you know that Brittany became the fifth member of "Team Force" to win the award and Ford won their third title in the last three years? Ford also won in 1982 as well as the first two years of the award in 1964 and '65. Dodge finished second in the standings which is based on points earned at national and divisional races. Dodge actually won more points on the national level but didn't pick up any at the divisional races. Did you know that the only time a Mopar brand won the Manufacturers title was in 1970 when Plymouth did it?