Wed, 13 Nov 2013, 10:46 AM



Brittany Force Wins Auto Club of Southern California Road to the Future Award



Courtesy of Elon Werner - JFR Public Relations



Top Fuel Driver Continues Rookie of the Year Tradition at John Force Racing



LOS ANGELES --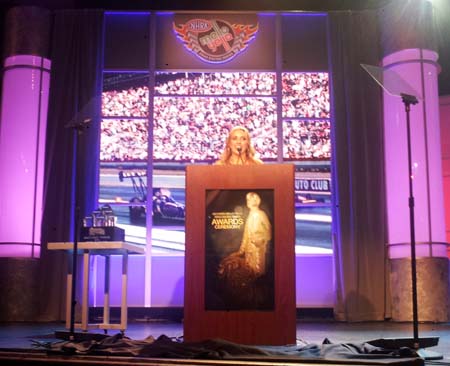 Brittany Force
Brittany Force, the 27-year old driver from Yorba Linda, Calif., entered her rookie season with reasonable expectations and much enthusiasm behind the wheel of her Castrol EDGE Top Fuel dragster. The day after she raced to her first career semi-final finish at the 49th annual Auto Club NHRA Finals, the Cal State-Fullerton graduate was awarded the Automobile Club of Southern California Road to the Future Award, at the Hyatt Regency Century Plaza in Los Angeles. The second youngest daughter of 16-time NHRA Funny Car champion and team owner John Force continued the John Force Racing tradition becoming the fifth team driver to win the prestigious award, which recognizes her as the 2013 NHRA Rookie of the Year. "I am so excited to win this award. The rookie class this year was very competitive and I have to thank the Auto Club for sponsoring this great award. This year was definitely a learning experience and I learned so much from my crew chiefs Dean Antonelli, Eric Lane and John Medlen. This was a brand new team in a brand new category for John Force Racing," said Force. "It was an uphill battle but we improved all season and making it to the semi-finals and running two career best elapsed times at the Auto Club NHRA Finals this weekend ended our season on a positive note."
The former Super Comp and Top Alcohol Dragster racer qualified in 22 of 24 events during the 2013 NHRA Mello Yello Drag Racing Series, qualified in the top half of the Top Fuel field five times, and won ten rounds of racing. She was the lone rookie to compete in the 2nd Traxxas Shootout qualifying as the fan vote and lottery winner in Top Fuel.
"Brittany Force is so deserving of this award and on behalf of everyone at Castrol and especially the Castrol EDGE brand we want to say congratulations. Brittany's performance on the track her rookie season in a new class was a learning process but she showed how important it is to be Driven Stronger as she improved every race. Her poise and charm with the media were tremendous and we know she has a growing fan base that followed her all season long," said Lori Anne Gola, Castrol, Sports Marketing, Sponsor Relations, and Promotions
Force is the fifth JFR driver to win this coveted award and its $20,000 payday. Eventual 2009 NHRA Funny Car champion Robert Hight won in 2005, followed by eventual two-time U.S. Nationals winner Ashley Force Hood (2007), Mike Neff (2008) a 10-time NHRA Funny Car national event winner and Courtney Force (2012), who went on to win twice in 2013.

John Force Racing: Rookie Performances
Driver             Year  Starts  DNQs  Finals   Wins  No. 1    W-L   Finish   Award
Brittany Force     2013   22      2      0       0      0     10-22    13th   Rookie of the Year
Courtney Force     2012   23      0      4       1      2     25-22    5th    Rookie of the Year
Mike Neff          2008   22      2      3       0      2     20-22    9th    Rookie of the Year
Ashley Force Hood  2007   18      3      1       0      0     16-18    10th   Rookie of the Year
Robert Hight       2005   23      0      4       2      6     28-21    5th    Rookie of the Year
Eric Medlen        2004   23      0      2       1      2     29-22    5th    x R/U (Top FC rookie)

x - Runner-up in Rookie of the Year balloting to Jason Line, who won four Pro Stock races, was runner-up in four others and finished second in points
- There was no Rookie of the Year award when John Force debuted in 1978
- Neither Tony Pedregon nor Gary Densham was eligible for Rookie of the Year consideration while at JFR