Sat, 09 Nov 2013, 18:15 PM



Lucas Oil Drag Racing Series Returns to NHRA Tracks Across the Country in 2014



Courtesy of NHRA Communications



GLENDORA, Calif. --
The NHRA Lucas Oil Drag Racing Series returns for the 13th season with premier events taking place across the country in all seven NHRA divisions. The 2014 schedule will feature 42 divisional events with a minimum of five in each of the seven divisions. There will also be 26 regional events featuring the 250-mph Top Alcohol Dragster and Funny Car classes.
The 2014 season will see a return to Orlando Speed World Dragway in Orlando, Fla., Gateway Motorsports Park in St. Louis and Thunder Road Raceway Park in Gilliam, La. The 2014 season will begin in Orlando Feb. 7-9, and concludes in Las Vegas, Nov. 6-9.
The ultra-competitive series will feature three sportsman-focused national events during the season, the JEGS SPORTSNational events during the course of the racing season. The JEGS Cajun SPORTSNationals will be held at No Problem Raceway, March 21-23; JEGS Northern SPORTSNationals returns to National Trail Raceway, Nov. 9-21; and the JEGS Pacific SPORTSNationals, Oct. 3-5 at Las Vegas Motor Speedway.
Regional, divisional and national championship points as well as a purse of more than $500,000 in seven categories will be up for grabs during the course of the racing season.
"Racers and teams competing in the Lucas Oil Drag Racing Series are such an integral part of our sport," said Morgan Lucas of Lucas Oil Products. "We will never lose sight of the fact they helped build Lucas Oil into the worldwide brand it has become. These people are like family to us and we're honored to continue our support."
Bonus programs available to competitors in the NHRA Lucas Oil Drag Racing Series include the $100,000 JEGS Allstars, and the NHRA Perfectly Strange Performance Award, in which a total of $45,000 is on the table for racers too grab during the season. Individual divisions may also have additional bonus programs available to racers.
Some prominent graduates of the NHRA Lucas Oil Drag Racing Series who have gone on to successful careers in the NHRA Mello Yello Drag Racing Series include Brandon Bernstein, Morgan Lucas, Shawn Langdon, Courtney Force, Alexis DeJoria, and Jeg Coughlin.

2014 NHRA Lucas Oil Drag Racing Series Schedule



Northeast Division
April 4-6           Virginia Motorsports Park                Petersburg, Va.
May 23-25           Maple Grove Raceway                      Reading, Pa.
June 13-15          Lebanon Valley Dragway                   West Lebanon, N.Y.
July 18-20          New England Dragway                      Epping, N.H.
Aug. 1-3            Atco Raceway                             Atco, N.J.

Aug. 15-17          Cecil County Dragway                     Rising Sun, Md.
Sept. 5-7           Old Bridge Twp. Raceway Park             Englishtown, N.J.

Southeast Division
Feb. 7-9            Orlando Speed World Dragway              Orlando, Fla.
March 7-9           Georgia Motorsports Park                 Cecil, Ga.

May 1-2             Atlanta Dragway                          Commerce, Ga.
May 3-4             Atlanta Dragway                          Commerce, Ga.
June 20-21          Bristol Dragway                          Bristol, Tenn.
Oct. 10-12          Auto-Plus Raceway at Gainesville         Gainesville, Fla.
Oct. 17-19          Silver Dollar Raceway                    Reynolds, Ga.

North Central Division
April 25-27         Lucas Oil Raceway at Indianapolis        Brownsburg, Ind.
May 16-18           Summit Motorsports Park                  Norwalk, Ohio
June 6-8            Route 66 Raceway                         Joliet, Ill.

July 18-20          National Trail Raceway                   Columbus, Ohio
Aug. 8-9            Gateway Motorsports Park                 St. Louis, Mo.
Aug. 22-24          Beech Bend Raceway Park                  Bowling Green, Ky.

South Central Division
March 7-9           Royal Purple Raceway                     Baytown, Texas
May 2-4             Texas Motorplex                          Ennis, Texas
June 6-8            No Problem Raceway                       Belle Rose, La.
June 20-22          Osage Casino Tulsa Raceway Park          Tulsa, Okla.
Sept. 12-14         Thunder Road Raceway Park                Gilliam, La.
Oct. 3-5            Thunder Valley Raceway Park              Noble, Okla.

West Central Division
May 17-18           SRCA Dragstrip                           Great Bend, Kan.
May 31-June 1       Brainerd International Raceway           Brainerd, Minn.
June 13-15          Bandimere Speedway                       Denver
July 25-26          Cordova Dragway Park                     Cordova, Ill.
Aug. 22-23          Heartland Park Topeka                    Topeka, Kan.
Sept. 5-7           Tri-State Raceway                        Earlville, Iowa

Northwest Division
April 25-27         Firebird Raceway                         Boise, Idaho
May 16-18           Spokane County Raceway                   Spokane, Wash.
June 6-8            Mission Raceway                          Mission, B.C.
June 20-22          TBA                                      TBA
July 11-13          Woodburn Dragstrip                       Woodburn, Ore.
Aug. 15-17          Pacific Raceways                         Kent, Wash.

Pacific Division
Feb. 28-Mar. 2      Wild Horse Pass Motorsports Park         Chandler, Ariz.
March 21-23         The Strip at Las Vegas Motor Speedway    Las Vegas
June 14-15          Top Gun Raceway                          Fallon, Nev.
July 18-20          Sonoma Raceway                           Sonoma, Calif.
Sept. 26-28         Rocky Mountain Raceways                  West Valley, Utah
Nov. 6-9            The Strip at Las Vegas Motor Speedway    Las Vegas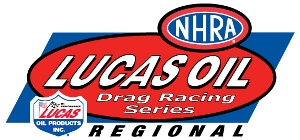 2014 NHRA Lucas Oil Drag Racing Series Regional Schedule

East Region
April 4-6           Virginia Motorsports Park                Petersburg, Va.
May 23-25           Maple Grove Raceway                      Reading, Pa.
June 13-15          Lebanon Valley Dragway                   West Lebanon, N.Y.
July 18-20          New England Dragway                      Epping, N.H.
Aug. 1-3            Atco Raceway                             Atco, N.J.

Oct. 10-12          Auto-Plus Raceway at Gainesville         Gainesville, Fla.


North Central Region
April 25-27         Lucas Oil Raceway at Indianapolis        Brownsburg, Ind.
May 16-18           Summit Motorsports Park                  Norwalk, Ohio
June 6-8            Route 66 Raceway                         Joliet, Ill.

July 18-20          National Trail Raceway                   Columbus, Ohio
Aug. 8-9            Gateway Motorsports Park                 St. Louis
Aug. 22-24          Beech Bend Raceway Park                  Bowling Green, Ky.

Central Region
March 7-9           Royal Purple Raceway                     Baytown, Texas
June 20-22          Osage Casino Tulsa Raceway Park          Tulsa, Okla.
June 13-15          Bandimere Speedway                       Denver
July 25-26          Cordova Dragway Park                     Cordova, Ill.
Aug. 22-23          Heartland Park Topeka                    Topeka, Kan.
Sept. 5-7           Tri-State Raceway                        Earlville, Iowa

West Region
Feb. 28-Mar. 2      Wild Horse Pass Motorsports Park         Chandler, Ariz.
March 21-23         The Strip at Las Vegas Motor Speedway    Las Vegas
June 6-8            Mission Raceway                          Mission, B.C.
June 20-22          TBA                                      TBA
July 11-13          Woodburn Dragstrip                       Woodburn, Ore.
Aug. 15-17          Pacific Raceways                         Kent, Wash.
Nov. 6-9            The Strip at Las Vegas Motor Speedway    Las Vegas