Wed, 06 Nov 2013, 20:33 PM



Youth Will Be Served



By Bob Frey


Photo copyright 2013 Bob Johnson Photography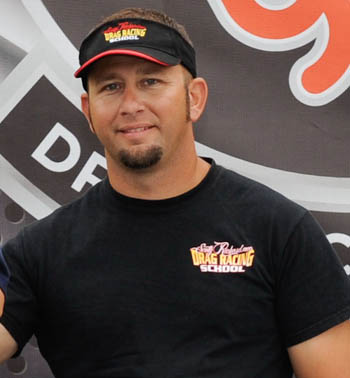 Jesse Adams
I think it was William Shakespeare, now wait, it was Warren Johnson who once said that "old age and treachery will beat youth and enthusiasm every time." Now if you know anything about me it's that I really like Warren. I have watched him race from the very early days of his career. I mean, not the purple '57 Chevy early part of his career, but shortly thereafter, and I have always appreciated and respected what he has done on the track and said off the track. His comment about a driver just being "necessary ballast" was particularly interesting, and in some cases true, but I may have to take issue with his "old age vs. youth" comments. Now don't get me wrong, there are a lot of great drivers in the sport who are over sixty years old, John Force and Frank Manzo come to mind, but there are also hundreds, maybe thousands of younger drivers who are and will continue to make their mark in the sport. At every local track, Summit Series event, divisional race or national event the parade of youthful drivers is impressive and shows no signs of letting up, and at the recent Division 7 race at Las Vegas many of them displayed their talents by running in two different classes. One of those drivers is a young man who has been around the sport for a while despite the fact that he is only thirty-two years old.
Jesse Adams, like so many other young racers, was introduced to the sport by his father. "My dad raced for a long time and he was very good at it, "Jesse said. "He had a 64 Nova named "AWESOME" that he ran in Super Street and he did a lot of racing all over the west coast. He was good enough to go to the All Star program when they had it back in Bowling Green." That was in 1985 and '86 when the elder Adams travelled across country in the formative years of the All Star event, and in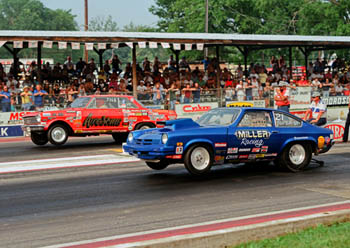 Chuck Adams in his'64 Nova.
1986 he made it to the final round. "He taught me a lot about racing and now we get to do it together and I really enjoy that." There is another family member who also joins in the action. "Yeah, my son is four years old and he comes with us when I'm racing near home. He and my dad are best friends and it's great to see them together." For the record the youngest Adams family member is named Cade Maverick Adams. "I always loved the 'Top Gun' movie, it's my favorite, and that's where the name came from." Perfect choice for a youngster whose father is turning into one of the top guns in drag racing.
There are a lot of drivers who have driven a variety of cars in their career but not many who have the résumé that Jesse does. "Right now I have ten different numbers on my NHRA license," he said. "I have driven everything from sportsman bracket cars to Top Dragsters and 7.0 Funny Cars." And when asked which one is his favorite Jesse thought for a while and said, "Good question. I like going fast so the Top Dragster and the Funny Car are really neat, but it's all about the competition and as long as I am racing I'm happy regardless of what class I'm in." Lately Jesse has been in a class of his own with wins at the prestigious Bakersfield March Meet in 2012 as well as a 2013 Super Pro E.T. Division 7 championship, and the 2013 Nostalgia Pro Comp championship. "I have to admit that it's been a pretty good ride lately," he said.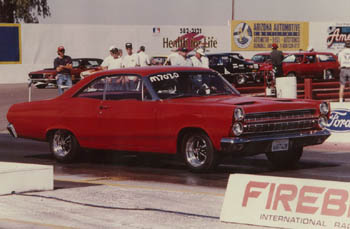 The 1966 Comet Cyclone
The litany of cars that he has driven and the classes in which he has competed would make anyone's head spin and it all started out with a 1966 Comet Cyclone that his father had. "It was supposed to be my first car, but after dad got it and fixed it up it was actually too nice of a car for dad to let me drive to high school on a daily basis, so instead, it became my full time bracket car as soon as I acquired my learner's permit at 15 years old." From there he went to a Stock Eliminator car, a classic H/SA Chevrolet Chevelle that he still has. A 1969 Camaro, a Super Comp dragster, a Top Sportsman Mustang, the 'Machine Gun Keli' Funny Car, and a Top Dragster are also among the cars that Jesse has driven in recent years, and even though the cars are about as diverse as you could get there is one constant, he won with almost all of them. Just this past week at the Division 7 Lucas Oil event in Las Vegas he made it to the final round in the competitive Top Dragster class. "That's a great car, it's fast, consistent, and I love to drive it." The car is owned by Phil and Betty Horton and has a 509 cubic inch Brad Anderson motor. "We actually made it to the final round at Vegas but weren't able to make the call. On 'DragRaceCentral' they said I blew the burst panel in the semi-finals but we actually broke the crankshaft and threw the rods out. That was tough on Phil, especially since we weren't able to run in the final round."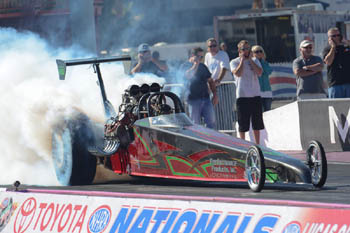 Jesse Adams was runner-up
in Top Dragster last weekend
at the division 7 race.
Another one of his favorite rides in the 7.0 Funny Car that he drives. "It's the 'Machine Gun Keli' car that runs in the 7.0 Pro class in the Heritage Series and in the 6.90 Nostalgia Pro Comp Association. We've had an amazing two seasons, winning eight of the fifteen events we attended, including the 2012 March Meet, both of the Famous Fox Hunt and Governor's Cup races in back-to- back years at Sacramento Raceway." That made two wins at the famous "March Meet" for Jesse who also won with his K&N sponsored Camaro there in the Hot Rod category in 2010. "Cecil Matthews owns the Mustang Funny Car that I drive in the 7.0 class. Cecil has always had really fast cars, and after an accident two years ago that has kept him out of the driver's seat for the time being, he asked if I would like to drive for him. It took me about a second to say yes. He's a wonderful man who has overcome a lot and he just loves drag racing." The success that Jesse has had with that car should come as no surprise because it seems that he wins with any and all of his cars. A Division 7 Super Pro title this year, a Bakersfield win and the recent final round at Vegas are all indications of how versatile and talented he is. "I have been very fortunate to be able to drive for a lot of great people. I'm truly blessed and extremely grateful."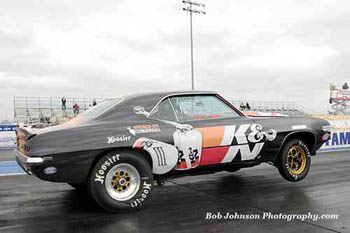 Jesse Adams in the
Hot Rod category in 2010.
Ironically one of the things that has eluded him so far is a national event win at an NHRA event. The closest he came was in 2003 when he was runner-up at Pomona to one of his close friends, Brad Plourd. "I really admire what guys like Brad, Dan Fletcher, David Rampy and guys like that do. I mean they race for a living and that is my goal. Whether it's in a pro car, which would be unbelievable, or a sportsman car, I just want to race." And in 2014 he may get to do even more racing than this year. "I think the Hortons and I may chase the division points with the Top Dragster, and Cecil is extremely tempted to campaign a Nostalgia Nitro Funny Car." He also intends to travel to some of the big money bracket races back east. "Those guys are so good at what they do and I'd like to race with them. I ran the race in Clay City this year and had a .012 reaction time, ran dead-on my dial and still lost."
When he's not racing Jesse works for a revolutionary renewable energy company called CleanWorld, and he also does some work in his shop at home. "I do some chassis work and I build custom headers and I also help Scotty Richardson out with his drag racing school." That doesn't leave a lot of spare time for him, and what time he does have he spends either racing or thinking about racing. "I love every aspect of it and it's what I want to do," he said. With a track record like he has and a license for just about any class in the sport, it seems like Jesse Adams will be drag racing for a long time. Now that I think about it, maybe Warren Johnson is looking for a nice, young driver, you know, one with youth and enthusiasm on his side. If he is I know just the guy.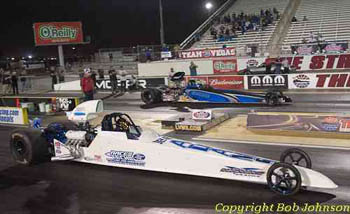 Adams won the Division 7
Super Pro title this year.
"More than anything, I need to thank the people who are always helping me. First starting with my dad, Chuck Adams, who goes out of his way any time I need help keeping my cars prepared and reliable. Secondly, I need to thank my long-time girlfriend, Heidi, for giving me such an amazing little boy, Cade Maverick, and for putting up with me and my endless overnight thrashes, last minute change of plans, and schedules. Without the help of my parents, Chuck and Karen, my sister Chelsea, and Heidi's parents Joe and Sue, I could not spend so many weekends racing and chasing and living the dream. A special thank you to Eathon Lanfri who has been pivotal in my bracket racing success and in the construction of my new car. I also need to thank the great people at CleanWorld who allow me a flexible work schedule to race as often as I do. In addition, I can't begin to express my appreciation to my very dedicated car owners and crews. The Machine Gun Keli team of Cecil Matthews, Randy Luchetti, Pat Bohannon, Steve Andeweg, Rik Whitfield, and Tim Matthews. And the Performance Products Top Dragster of Phil and Betty Horton, and Dan Butterfield. These guys spend countless dollars and unbelievable amounts of time keeping the amazing race cars I drive for them safe, and always prepared to win. Of course I have to give thanks to my dedicated followers and sponsors, K&N Filters, Performance Products, Schooled by Scotty, Hoosier Racing Tires, Fauset Racing Engines and Infinite Graphix to name a few. All I want to do is drive race cars."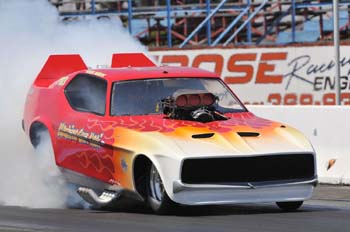 Adams in the
Machine Gun Keli car.