Tue, 05 Nov 2013, 12:09 PM



One More Race



By Bob Frey


Photo copyright 2013 Auto Imagery, Inc.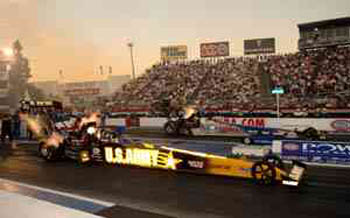 "The Run"
Tony Schumacher vs Melanie Troxel
There are very few races that have the history and tradition that the
NHRA AAA Finals
has and the 2013 version should add to that legacy. With an event that started in 1965 in beautiful Tulsa, Oklahoma and has made stops in Dallas and Amarillo, Texas, Ontario and Orange County, California, this race is one that all NHRA fans should attend at some time in their life. Now that may seem a little dramatic but when you look at the history of this race you'll see what I mean. All you really have to do is look at the 2006 Top Fuel final and you'll see that there have been some great moments at this event. Admittedly, the battles for the 2013 championships are basically over (although don't tell that to
Antron Brown
,
Jason Line
or
Mike Edwards
) but there will still be some great racing and who knows, maybe even a miraculous comeback or two. Hey, stranger things have happened?.The final two
Lucas Oil
Championships will be decided this week and there will even be a special "guest appearance" by
Frank Manzo
. By the way, that "guest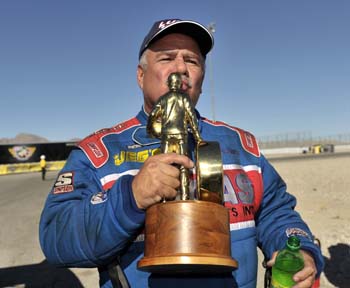 Frank Manzo celebrates
Championship in Las Vegas.
appearance" is my term but I think it's appropriate for the man who just wrapped up his 17
th
national championship.
Did you know
that Frank has competed at just three of the "World Finals" events and the last one was in 1986? Also,
did you know
that he has never won this race although he did make the final round in '86? That year he beat
Hank Johnson
,
John Weaver
and
Vern Moats
before losing to
Brad Anderson
in the finals. How cool would it be for him to wrap up his driving career with a win at an event that he hasn't won before? Ok, so I think it would be cool but you know who doesn't? The other twenty-two drivers who are entered in the Top Alcohol Funny Car class this week?..Speaking of entries
did you know
that there are almost 500 cars entered for this week's event and that's almost 100% of the quota for the race? The last two national events have been loaded with cars and I have to think that's a good sign for everyone.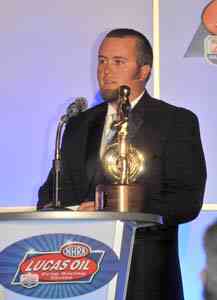 Shawn Langdon won the 2008 Lucas Oil
Super Comp Championship.
Shawn Langdon has a big lead in the Top Fuel class, big but not insurmountable. Ok, so he would basically have to call in sick to not win it but as long as there is a chance I'm sure Antron will keep those title hopes burning. But truth be told, with a 102 point lead over Antron Shawn is a virtual lock for the championship which he would then add to his Lucas Oil Super Comp title from the 2008 season. Did you know that when he won in '08 Jeg Coughlin won the Pro Stock crown and Frank Manzo won the TAFC title? And let's not forget the Jr. Dragster title that Shawn won in 1997...In addition to adding to his already impressive r?sum? Shawn will also be adding to the legacy of Alan Johnson. I know I've said it before but I'll say it again, when it comes to tuning a car there are none better than Alan. You also have to give the entire Al Anabi team credit, from the owner, Sheikh Khalid Al Thani, to crew chief Brian Husen and the rest of the team because they have had the best car throughout the year, and if they hold on and win they will be very deserving of the championship?.As much as you would like to think that all of the championship battles can be as exciting as the 2006 one, alas that is not the case. (Note: 2006 was also the last time I used the word "alas" in a column). Anyway, there were great battles in 1980 when Shirley Muldowney won, 1981 when Jeb Allen won and 1990 when Gary Ormsby and Joe Amato squared off in a "winner-takes-all" final round that Joe won when Gary fouled. By the way, it's a little known fact but did you know that Joe could have lost the race and still won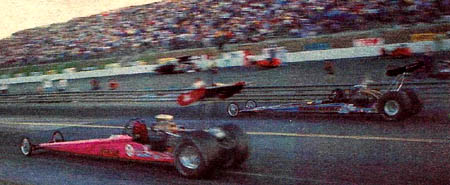 Shirley Muldowney won
the Championship in 1980.
Photo copyright 2013 NHRA
the championship if he set the record in the final round? It could have happened and would have been really tough to explain to the fans and the media. Just like it would have been almost impossible to explain to everyone what would have happened if Tony Schumacher ran too quick in that 2006 final round and didn't get the record. Oh well, fortunately for all concerned neither of those things happened?.
Clay Millican
made another final round in
Las Vegas
and he is completing the best season in his NHRA career.
Did you know
that Clay has been to four final rounds this year and that equals the total for his entire career prior to 2013? He has also won twenty-five rounds this year and that equals his best total from any two years before this. Still, he hasn't won a race and that has to be really bothering him, and he wouldn't be human if it weren't.
Did you know
that Clay has been to 170 NHRA national events without a win? And
did you know
that there are five other drivers who have competed this year who have been to more races than that without a win? I know that doesn't make Clay feel any better but I just wanted to point it out. I also want to point out what a class guy Clay his, how he is always upbeat, what a good driver he is and how much I will miss it when he finally wins that first race and I'm not there. One more thing, he will finish higher in the points than he ever has before and it will be the second time that he has made the top ten. We need more guys like Clay and I hope he gets that win soon?like this week.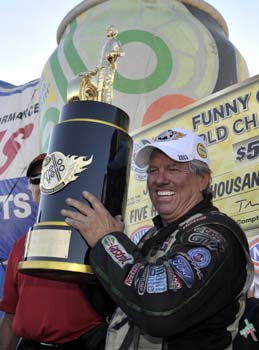 John Force celebrates 16th Championship.
There won't be any real suspense in the Funny Car class this week like there has been in the past few years. In 2010 Matt Hagan came in with the point's lead and lost it to John Force. In 2011 Matt beat his closest competitors Jack Beckman and Cruz Pedregon to win the title, and last year the battle went right down to the semi-finals, and when Courtney Force beat Ron Capps it gave the title to "Fast Jack." This year the real drama will be, well, there won't be any real drama. Ok, so there is a little battle between Matt and Jack for second place but that's not the stuff that usually brings in the fans?.There will certainly be some media (make that ESPN) attention on the crew chief situation in the Jack Beckman pit area because Todd Smith is out and, at least for the time being, Todd Okuhara is in. While it won't have any real effect on the 2013 season it will be interesting to see how the crew chiefs get shuffled around next year in the DSR camp. Hey, at least it will give us something to talk about during the off season?.John Force, aka "The Champ," will come to his home track riding high on the heels of his title-clinching win at Las Vegas. He is also coming to a track where he has already won eight times at the last race of the season, and when you add that to the six times he won at the Winternationals it would be hard to bet against him this week. Other than John's total did you know that the most wins by a Funny Car driver at this event is two? Tony and Cruz Pedregon and Del Worsham have each won the "Finals" twice, and two of them (Tony and Del) will be coming to town without a win this year?.This race has had some interesting winners over the years including Dave Condit, Gene Snow, Ron Colson and Frank Hall,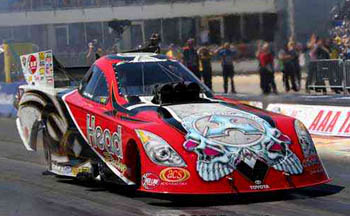 Chad Head
and maybe that's the only suspense that remains for the class this year, that is, who will win the final race of 2013.
Did you know
that there are six drivers entered in the Funny Car class this week who have never won an NHRA event? What are the odds that one of them would go the distance this week? Of those six only one,
Chad Head
, has even been to a final round, so if one of them can be considered a favorite it would have to be him?.Since I mentioned Clay Millican's mark and since I mentioned drivers who have never won a race in the Funny Car class I guess it's only fair that I mention
Terry Haddock
.
Did you know
that Terry has been to 172 races without a win? But like all good competitors Terry keeps coming back and is determined to win one of these things, and it's guys like him and his team that have always made this sport so great, because against all odds they keep trying until one day everything falls into place. For the record
did you know
that John Force went to seventy-five races before he got his first win?....Even though there won't be a lot of suspense in the class this week there can still be a lot of excitement and I think it would be fun to have one of those races where everything goes right for one of the "smaller teams" out there and they pull of a dramatic upset. I think you would have to go back to the
Bob Bode
win at Brainerd in 2010, seventy-five races ago, to find the last time there was a stunning upset in the Funny Car class. And you might have to go back to the
Jim Dunn
win over
Gary Burgin
in 1981 to find the last real surprise winner at the last event of the season in the Funny Car ranks.
Did you know
that among those who failed to make the starting field at that 1981 race were
Kenny Bernstein
,
Tom McEwen
,
Billy Meyer
and
Mike Dunn
? I wonder if ESPN has footage of that?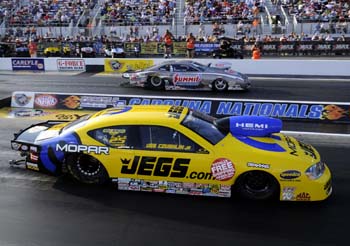 Jeg Coughlin defeated Jason Line
in the Charlotte 2 final.
Things are a bit closer in the Pro Stock field with Jeg Coughlin holding a seventy-one point lead over Jason Line and an eighty point lead over Mike Edwards. In the case of Jason that's more than three rounds and for Mike it's four, so it looks like Jason or Mike would have to win the race while Jeg would have to go out early (or not qualify) for Jeg to lose the championship. Stop me if you've heard this before but stranger things have happened. Like 1975 when Bob Glidden lost in the first round to Paul Blevins but got reinstated when Blevins came up light at the scales. Glidden would go on to win the race and the championship in the most unlikely way. Or how about 1980 when all Lee Shepherd had to do was win the second round and he would be the champ. But he broke a transmission in that round and Mr. Glidden went on to win the race, set low elapsed time and top speed and won the championship. Did you know that Lee had led the points for 258 days that year until the last day of the season? And in a year when he had been to every final round so far all he needed was to make the semi-finals to clinch the title and he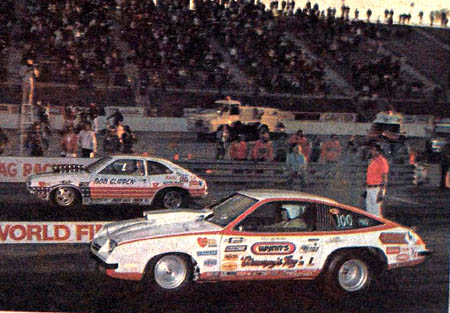 In 1975 Bob Glidden (far lane) defeated Bill "Grumpy" Jenkins
in the final and won the Championship.
Photo copyright 2013 NHRA
couldn't do it?..Another interesting note about that 1980 run is the fact that from the end of 1979 to the next to last race on the 1980 season Bob and Lee faced each other at every race.
Did you know
that stretch of ten meetings still remains as the most times that two racers have faced each other at consecutive events? And in case you were wondering Lee won six of those ten meetings, but when he lost to
Andy Mannarino
in round two at the "Finals" it opened the door and Bob walked right through and took the championship?.In case you were thinking about the chances of Jeg not qualifying this week you can forget it.
Did you know
that in his 329 races Jeg has only missed the cut sixteen times and only four times in the last nine years and he has never failed to qualify in his fifteen times at this event??.I know I will get laughed at (again) but maybe Jason and Mike should try to qualify opposite Jeg to get him in round one. The only time Jeg has faced either of them in round one was at
Denver
when he qualified ninth and met Mike who was eighth and Mike won the race. For the year Jeg is 7-4 against the two and it may take a repeat of one of those earlier miracles for him to lose the championship, but as I always say, that's why we make them go out and race on the track and I'm sure Jason and Mike will come in knowing that "it ain't over 'till it's over."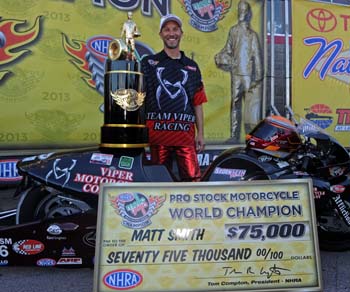 Matt Smith celebrates second Championship.
In the Pro Stock Motorcycle class it's over. Matt Smith secured his second national championship in Las Vegas and he is just out to enjoy himself this weekend. Of course so are the other twenty riders who are entered, so even though there is no suspense there could be some great action?.I was surprised to see that some of the riders who will be at Pomona this week were at the Division 7 race in Las Vegas this past weekend warming up. That included some who will be in the Pro Stock Motorcycle field, like Katie Sullivan, and some who will be part of the big Summit Racing Series championship, like Tom Medlin the D-7 champ and Chad Isley the D-2 winner.
Since I mentioned the Summit Series championship I will say that's one of the things that I will miss about not being in Pomona. I always enjoyed seeing these local racers from around the country come to this famous track as they looked to win, what for them, is the ultimate prize. They all may have raced for more money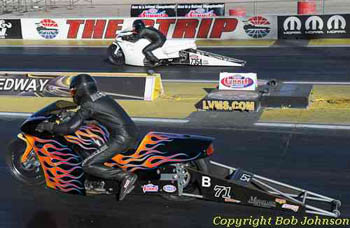 Tom Medlin defeated Dave Miller
to win the Division 7 title.
before but the prestige of winning a Summit Series national title is something they all say they wouldn't trade for anything. It's a great program and a big tip of the hat to
Summit Racing Equipment
for supporting it for so many years?..There is one thing I would change if I were in charge of the program. Since there are seven divisions that means that seven winners come to town for the championship run-off. It also means that someone gets a bye in round one. Well, why not invite the defending champ back and let him (or her) be the eighth driver in the class? That way there wouldn't be any bye runs and I think that would make it even more exciting. Now I'm going to tell you something that may surprise you?.nobody has asked for my opinion. Go figure!...By the way,
did you know
that once upon a time you would automatically get into the field in the NHRA pro classes if you were the defending event champion?