Mon, 04 Nov 2013, 10:32 AM



Arana Targeting Season Ending Success in Pro Stock Motorcycle at Auto Club NHRA Finals



Courtesy of NHRA Communications


Photo copyright 2013 Auto Imagery, Inc.





POMONA, Calif. --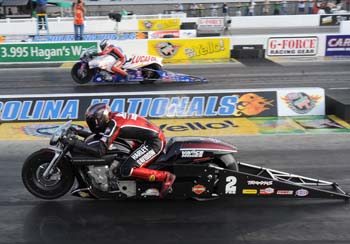 Andrew Hines defeated Hector Arana (far lane)
in Charlotte final.
The 2013 NHRA Mello Yello Drag Racing Series comes to a dramatic close at the Auto Club NHRA Finals, Nov. 7-10, and racers in each Mello Yello Series category hopes to finish the season riding a wave of success. This includes Pro Stock Motorcycle racer Hector Arana and his Lucas Oil Products Buell, which has climbed to third in points.
Arana has raced to two runner-up finishes including the opening event in the Countdown to the Championship at Charlotte. The success the team has enjoyed is welcome even if the results came due to problems they suffered early in the season.
"It was a motor we hadn't tested," Arana said. "With all the breakages we had, it was the only thing left to use. It was a motor we had for a while and it's responded well. I wish I would have used it earlier."
Matt Smith clinched the season championship at Las Vegas, so Arana and the rest of the Pro Stock Motorcycle competitors will battle for the event win and try to improve upon their points positions. Arana sits 37 points behind Michael Ray and he says that moving to second is an attainable goal. Brandon Bernstein (Top Fuel), Cruz Pedregon (Funny Car), Allen Johnson (Pro Stock), and Andrew Hines (Pro Stock Motorcycle) are defending winners of the Auto Club NHRA Finals and will again look to visit winner's circle at the tradition-rich event that will be televised nationally on ESPN2 and ESPN2HD.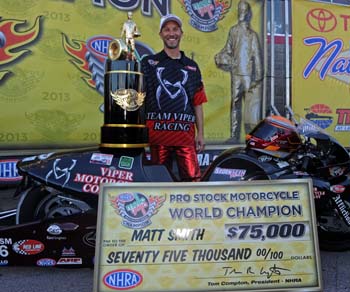 Matt Smith celebrates Championship.
Besides gaining a points position, Arana also needs a victory to end a three-year drought. He last won a race in 2009 at Dallas, the year he won his only world championship title.
"It's my second goal after winning the race, we'll shoot for that," Arana said. "We want to finish the year on a good note. It will keep us pumped to keep working during the off-season and get better for next year."
The success Arana has enjoyed is tempered by the late season slump his sons, Hector Jr. and Adam, have endured. Hector Jr. won the first three races of the season, has four total wins, and led the points the majority of the season. His fortunes turned with two first round losses in the Countdown to the Championship and he relinquished the series lead. Rookie Adam made the Countdown, but has failed to make it past the first round since Denver.
"It's been difficult," Arana said. "But we'll survive. Overall, we all made the Countdown and raced well at times. If we end the season strong in Pomona, it'll will be easier to forget the bad races we had."
The two-wheeled category has been competitive since the season began and each weekend a different rider has the potential to race to victory. Arana has enjoyed the battles and hopes it continues at Pomona and into next season.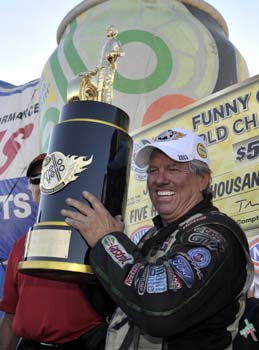 John Force celebrates 16th Championship.
"It was great because it put the emphasis on the riders from the get-go," he concluded. "The rider had to have a good reaction to be able to win the round. It was a challenge, but a challenge everybody in the class wanted."
In Top Fuel, Southern California native Shawn Langdon is the current leader and is followed by defending world champ Antron Brown, Doug Kalitta, Spencer Massey and Morgan Lucas. Langdon holds a 102 point lead over Brown, who won the most recent race in Las Vegas.
In Pro Stock, a group of talented drivers will decide the season's top honor, including series points leader Jeg Coughlin, Jason Line,'09 champ Mike Edwards, Shane Gray and defending world champ Allen Johnson. Coughlin holds a 71-point lead over Line heading into the season-finale.
NHRA icon John Force has already earned his NHRA-record 16th world championship title in Funny Car, as he took the crown at the season's penultimate race in Las Vegas on Oct. 27. A talented pack of drivers will be battling for second place at the Auto Club Finals, including 2011 world champ Matt Hagan, defending champ Jack Beckman, '09 champ Robert Hight and last season's top rookie and Winternationals winner Courtney Force.
The racing fun only gets more intense as the Auto Club NHRA Finals arrive at the Auto Club Raceway at Pomona. On Thursday, Nov. 7, fans can catch the first glimpse of the 2013 Mello Yello championship title chasers at the official event press conference, which is free for all Thursday ticket holders and will be held in the nitro pits starting at 11 a.m.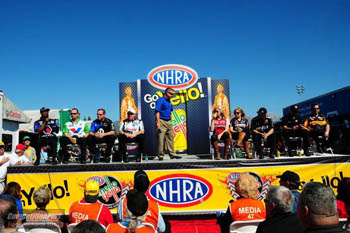 the WinterNationals press conference.
Photo copyright 2013 Roger Richards
As always, fans will have the opportunity to interact with their favorite drivers as they're granted an exclusive pit pass to the most powerful motorsports attraction on the planet. This unique opportunity in motorsports gives fans direct access to the teams, allowing them to see firsthand the highly skilled mechanics service their hot rods between rounds, and enjoy some cherished face time with their favorite NHRA drivers.
Fans also will want to visit NHRA's popular Nitro Alley and Manufacturers Midway, where sponsors and race vendors create a carnival atmosphere, with interactive displays, simulated competitions, merchandise, food and fun for the entire family.
While strolling through the pits, fans will want to check out the Wally Parks NHRA Motorsports Museum's "Hot Rod Junction" car corral featuring dozens of nostalgic dragsters, race cars and hot rods on display. The Hot Rod Junction also will showcase several NHRA-exclusive Cacklefests throughout the weekend, where vintage front-engine dragsters will be fired up simultaneously.
Fans also will want to take advantage of the popular Championship Sunday Track Walk, which is free to all Sunday ticket holders. This popular event gives fans the opportunity to walk down the legendary drag strip alongside some of the NHRA's biggest stars. Auto Club Ford Mustang Funny Car driver Robert Hight will lead the track walk at the Auto Club NHRA Finals.
The NHRA Motorsports Museum, which is located on the Auto Club Raceway of Pomona grounds, is also offering fans the opportunity to visit the museum for free and learn about the history of the sport. The fan-favorite Night of Champions with NHRA Mello Yello drivers will be held on Friday, Nov. 8 at 6 p.m. Admission is free during the Auto Club NHRA Finals weekend.
The NHRA Lucas Oil Drag Racing Series also will thrill the crowds during the weekend with intense competition on the track.
The NHRA Finals qualifying sessions are scheduled for 1:45 p.m. on Thursday, Nov. 7 and Friday, Nov. 8. Qualifying continues at 11:45 a.m. and 1:45 p.m. on Saturday, Nov. 9. Final eliminations begin at 11 a.m. on Sunday, Nov. 10.
Tickets for the Auto Club NHRA Finals are available online at www.NHRATIX.com or by calling the NHRA Ticket Sales Center at 800-884-NHRA (6472). Families can take part in a special ticket offer for children 12 and under, who will be admitted free in general admission areas with a paid adult.