Thu, 31 Oct 2013, 10:46 AM



Wait Until Next Year



By Bob Frey


Photo copyright 2013 Auto Imagery, Inc.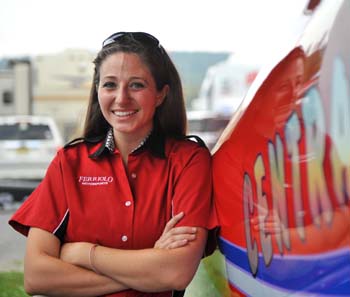 Marie Ferriolo
There are several things about NHRA drag racing that set it apart from almost any other sport. First and foremost is the fact that anybody can compete at the highest level on the drag strip. Man or woman, young or old, rich or poor it doesn't make any difference, if you have the desire you can compete at the track. Ok, so it does take a little more skill and possibly a lot more money if you want to race in the Mello Yello classes but that hasn't distracted thousands, literally, from driving a Pro Stock Car or a fuel-burning machine over the years. The second thing that makes this a great sport is the fact that it truly is a generational thing, that is, if your parents or grandparents were active in any way, shape or form, you too will probably do something in your life that involves drag racing. And maybe the one singular thing that really sets our sport apart from any other is the fact that men and women compete on an even keel, that is, nobody gets an advantage just because of your gender. To put it bluntly, there are no "lady's tees" on the drag strip, everyone starts and finishes from the same spot. With all of that said it shouldn't be surprising to see that one of the up and coming stars in the Top Alcohol Funny Car ranks is a young lady whose father has been drag racing for a long time.
To say that Marie Ferriolo is a second-generation racer is true, kind of. "My dad actually raced in the old Formula V classes," she said. "He dabbled in the Super Comp class with a partner, Ed Nelson, for a while but I'm not sure he ever drove the car." And while most children whose father is into racing eventually get into the sport it was never really pre-destined that Marie would eventually be behind the wheel of the car her father owned. "Dad wanted to buy me a Jr. Dragster when I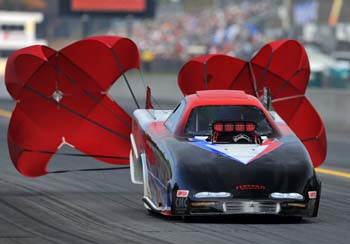 Marie Ferriolo
was a kid," she said. "But I was into ballet and dance and all the "girlie stuff" and I just said no. Looking back it was the biggest mistake that I made." That's because years later she would find her way into the driver's seat of one of the toughest cars in the sport to handle, a Top Alcohol Funny Car. "Dad got the car in 1995 and he had a succession of drivers who met with varying degrees of success." Among those who got behind the wheel of Barry Ferriolo's car were John Seiger, Scott Woodington, Frank Schuster, Duane Beers and Bruce Mullins.
Even though she went to the track with her father and mother, Bonnie, and saw the trials and tribulations of racing a 250 mile per hour car on a budget, Marie still wasn't a shoe-in for the driver's job. "It was a busy time in my life," she added. "Dad said that I could drive once I finished college, but once I did that I set out to get my masters degree and that doesn't leave a lot of time for anything, let alone learning how to drive a race car." Still she watched and learned and it wasn't long before dad handed her the keys to the family car. "Being from the Northeast I got to watch some of the best in the class including Frank Manzo. I would take note of everything he did and figured that if it was good enough for him it would be good enough for me."
All of that observing didn't prepare Marie for what was in store once she actually got behind the wheel. "My father really wanted me to take it slow and he told me that it's a steep learning curve with these cars." Little did she know how right he was on every count. "I had been in the pits with him and the team for some time and I knew everything there was to know about the car. Still, you can't really become a driver just by watching, and believe me, it was just like my father said it would be, a slow process." The first time in the car Marie went all of seventy miles per hour.maybe. "The first time I came to the starting line all I really did was push down on the throttle pedal, but after that I told my father that I was ready and let's go for it. I just wanted to go fast!" Well, her idea of going for it and Barry's were quite different. "Yeah, run number two was about a hundred miles per hour, but at least it was progress."
Since it's not easy to find places to run a Top Alcohol Funny Car and since Marie was still in the infant stages as far as being a driver, her father decided to change the car and make it into a nostalgia car. "There were a few races for those cars in our area and he thought it would be a good place to race without breaking the budget and without putting too much pressure on me." But some folks didn't think the car was a real "nostalgia car" and since Marie was a little wary of some of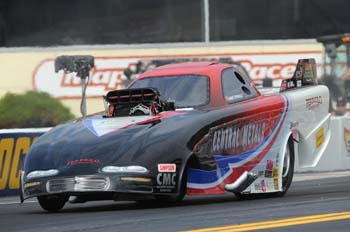 the safety aspects at the races they attended the family decided to go back to their first love, the alky class. "From a driver's point of view there is nothing like racing at an NHRA event to give you the peace of mind you need," Marie said. "Safety is very important and nobody does it better than the NHRA tracks." She went on to say that learning how to drive is "one constant learning experience." And that even includes the experience of running the car off the end of the track. "I was late on the chutes and did one or two other things wrong on that run. It dinged the car a bit but I guarantee you that I learned from it and won't do it again."
Marie's first national event as a driver was in her own backyard in Englishtown, New Jersey. "Yeah, I'm a Jersey girl. I went to Northern Burlington High School just like my dad, Antron Brown and Antron's uncle, Andre. In fact Andre is very close to our family." Wow, that's a lot of drag racers coming from one school. "Racing at Englishtown was really special." Special or not she failed to qualify for the field at that first race and then she missed the cut at her next race at Maple Grove, but since that time the team has been to eight national events and she has qualified for every one of them. "I am a goal-oriented person and I set a goal this year of winning a round and going 250 miles per hour." And while she didn't reach those goals, based on her history you know that she will soon. After all, she has a college degree from Rhode Island University, a master's degree from Seton Hall and works in a very challenging field. "I am a certified speech language pathologist and I work with youngsters from birth through their teen years." Recently her chosen profession has taken her to Colorado where she works with the Children's Hospital Colorado, and if you can manage to do all of that winning a round and going 250 should be a snap.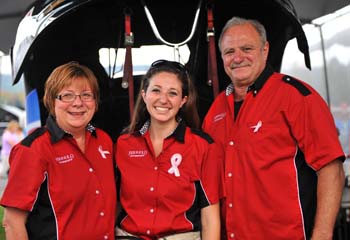 Marie with her parents.
Since she moved to the Division 5 area Marie doesn't get to see her parents as often as she wishes. "That's the great thing about racing. It now gives us a reason to get together and I really look forward to it." And speaking of looking forward Marie says that 2014 could be an interesting and challenging year for the team. "My father was a union iron worker and he recently retired. Since he runs the whole operation out of his own pocket we're not a hundred percent sure what next year holds in store. I'm trying to learn about the marketing of the team and things like that but it's not easy." Neither is getting a masters-degree in a very demanding field and learning to drive an alky car, but Marie has done both of those things, so you can be sure that keeping the car on the track, as challenging as it is, will be another thing that she achieves. "I love racing and sharing time with my family so I hope everything works out." Based on what this twenty-nine year old has already accomplished in her life I'm sure it will.