Wed, 30 Oct 2013, 10:56 AM



T/A Champs Whiteley, Manzo Going Out in Style



By Todd Veney/Pro Sportsman Association


Photo copyright 2013 Auto Imagery, Inc.





LAS VEGAS --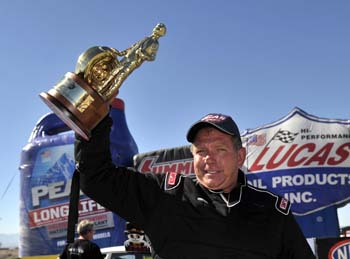 Jim Whiteley celebrates Championship.
Reigning national champions Jim Whiteley and Frank Manzo, who have said for months that this will be their last season, clinched championships with victories at the Toyota Nationals at The Strip at Las Vegas Motor Speedway, Whiteley his second straight in Top Alcohol Dragster and Manzo his eighth in a row and 17th overall in Top Alcohol Funny Car.
Whiteley and archrival Chris Demke finished 1-2 in last year's final standings, again in this year's standings, at Indy, at this race, and even in qualifying for this race, which was the only time Whiteley didn't come out on top. He was second to Demke, 5.29 to 5.30, but quicker in all four rounds, starting with a 5.28 (low e.t.) against Las Vegas' Duane Shields in round one. Demke beat Jeff Ashwell in that round with a 5.32 and kept his deteriorating championship prospects alive with a 5.40 second-round win over Dan Mercier, who, unbeknownst to Demke, who thought he got left on, had red-lighted.
"There was only a remote chance anyway," Demke said. "I knew it was a slim-to-none-deal coming in." Whiteley's 5.32 win over Don St. Arnaud one pair later made official what to many was already a foregone conclusion.
With another championship secured and only a few runs left in his Alcohol Dragster career, Whiteley maintained his focus in the semifinals against Mark Taliaferro, 5.34 to 5.41, and especially in his latest final-round showdown with Demke. "Races like that are what it's all about," said Whiteley, who prevailed, 5.33 to 5.34. "Demke and those guys pushed us all year."
Demke's Operation Solutions/Peen Rite dragster ran a 5.36, 268 in a semifinal win over Ray Martin and picked up a couple of hundredths to a 5.34 at 269 in the final, matching Whiteley's semifinal numbers. Unfortunately for him, Whiteley picked up a hundredth from the semi's for an eight-foot margin in the lights. "I couldn't see him the whole way down and thought there was a chance, but we're going home with our tails between our legs again," said Demke, who has two wins in seven career finals against Whiteley. "But it's still been a great rivalry."
Whiteley enters the final weeks of his TA/D career with 24 career victories in 30 finals, seven straight Top 5s in the national standings, championship runner-ups in 2008 and 2009, and the 2012 and 2013 titles. In just seven full seasons, he has become the fourth-winningest driver in class history. "There isn't anybody better than [crew chief] Norm Grimes and this group I've had," Whiteley said. "This is a great way to go out, but this is it. I'm done."
So is Manzo. Like Whiteley, he had the title all but mathematically clinched before the race but slammed the door on it with a decisive win. Manzo, who had tested at Las Vegas but never raced there, had low e.t. of every round but the first, when he made his best run of the weekend, 5.53, a tick behind Tony Bartone's 5.52.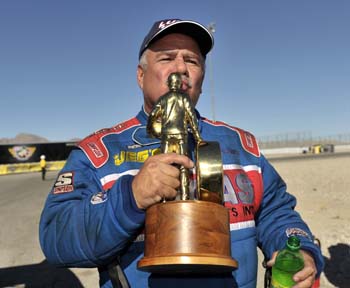 Frank Manzo celebrates Championship.
"The last few months, whatever this new car tells me to do, I do," he said. After making it to August without a national event win for the first time since 2004, he's won four of six, this one with a 5.63 in the final against No. 16 qualifier Bret Williamson, who was up in smoke early.
The championship was still technically in doubt when eliminations began, and contenders Shane Westerfield, John Lombardo, Bartone, and Manzo all survived the first round. Just making the show was an accomplishment; the bump was an event-record 5.69, and the first four alternates, including returning veteran Steve Harker, all ran 5.70-flats.
Bartone beat Westerfield with a 5.68 in round two to eliminate Westerfield from championship contention, and Jay Payne did the same to Lombardo two pairs later with a blower-banging 5.61. In between, Williamson, who had upset No. 1 qualifier Annie Whiteley in the first round, beat Von Smith, interim driver for Rick Jackson's Centre Pointe team, who won the last two times he raced in Alcohol Funny Car - five years ago at Indy and Dallas.
By the time Manzo closed the round against Steve Gasparrelli, the only driver with even an outside shot was Bartone. The only 5.5 of the day, a 5.58, dispatched Gasparrelli and a 5.62-5.66 semifinal win over Bartone locked up number 17. "Normally, we'd have it wrapped up by June or July," Manzo said. "But this wasn't just about the championship - we came here to win a race."
Williamson won a wild one over Payne in the other semi, 6.39 to 10.63, to reach his first final since the 2001 Winternationals and the fourth of his career, including one in the '80s, one in the '90s, and one in the '00s. Opposite Manzo's consistent 5.63, he didn't get away with a second tire-smoking leave in the final.
"We made a few good runs and a few OK ones," said Manzo, who, though he threatens to quit every year, really seems to be doing it this time. "I've only been here in January and never raced here in the heat, but this place is great. I wish I'd come here years ago."